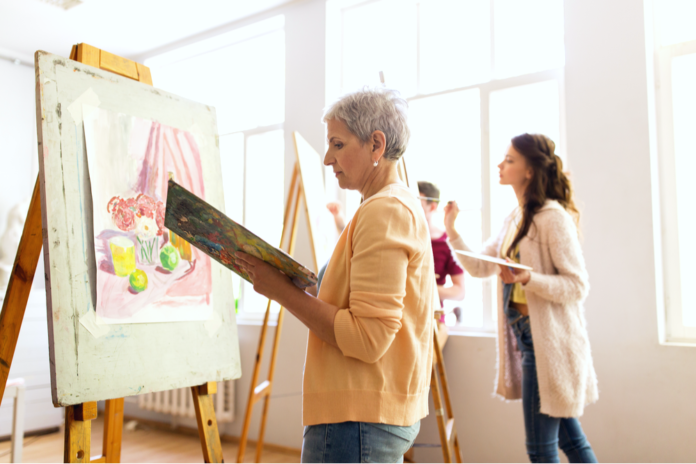 Creative activities for adults are more meaningful than simply being "arts and crafts". How creativity helps mental health is an important area of research. Studies show extensive benefits for seniors. Both experts and elders are asking, "Does creativity decline with age?"
Read on to learn how creativity helps mental and physical health in seniors. Plus, our list of activities will inspire craftiness and increase quality of life.
How Creativity Helps Mental Health
In older adulthood, seniors face a few potentially life-changing issues, such as the following:
Increasing the number and severity of health problems
Declining functional abilities
Financial constraints
Loss of social status
Psychological changes
Chronic illness
These challenges can be difficult and demanding. Above all, these issues require a creative approach.
What Is Creativity?
Creativity is generally defined as a process that involves the following:
Openness to new ideas and approaches
Searching for an original solution to a pressing challenge/problem
Exploring cognitive and emotional range
Making meaningful products
Generating novel uses, associations, attributions, elements, images, or operating systems
Recognizing a problem
Producing a plan or product clearly not present before
Experimenting with new ideas
According to experts, creativity is an asset for older adults. It provides a guide for the elderly as they navigate health, functional, and financial limitations among other potential problems associated with aging.
How The Creative Process Helps Improve Health
The creative process challenges individuals to accumulate skills, manipulate tools, and locate resources. The result? A unique vision or idea, expressed clearly and thoughtfully.
The creative process offers a channel for one to respond to life's uncertainties. For older adults, creative activities can provide the following:
Deepened understanding of self
Involvement in purposeful or meaningful activities
Strengthened sense of self
Empowerment
Competency
Contribution to the world
Personal growth
Creativity is a vital opportunity for older adults to experience expression beyond the limitations of age. It allows seniors a new perspective and enables them to move past their current problems. Creative activities create a safe place for exploration, regardless of age.
Benefits of Creativity
Beyond being a new and exciting process on its own, creativity has extensive benefits for elder health.
The potential benefits of creativity include:
Enhanced mental clarity
Increased awareness
Improved expression of experiences
Resolution of conflict
Continued adaptation
Improvement of emotional states
Physical healing
Emotional freedom
Increased engagement and enjoyment
Skills mastery
Reduction of stress hormones (i.e. cortisol)
Signs of aging reversed in the brain
Creativity can be a key part of well-being in later life. Older adults with anxiety, depression, social concerns, and low self-esteem have found that creativity can offer an opportunity for relaxation and an added sense of control.
Fun List of Creative Activities for Adults
Starting from square one? Creative activities do not have to be grand to be great!
Super easy, simple, and free activities are available online. Many senior centers also provide unique experiences for older adults in their local community.
To get creative juices flowing, try the following activities:
Listening to audiobooks
Learning how to play an instrument
Working with clay 
Taking art classes at the

Virtual Senior Center

or local recreation center events
Painting with watercolor
Crocheting cute critters 
Mastering dialogue, character building, and setting through storytelling
Taking up photography
Learning how to draw
Signing up with

Dorotusa.org

or

MeetFelt.com

, resources that connect and inspire creativity and art and craft ideas
Joining an

online senior theatre

for older actors
Performing in a play
Participating in a collaborative poem activity
Attending a creative writing class
Becoming a member of an older adult choir
Signing up for a creative drama workshop 
Singing along with a musical 
Unique Ways to Get Creative
The creative process can happen almost anywhere. Whether alone or with a group, these activities do not have to be structured to be beneficial. Bust the boredom by choosing a new activity to participate in.
Activities included in the list below are creative endeavors that can be started today:
Art Therapy
Poetry
Journaling
Reminiscence
Recording an oral history
Gardening
Dancing
Cooking
Birdwatching
Public speaking
Drumming
Gift giving
Writing
Downloading free activities from

UCLArts & Healing
The Bottom Line
The creative process is an opportunity for adults to access out-of-the-box experiences. Beyond the mental and physical health benefits, seniors find that creative endeavors are therapeutic and connect them to other individuals when the common concerns of aging threaten to impose isolation.
Creativity blooms through local senior centers, free online classes and groups, and is even available to those who wish to get creative on their own.
References:
Brookdale Senior Living. Books to Spark Your Creativity This Winter. Brookdale.com. Published January 28, 2021. https://www.brookdale.com/en/brookdale-life/blogs/2021/books-to-spark-your-creativity-this-winter.html.
Brookdale Senior Living. Stay Social with These 6 Virtual Clubs Perfect for Seniors. Brookdale.com. Published February 15, 2021. https://www.brookdale.com/en/brookdale-life/blogs/2021/stay-social-with-these-6-virtual-clubs-perfect-for-seniors.html.
Brookdale Senior Living. 5 Hobbies That Are Also Good For Your Health. Brookdale.com. Published March 8, 2021. https://www.brookdale.com/en/brookdale-life/blogs/2021/5-hobbies-that-are-also-good-for-your-health.html.
Castpra-Binkley M, Noelker L, Prohaska T, Satariano W. Impact of Arts Participation on Health Outcomes for Older Adults. J Am Aging Assoc. 2010;4(4):352-367.
Flood M, Phillips KD. Creativity in older adults: A plethora of possibilities. Issues Ment Health Nurs. 2007;28(4):389-411. DOI: 10.1080/01612840701252956.
Kaimal G, Ray K, Muniz J. Reduction of Cortisol Levels and Participants' Responses Following Art Making. Art Ther (Alex). 2016;33(2):74-80.
Lifetime Arts. What is Creative Aging? Lifetimearts.org. Accessed March 2021. https://www.lifetimearts.org/creative-aging/.
Pietrangelo J. Being Creative Can Make Your Golden Years More Enjoyable. Healthline.com. Published October 19, 2017. https://www.healthline.com/health-news/being-creative-can-make-your-golden-years-more-enjoyable.
Bagan B. Aging: What's Art Got To Do With It? Todaysgeriatricmedicine.com. https://www.todaysgeriatricmedicine.com/news/ex_082809_03.shtml.