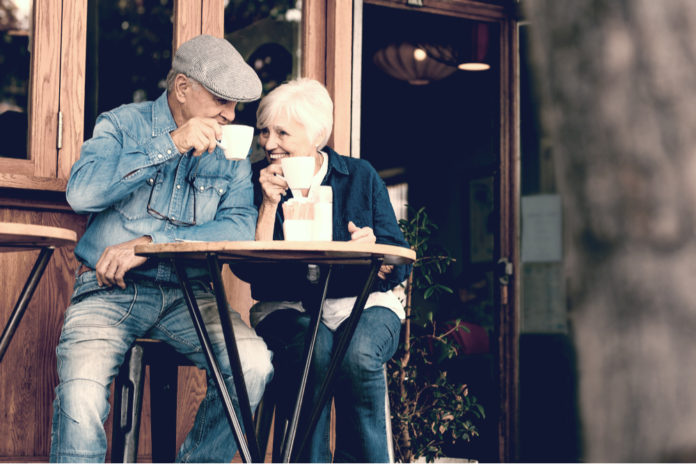 Dating is not only reserved for the young and the youth. What's more, it does not have to feel like the typical, angsty dating of back in the day.
Now, more than ever before, generational stigmas are being shattered and senior dating is more mainstream. It is also encouraged, as relationships and connections can keep seniors healthy.
Here is a comprehensive guide to mature dating (including dating sites for ages 50 and over!) and how to navigate it in today's world.
5 Dating Tips For Older People
More older men and women are enjoying dating and romantic relationships despite the perception it is a lost cause for anyone over 30. And while dating as an older person is often more nuanced and complex, it might just be more fun and rewarding as well.
Without further ado, here are the top 5 dating tips for older people and senior singles!
1. Keep an open mind.
Limiting options to constructed laundry lists typical of teenagers can prevent meeting someone who might actually be a great match. By this point in life, turn-ons and turn-offs are established and this can certainly guide the quest in finding a potential partner.
But, keep in mind that just like yourself, older folks have more life experiences like being widowed or divorced, raising children, suffering illnesses, and much more. Rather than tick off desirable boxes, keep an open mind or shift perceptions about someone who maybe wouldn't have matched expectations earlier in life.
2. Be open and honest early on in the dating process.
Throw out dating "rules" like waiting to respond to a text for three days, sending cryptic signals, or waiting to kiss until date five. The wiser, older self realizes that honesty and authenticity are key when getting to know someone.
That nonsense advice about playing hard to get will not work as an older adult because, well, there is less time to waste! Just be open about exactly what you are looking for from dating. Also, never compromise your genuineness to please someone else.
On a similar note, it is usually a good idea to let children know what dating means to you and what it could mean for them. Being honest right away can help prevent hurt feelings and creates a seamless foundation for the relationship to bloom.
3. Meet in public.
This is a safe idea for everyone of all ages, but meeting in a public place preferably nearby other people is important, especially if communication began online. While the majority of people on dating sites designed a profile with good intentions, there are some unsafe people prowling, so meeting in a public place where you can easily seek help if needed is vital.
Some mature public places to connect (following social distancing guidelines of course) include hip coffee shops and cafes, wine and paint shops, malls, book clubs, or fitness centers.
4. Connect through friends and family.
Whereas asking a friend to set you up with someone as a teenager was deemed desperate, doing so as an adult is much different and even supported. Lifelong friends and sometimes family members know you best and have probably witnessed the type of people who would suit you best. Thankfully, because adult friends and family tend to boast more maturity and more wisdom, their radars are as well.
But rather than asking a loved one to do all the work, simply ask if they know of anyone who might be a good match then take the reigns yourself from there!
5. Meet through shared interests or hobbies.
Meeting someone at a place you love or doing a hobby you enjoy is one of the best ways to ignite a spark. The shared pleasure of the place or activity provides a solid conversation starter and foreshadows part of who they are. Shared interests also tend to signify compatible matches, a hallmark quality of a good relationship.
If first meeting, be sure to ask questions like how they got into that hobby, why they enjoy it, and how often they partake. This is a fast track to understanding them better and quicker and the potential tangents are endless!
Date Ideas for Seniors
The extent of adolescent dating usually includes dinner and a movie, maybe a walk around the local park if 75°F and sunny. Luckily, older adults are not so confined, and aside from the pandemic restrictions, the infinite options can be overwhelming. But the most important part to remember is dating should feel enjoyable, not stressful.
To reduce the anxiety of choosing the perfect date, here is a roundup of 20 unique date ideas for older people.
Take dance lessons (or any other kind of lesson)
Attend a cooking class
Grab coffee but order for each other
Mimic a favorite restaurant, recreating the meal in a cozy home
Work on a puzzle or play a board game near a fire
Attend a wine tasting event or sample a flight of different beverages
Go to a local concert
Make a bucket list to complete together
Bake a favorite dessert and have an oldie's movie marathon
Read a book cozied on the couch together
Make each other a favorite lunch meal
Attend a political rally, conference, talk together
Watch a webinar of interest while sipping something fancy
Brunch over Zoom
Attend a workout class together
Drive around to favorite or special local spots and document with goofy pictures
By no means is this list exhaustive and the more creative, the better!
Dating Sites for Over 50
According to the Observer, an online magazine, these are the best dating sites for over 50 including who they serve best:
Based on additional research, all of these sites are similar in nature. Only slight nuances like cost of membership or sign up, age range, and who they specifically serve separate them.
Moreover, most of these sites require a rigorous personality survey before creating a dating profile. This helps ensure reliability and validity. And since they are dedicated to seniors, there is a much higher chance of connecting with someone as a viable match.
Senior Dating Scams to Watch Out For
Briefly mentioned already, staying safe through online dating is vital. Although the leading senior dating sites tend to be safe, dating sites, in general, are not regulated, which leaves room for strays here and there.
The most common kind of romance scam involves "catfishing" where someone creates a fake online profile with ill intentions. They may harass others online, flirt maliciously, and are usually trying to obtain money.
Often, scammers use fake pictures and stats to describe themselves, but other times they use real people and their demographics as an avatar. They also tend to claim to have jobs that keep them outside the country or region of their dating target.
Other telltale scamming signs include:
Elaborate romantic online gestures
Declarations of love early on
Conversing in an odd language
Refusing to meet in person, not using your name
Asking for very private information
Always encountering emergencies
Forgetting details
Only showcasing a couple of photos
Moving the conversation to another site
Not having many other connections
If an online dating prospect asks for any sort of money for anything, it is probably a scam! So the best ways to avoid getting scammed include:
Perform thorough research before joining a dating platform
Confirm websites process any required payments safely and reliably
Only create profiles on authoritative websites in the industry
Never provide financial information until trust is established
Look up potential matches on other social media when possible
Trust your intuition and if something seems fishy, do not engage
Meet in a public spot for the first few dates
Final Word
Older adults can certainly enjoy the dating experience and process! Do not let age deter a dating or romantic endeavor and forget the conventional methods and rules of the younger past.
While more nuanced, the dating scene and finding love may just be more rewarding as well. Plus, tailored dating sites make finding a harmonious match simpler and more efficient than ever. (Just be sure to do thorough research and watch out for anyone who seems a little too good to be true!)
References:
Shani J. Mature Dating Tips for Older Singles Who've Still Got It. The Date Mix. www.zoosk.com/date-mix/over-50-dating/mature-dating-tips/.
Livingston A. Money Crashers. www.moneycrashers.com/online-dating-romance-scams/.
Probasco JR. Dating Advice for Senior Citizens. LoveToKnow. seniors.lovetoknow.com/Dating_for_Senior_Citizens.