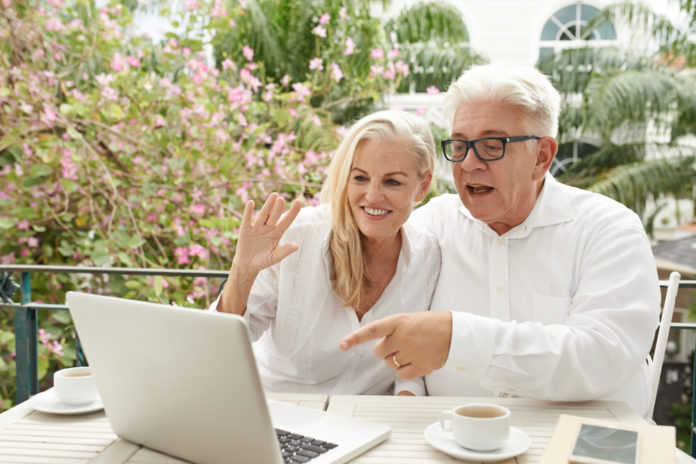 Though the senior population may have not grown up with the Internet, the benefits of social media and the elderly are undoubted, as it offers virtual connections to loved ones, entertainment, research, and learning opportunities.
It is likewise starting to become less uncommon for older generations to create social media pages and interact on internet sites. Besides, the Pew Research Center reports internet use among those aged 65 years or older grew 150 percent between 2009 and 2011!
So how can you join the ever-growing seniors' social networking group? Learn the basics of social media here!
A Simple Guide to Social Media Basics
One of the core basics of social media lies in Getting connected requires some key necessities and a basic understanding on how to use them.
First off, you will need a computer and/or mobile device, as each are essentially the link that connects you to others when connected to the Internet.
Speaking of…
The Internet is key for enjoying any form of online communication. It is fundamentally a worldwide telecommunications system. When connected, you are able to access search engines (I.e. Google and Yahoo), navigate through various webpages, and connect to social media sites.
Common Social Media Sites
1. Facebook
Time and time again, Facebook is named the top social media platform. It is easy to see why, as it connects others to friends, family members, coworkers, businesses, events, and the list can go on and on. Connecting to the world's largest social media trend is also free and simple. Stay up to date on the latest trends and news by following Silver Cuisine on Facebook!
2. Twitter
Enjoy concise statements and links to news stories? Twitter might be you. The social media platform and app limits "Tweets" (or a post in Twitter) to 140 characters, in which users can reply and share these posts to their own feed.
3. Instagram
Instagram is one of the newer social media apps, in which users predominately view captured and captivating pictures of all kinds. Want to relive your daughter's wedding? What about looking at pictures of precious puppies during any time of the day? Flip scroll through the pages of Instagram! 
4. YouTube
YouTube is essentially a cyber library loaded with videos, including to watch on the receiving end or share by uploading. The video-sharing site allows its users to comment on and explore videos of practically all categories, including for educational, informational, comical, and motivational purposes. Looking for balance exercises? Funny skits? Music videos? Tutorials? YouTube has you covered.
Unlike most social media platforms, you do not have to a user name to look up videos. However, having a username and offers more interaction through commenting on, saving, and uploading videos.
5. Skype
Skype is a little bit more intimate than seniors social networking on other platforms, as it allows users to call and video chat with others via computers, cellphones, tablets, and gaming systems with the assistance of steady internet and/or telephone connection.
Beyond face-to-face interactions, Skype has an integrated instant messenger system for quick communicating and file sharing between friends, family members, and coworkers all over the world.
6. LinkedIn
While LinkedIn may not be as fun and as socially interactive as the other platforms, it does have immense value if interested in continuing in the workplace. LinkedIn allows you to upload a resume and cover letter and connect to a bounty of past or current coworkers and employers. You also have the ability to search for job prospects and opportunities in one click of the mouse.
How to Get Connected On Social Media
Whether you've chosen one in particular or interested in all, most social media sites require setting up an account. Thankfully, these sites also tend to offer step-by-step guidelines, though overall steps include:
Click the Internet button and search for the respective social media site. I.e. Type in "Facebook" in the search bar.
The site will then prompt you to log-in or sign-up with a new account. Since you are a new user, create a new account by working your way through the prompts, which likely asks for your first and last name, email, cell phone number, birthday, and gender.
You will eventually need to enter a password to help protect your account. Write down your password and keep in a safe location.
Voila!
Additional Tips for Social Media Success
• Search for Tutorials
With quick access right at your fingertips, there are numerable articles and videos to help individuals set up and use social media sites. For instance, this Facebook tutorial for seniors and beginners is a helpful guide for new and prospective users.
• Get Assistance from A Social Media Pro
If a friend or relative is well-acquainted with the ins and outs of social media, ask for their assistance. They can be valuable resources for starting up and during your social media journey.
• Don't Overshare
Remember, while social media is a shared space, there is such a thing of oversharing. Try to keep personal occasions, well, personal and keep private matters to yourself. For instance, never share home addresses and cell phone numbers for everyone to see, as this raises the risk for hacking.
• Comb Through Privacy Policies
However, do not let the online world scare you. Each social media site makes ongoing efforts to protect personal information through tight security. Also be sure to comb through privacy policies and understand permissions. Going through privacy settings grants tighter control on who can view certain posts. You also have the autonomy to set your profile as "private," which allows only accepted friends to see your posts. Additionally, if you feel that other users might be violating conditions or harassing yourself and others, you can block and report them.
• Have Fun!
Connecting to social media can be an enjoyable, interactive, and oftentimes learning process. So explore and have fun with the social media and the Internet; because with it, the opportunities are virtually endless!