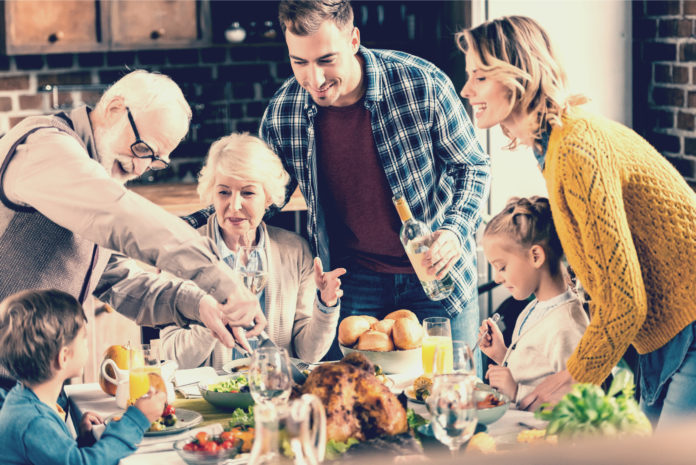 With so many sweets and treats circulating, healthy holiday eating for seniors can seem challenging. Eating healthy during the holidays is not only possible, but can also be enjoyable.
Having healthy options accessible, making time for meaningful meals, and including foods like fruits and veggies can help you celebrate the holidays while keeping wellness in mind. Read on for the top 12 healthy holiday eating tips for seniors.
Healthy Holiday Eating Tips For Seniors
It may be called the most wonderful time of year, but the holiday season can introduce unique challenges for older adults. With thrown-off routines and parties with plenty of holiday eating, it's easy to get sidetracked when it comes to staying healthy during the holidays.
Here are 12 easy tips for making healthy eating choices over the holidays.
1. Don't Skip Breakfast
One of the top tips from registered dietitians is to remember to eat breakfast. If you can add healthy fats, proteins, and fiber to your morning meal, you'll likely feel full for longer during the AM hours.
2. Remember Proper Portion Sizes
You can still enjoy festive favorites without letting go of your health goals. Instead of overeating, try dishing out smaller portions of sweets. Since many desserts are chock full of carbs, you can also take smaller portions of starches (like potatoes or bread) at the dinner table to maintain a balanced diet.
3. Keep Listening To Hunger Cues
Your body can tell you a lot when you listen to it. Listen to your body, especially when it is sending you messages about how hungry or full you feel.
4. Make Mindful Decisions
Sometimes cookies can be a mindful decision, and sometimes cauliflower can be. Mindful eating is less about food and more about mindset. Learn how to make food choices that help keep you fueled and feeling festive over the holiday.
5. Indulge With Intention
Don't forget that you are allowed to indulge during holiday meals. However, it is important to be intentional. For example, enjoy your favorite dessert while keeping portion sizes in mind.
6. Remember Regular Routines
Spending time with loved ones can be fun, but it can also distract from your regular routine. Try your best to eat as close to your regular eating times as possible. This practice can help steady your blood sugar.
7. Make An Effort With Exercise
While it is a myth that turkey makes you sleepy, overdoing it at the dinner table can make you drowsy. Taking a short walk just once a day during the festivities can help your body stay healthy during the holidays.
8. Nourish With Nutrient-Rich Foods
Nutrient-rich foods offer a powerhouse of vitamins and minerals, but in a small package. Include the following options as part of your meals or snacks on the big day:
Dairy
Lean protein (i.e. skinless turkey)
Nuts and legumes
Whole grains
9. Focus On Fruits And Vegetables
Speaking of nutrient-dense options, fruits and vegetables are full of vitamins. Fruits and vegetables make great side dishes, and can be incorporated in everything from dessert to the main dish. Cranberries, green beans, and sweet potatoes are popular seasonal picks.
10. Stay Hydrated Without Sugary Drinks
Seasonal, special holiday drinks can be packed with sugar and offer little nutritional value. Enjoy these sparingly while focusing on water as your main source of hydration.
11. Moderate Alcohol
While holiday spirits can be tempting, it's important to maintain moderation. If you're not avoiding alcohol entirely, try limiting your intake to one drink a day. One alcoholic drink means:
12 oz beer
5 oz wine
1.5 oz liquor
12. Celebrate The Season
There's so much more to a holiday meal than what's on the plate. Remember the reason for the season, and don't be so focused on food that you miss out on memories. Enjoy foods and drinks you only make once a year (i.e. eggnog or pumpkin pie) without regret.
The Bottom Line On Healthy Holiday Eating
Eating healthy over the holidays is a great way to enjoy seasonal food choices. Above all, it's important to indulge with intention, make mindful decisions, and keep the meaning of the holiday in mind.
Remember that the holidays only account for a couple days out of the year, so don't be consumed with counting calories over enjoying company.
References:
5 Healthy Eating Tips for the Holidays. Centers for Disease Control and Prevention. Published December 2020. https://www.cdc.gov/diabetes/library/features/holidays-healthy-eating.html.
10 Holiday Eating Tips for Seniors. The Villages Of Windcrest. Published December 2019. https://www.villageswindcrest.com/blog/10-holiday-eating-tips-for-seniors/.
How Can I Eat More Nutrient-Dense Foods. American Heart Association. Published November 2021. https://www.heart.org/en/healthy-living/healthy-eating/eat-smart/nutrition-basics/how-can-i-eat-more-nutrient-dense-foods.