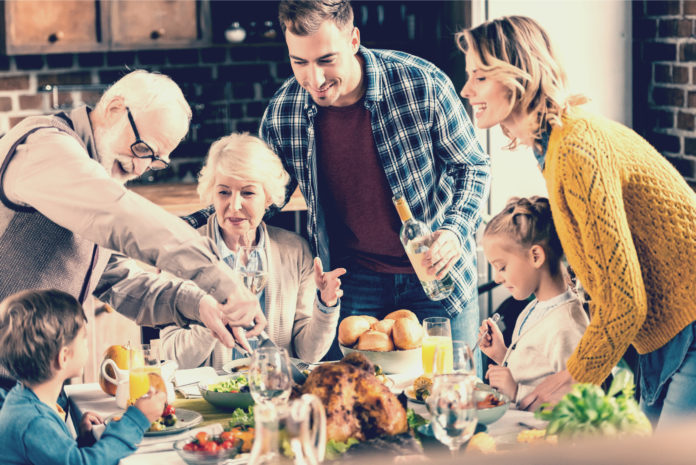 It is almost that time of year again. Kids playing, adults chatting, and the smells of delicious food wafting throughout the house. The holidays tend to be a time for relishing on those seasonal food favorites. And they should be!
However, there are ways to still eat healthily and nourish the body properly. Use these healthy holiday eating tips to have that pecan pie and eat it, too!
10 Tips for Healthy Holiday Eating
Stay on track with these tips to eat healthy during the holidays, including breakfast ideas and proper plating.
1. Begin the Day with Breakfast
Breakfast lessens and blunts hunger, therefore reduces the risk of overeating later in the day. Eating breakfast can also heighten energy levels and motivation to make healthy choices throughout the day.
To reap these benefits, stray away from those sugar and carb-laden breakfast muffins and pastries. These types of food can lead to sugar highs and energy lows.
As a general rule of thumb, breakfast should be rich in protein and fiber. Including healthy fat can likewise control blood sugar and hunger levels. Example breakfast options include:
• 1 cup of low-fat cottage cheese with ½ cup of pineapple, peach, or pear chunks
• 2 eggs, 2 slices of turkey bacon, and 1 slice of whole-grain toast
• Egg and cheese breakfast muffins, which can harness favorite omelet flavors such as spinach, peppers, onions, jalapeños, and tomatoes
• 1 cup of cooked oatmeal, 1 tablespoon of peanut butter, ¼ cup of blueberries, and 8-ounces of milk
Using a meal delivery service can likewise take the stress out of healthy eating during the holidays. Meals are created by chefs and Registered Dietitians, guaranteeing they taste great while being balanced in nutrients. And with so many dietary options, they are sure to fit in any meal plan!
2. Plate Properly
Healthy eating can be achieved with proper plating techniques. It also helps naturally moderate portion sizes to keep calories in check.
Use these proper plating tips this holiday season:
• Fill half the plate with non-starchy veggies, including salad greens, roasted cauliflower, and steamed broccoli.
• Use a quarter of the plate for a whole grain or complex carbohydrates. This may include a sweet potato, brown rice, or stuffing.
• Allot the remaining quarter for lean protein such as roasted turkey or smoked ham.
• Complement the plate with a healthy fat source, including a drizzle of olive oil or mixed nuts.
3. Keep Hunger Tamed
People may save calories throughout the day leading up to the main event. But do not skip meals, as showing up to the party ravenous can lead to overeating.
Keep hunger tamed with a nutritious snack or light meal as needed. This can lessen feelings of hunger and the risk of overeating.
Balanced, healthy snacks may include:
• ½ cup of cottage cheese
• 1 tablespoon of peanut butter smeared onto a banana
• 6 ounces of Greek yogurt with ½ cup of berries
• 2 cheese sticks with sliced tomatoes
• ¼ cup of mixed nuts
• 8-ounces of low-fat chocolate milk
4. Practice Mindful Eating
Mindful eating is a nonjudgmental awareness of physical and emotional sensations while eating.
The practice encourages to truly savor the experience of food by tuning into internal and external cues.
Tips for mindful eating include the following:
• Recognize why you are eating. Is it based on true hunger? Or a craving?
• Sit down to the food at hand.
• Eliminate all distractions, including the television and cellphone.
• Give gratitude to the food and truly acknowledge what it took to prepare it.
• Use all the senses when eating. Notice how it tastes, smells, etc.
• Chew and eat slowly, which likewise prevents overeating.
• Set utensils down between each bite and only pick back up after chewing and swallowing.
5. Offer Nutritious Food Options
Holiday parties tend to be bountiful of decadent, luscious, and high-calorie foods. These temptations make it that much easier to overeat.
But it is important to remember that healthy foods do not mean bland or dull! Holiday foods and dishes can still offer rich flavors without always supplying hundreds of calories.
Offer a nutritious menu for guests or bring healthier options to parties. Besides, you might be surprised to find out other guests appreciate the healthy fare!
Healthy options and swaps may include:
• A little red wine vinegar and olive oil to dress a salad
• Spaghetti squash for traditional pasta noodles
• Protein-packed quinoa instead of white rice
• Roasted veggies, including sweet potatoes and Brussels sprouts
• Equal amounts of applesauce for butter
• Stevia for sugar
6. Tread the Buffet Wisely
A little here and a little there can go a long way with a buffet-style setup. But instead of going "all in," use these tips to maneuver the buffet table:
• Scope out the buffet first. Having a game plan lowers the risk of loading up a plate or two with calorie-rich foods.
• Use a smaller plate if offered. Research shows people who serve themselves with small plates tend to serve small amounts and, therefore, control food intake.
• Eat for health and hunger first. If still feeling hungry after the first balanced meal plate, go for a second using similar principles. Once hunger is tamed, relish on that awaited dessert.
7. Keep the Body Hydrated
Did you know hunger can be mistaken for thirst? This poses the chance to fill up on extra calories. So rather than running to the kitchen for food, grab a glass of water.
Drinking a glass before and during holiday meals also helps moderate portions. This is because filling up with water reduces the risk of overeating or desiring a second a plate of food.
Staying hydrated can also foster a good metabolism by supplying the body's cells with nutrients from foods and aid in digestion. Proper hydration also heightens energy levels, maximizes brain function, and fosters weight maintenance and loss.
As a general reference, aim for at least 64 ounces of water daily. Also, increase water intake with physical activity. Feel free to add freshly squeezed lemon or lime for a boost of flavor as well.
8. Moderate Alcohol Intake
Holiday drinking often occurs to celebrate and socialize with friends and family members. But if drinks are not kept moderated, holiday health can be compromised.
If deciding to drink, men are advised to two alcoholic drinks daily, while women are limited to one. Alcohol serving sizes include:
• 12 ounces of regular or light beer
• 5 ounces of red or white wine
• 1.5 ounces of liquor
9. Indulge in Moderation
Absolutely allow yourself to indulge! But do so while practicing the concepts of moderation and portion control.
Be choosy on what you truly want to indulge in as well. This may mean that family pecan pie recipe you look forward to every holiday season.
10. Remember the Reason for the Season
Although food is often the centerpiece of a party, do not forget the primary reason for the holiday season… The company!
Use the time to catch up and laugh with loved ones. When building these memories, there is much less attention to that dessert table.