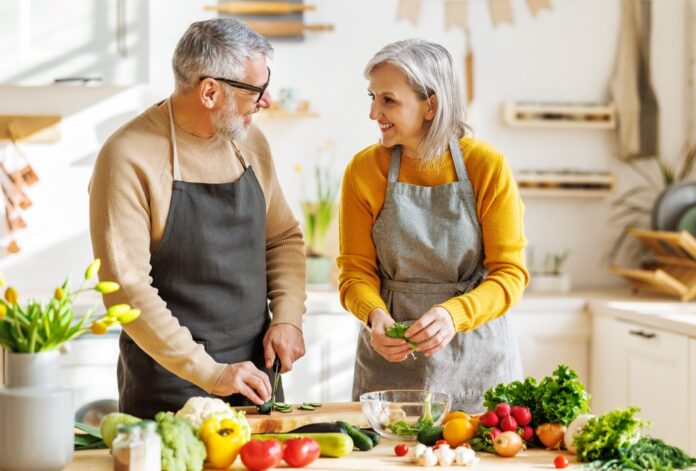 Looking for lunch ideas for seniors? Stopping midday to create a well-balanced meal may not seem like much of a priority.
However, a satisfying lunch is necessary for seniors to feel full until dinner. Join us as we explore easy lunch ideas for seniors, including options that optimize nutrition for older adults during the day.
What's the Best Lunch for Seniors?
A well-balanced meal has three main components: healthy fats, lean proteins, and quality carbohydrates. Crafting healthy meals starts with understanding these three food groups and selecting ingredients based on their potential health benefits.
For example, extra virgin olive oil is a type of healthy fat. Beyond adding flavor to meals, it also adds nutrient-dense calories. It's considered heart-healthy due to its high level of unsaturated fats.
It may seem overwhelming, at first, to identify which foods are healthier than others. However, this understanding can empower you and enable you to choose the best (and most filling) foods for your lifestyle.
When it comes to lunch, many seniors complain that their midday meal doesn't keep them feeling full enough. Nutrients like fiber, protein, and healthy fats, in particular, can promote a feeling of fullness during the day and help keep older adults satisfied until dinner. It may go without saying, but the ideal lunch should also be affordable, convenient, and simple to assemble.
Healthy & Easy Lunch Ideas for Seniors
Ready to go from starving midday to satiated? Tantalize your taste buds with these nutrient-dense ideas for a filling lunch.
1. Breakfast for Lunch
You've probably heard of "breakfast for dinner," but what about breakfast for lunch? It may sound silly, but sometimes breakfast foods taste great in the middle of the day! This is especially the case for savory foods, like breakfast burritos.
Only have a couple of minutes? Whip up some scrambled eggs with a layered Greek yogurt parfait on the side. This delicious plate provides plenty of protein and will keep you feeling full instead of experiencing a midday lull.
2. Chicken Breast & Brown Rice
While chicken breast and brown rice may sound like one of the more boring options, fresh herbs can make all the difference. Chicken breast can be thoughtfully seasoned to take on the flavor of your favorite cuisine—like jerk spices or taco seasoning. It's also considered a lean protein and makes a perfect companion to the nutrient-rich side of brown rice.
3. Peanut Sauce Stir-Fry
Peanut butter is a concentrated form of calories and protein, making it a great addition to many lunches. Instead of the classic PB&J sandwich, use your peanut butter in a creamy sauce for a Thai-inspired stir-fry. Made over medium heat, this method takes only 20 minutes to prepare (perfect for a lunch break). 
4. Chicken Salad
One of the best things about chicken salad is that it can be made from canned chicken! When canned in water or its own juices, canned chicken can be just as nutritious as carefully selected supermarket cuts. Chicken salad is a great way to use leftover chicken, such as rotisserie chicken or grilled chicken breast, from another recipe.
Another advantage to eating chicken salad for lunch is that the standard ingredients can be switched out for healthier options. For example, adding cottage cheese and chopped nuts can increase the amount of protein in the meal. If you're cutting back on carbohydrates, you can replace the classic croissant or white bread with a leaf of lettuce.
5. Quinoa Salad
Quinoa is an ancient grain, so naturally, it's well-suited for senior communities. Not only is cooked quinoa a great companion for dinner meals but it can also be well-utilized with lunch.
Enjoy quinoa cold, such as in a Mediterranean-style salad, or warm, like in a rainbow quinoa salad.
6. Mason Jar Meals
Mason jar meals are the go-to solution for many seniors. Since they can be prepared days before consumption, mason jar salads and meals are perfect for busy seniors. Due to their layered and often colorful nature, they can be a fun meal for family or grandkids.
The trick to mason jar salads and meals is keeping more moist ingredients towards the bottom and drier ones towards the top. This prevents food from getting too soggy before you can enjoy it. Virtually any salad you already enjoy on the plate can be converted into a mason jar salad.
7. Protein-Packed Wraps
With the variety of wraps available today, even the pickiest eaters have plenty of choices. There's something for everyone, from "carb balance" tortillas to spinach-based wraps.
The best wraps for seniors are packed with protein to promote a feeling of fullness. You can add poultry, such as chicken or turkey, or non-meat options like tempeh or tofu. Adding your favorite homemade sauce or dressing can greatly enhance the flavor.
Don't forget to add as many fruits and vegetables as you want! Wraps can be a colorful and creative handheld meal, great for on-the-go meals.
Managing mobility issues, or simply having no time for meal preparation or meal planning? Try chef-prepared Silver Cuisine meals, which include options for specialty diets.
The Last Word Lunch Ideas for Seniors
Instead of being an afterthought, lunch can be the highlight of your afternoon. Ideal lunch ideas for seniors contain necessary nutrients, including fiber, protein, and healthy fats (which keep older adults feeling full until dinner time).
Don't be afraid to think outside the box with ideas like breakfast for lunch or mason jar meals!