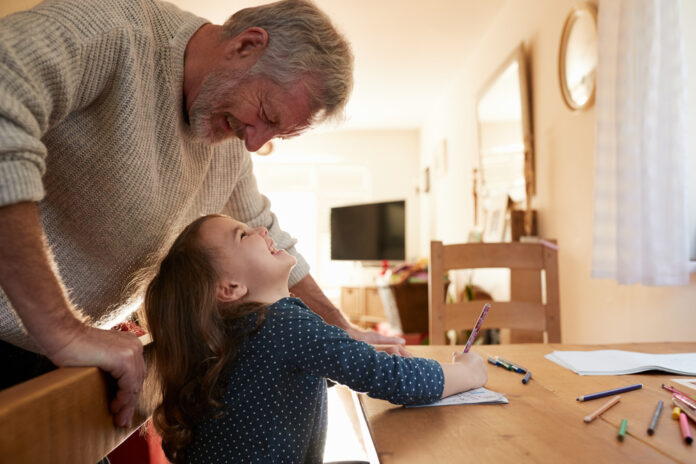 Searching for Thanksgiving activities for seniors? Amid the mid-November rush, there's nothing better than slowing down, doing a festive activity, and connecting consciously with those around you. 
Before, during, and after the Turkey Day meal, Thanksgiving games for seniors can help you truly tap into the season. Keep reading to discover the top Thanksgiving activities for the elderly, whether you're spending the holiday with loved ones or among a senior community. 
Make Thank You Cards
What better way to show gratitude than with a "Thank You" card? Gratitude has been linked with many health benefits, including boosts in physical and mental health.
Homemade "Thank You" cards can be created with simple stationary or school supplies, such as construction paper purchased from the dollar store. It's an excellent activity for all ages and can be well-suited to grandkids and grandparents. 
Additionally, card-making can be a great group activity for nursing home residents, who (with assistance, as needed) can create heartfelt tokens of gratitude for caregivers and visitors. Keep in mind that aging loved ones may need help with specific tools such as scissors. 
Try Thanksgiving-Themed Bingo
Bingo is a beloved game among the senior community—and for a good reason! The popular game is considered low-risk, meaning it's safe for most seniors to play independently. Regularly playing bingo, especially while living in an inpatient facility, is believed to benefit mental health and even improve cognitive function. 
Like card-making, bingo is fun for all ages and can be adapted to a family environment. Simply typing in "free printable Thanksgiving bingo cards" in your preferred search engine will yield ready-to-print results. Options with bigger pictures, as opposed to small, similarly colored icons or lots of words, tend to be better for aging eyes (and younger players, too). 
You can also get festive with the markers for each spot. Candy corn or "autumn mix" candy corn pieces (which include chocolate and pumpkin-shaped candies) are a popular placeholder. If you're looking for a non-candy option, acorn tops or mini pinecones work well and can often be purchased at your local craft store during the fall. 
Do Dinner Table Talks 
Looking for a deeper dinner game? Instead of everyone answering the traditional Thanksgiving question of what they are thankful for, have a jar or bowl of different questions for each person. 
Some thought-provoking questions include:
What new friend(s) are you thankful for this year? 

What is your best Thanksgiving memory? 

What does gratitude mean to you? 

What small thing are you grateful for that most people forget about? 
These questions can help you dig deeper or to help get to know loved ones on an even deeper level. Elderly loved ones will likely relish the opportunity to reminisce on the past and share meaningful holiday memories.  
Spend Quality Time with Loved Ones
Instead of a quick visit, try spending quality time together! Unlike most times of the year, Thanksgiving may give you a few extra hours or days with people you care about. 
Often, kids are off work and grandkids are out of school during the holiday break, and they may be more eager to put down their phones and devices and participate in fun holiday activities. This makes it the perfect time to suggest outings and activities that take a little longer to complete since they have the potential to foster deeper connections. 
Take advantage of time without distractions for longer outings, such as: 
"Adopting" a family to provide Thanksgiving dinner for, and doing the grocery shopping and cooking together as a family 

Participating in family traditions (such as picking out or putting up a Christmas tree) 

Taking a day trip to somewhere in the same state

Visiting to local attractions (parks, aquariums, zoos)  
Not surprisingly, connection can be correlated with improvements in mental health, especially among seniors. If you don't live near loved ones, create your "chosen family" this Thanksgiving as you connect with others in your community over the holidays. 
Visit Family Members Who Have Passed On
The Thanksgiving holiday is all about family and not just living family members. Thanksgiving day can be a meaningful day to visit the cemetery and express gratitudee to those you love who have passed on but who you still feel influence your life. 
Although this may sound difficult if you've recently lost a loved one, it can be a therapeutic experience that helps you feel connected to someone you've lost. It's a way to include a particular person on a special day, even if they can't be here in person for a pivotal part of the year. 
Enjoy the Last of All Things Pumpkin
Halloween may be pegged as the pumpkin holiday, but peak pumpkin season lasts through the end of November in many places. Whether you're all about pumpkin spice flavors or just enjoy looking at the gorgeous gourds, Thanksgiving is the perfect time to savor the last of the pumpkin season. 
In addition to consuming pumpkin pie after the main meal, have a pumpkin decoration party! Pumpkin painting can be fun for families, grandkids, or groups. Plus, pumpkins provide the perfect canvas for handprint turkeys and double as a door decoration at home or in nursing homes. Try DIY handprint turkey pumpkins or purchase pre-made kits for parties (or if you're short on time).  
Hitting the farmer's market to find pumpkins can be an activity all its own for a family, senior group, or even as a solo activity. Farmer's markets often have handmade items that make perfect gifts, so you can start your Christmas shopping early! 
Final Takeaways on Thanksgiving Activities for Seniors
Thanksgiving activities don't need to be extravagant or expensive to provide enjoyment. In fact, simple activities can provide connection and bonding for seniors, whether you're spending the holiday with loved ones or new friends. 
Most activities can be catered to a young crowd and older adults of all capabilities, making them perfect for parties, well-suited to group get-togethers, and great for grandkids. 
References
Emmons RA, Froh J, Rose R. Gratitude. PsycNet.apa.org. Published 2019. 
Patel I, Henry C, Bannerman M, Ng J. The Therapeutic Effects of Bingo on the Mental Health Inpatient Population. Therapeutic Recreation, Practice & Research. 2020; 14:74-83.