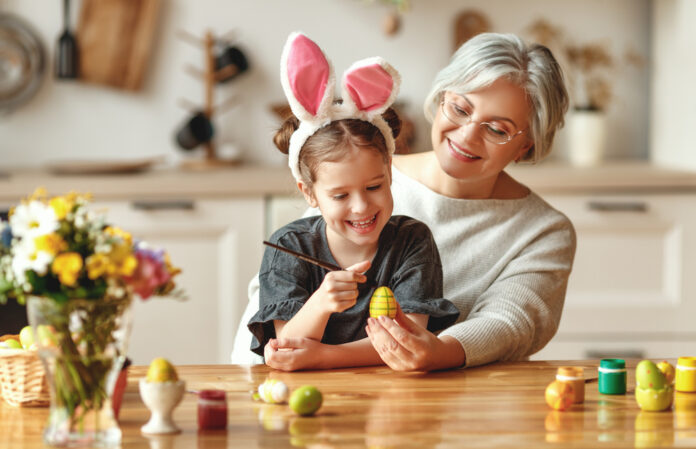 From nursing homes to at-home activities, Easter crafts for seniors are a great way to celebrate spring. Even if you're not religious, there are many fun Easter activities for seniors beyond hunting for eggs.
Enjoy Easter cards, crafts, and community activities as you celebrate Easter this season. Read on for Easter-themed food, Easter games for seniors, and so much more.
Easter Activities for Seniors
Having trouble finding fun easter activities and ideas for seniors? The activities below are older adult-friendly and can be enjoyed in many settings, from senior centers to nursing homes (and even at home with loved ones).
Attend a Virtual Service
Struggling to attend in-person church services? Post-pandemic, many churches offer virtual events, meaning you can join your favorite Easter service online. Ask your congregation or community ahead of time for the link or instructions for connecting.
If you're feeling isolated over the Easter holiday, invite others to join you in your place of residence to watch the services. Many nursing homes provide some sort of religious service for major holidays. If not, you can ask for one to be broadcast in a common area and join with others to enjoy the services.
Get in the Garden
Did you know that certain plants are associated with Easter? Lilies and Lily of the valley are particularly symbolic, but you can choose to plant (or purchase) these springtime varieties instead as a reminder of the season:
Daffodil
Easter cactus
Hyacinth
Iris
Tulip
Easy Easter Bun-nies
Searching for the most adorable Easter side dish? Easter bunny buns or rolls make for the most perfect holiday side dish. Plus, they are well-suited for almost any meal of the day, including Easter brunch. With just a few ingredients (common pantry staples) and some simple shaping of the dough, you'll have a great addition to your plate in no time.
Easter Games for Seniors
When it comes to Easter, it really can be all fun and games! The following games can be tailored according to mobility levels and can be eggs-iting for friends and family to enjoy, too.
Easter Egg Hunt
Easter egg hunts aren't just for the little ones. Many dollar stores sell plastic eggs, making this an inexpensive and festive option.
Fill the eggs with any number of surprises inside. Candy can be fun for family members or residents with a sweet tooth. Money of different denominations (ranging from $1-$20 typically) can be a fun prize and motivator to get moving. Nursing homes can work with nearby sponsors for fun discounts and coupons like free pedicures and tickets to the zoo.
For those with mobility issues, be sure to hide the eggs around waist level and within reach. This can make the eggs easier to grab and won't require any bending down. You can also suggest elderly egg hunters use reacher or grabber devices to nab the eggs if hand strength is a struggle.
Easter-Themed Bingo
Free Easter bingo games are a fun and festive way to engage the elderly community. Already a popular game among seniors, take bingo to another level by making everything Easter-themed.
Go a step further by using the following foods instead of regular pieces to mark your spot:
Annie's bunny grahams
Baby carrots
Cadbury mini eggs
Pastel-colored M&Ms
Bunny Hop-Scotch
Make hopscotch more fun by incorporating an Easter theme. From the very beginning, create an eggs-ellent course by using egg-shaped chalk (found at many major stores during the Easter season) on outdoor surfaces like asphalt or concrete.
If the weather isn't permitting, you can move this game indoors. Use pastel papers secured to the floor or masking tape to mark the squares. If you use laminated paper, ensure everyone is wearing shoes with traction (as opposed to socks) so no slips happen.
Next, learn the basic rules of hopscotch and decide if you want to play one of the variations. One way to make this schoolyard favorite a bit more Easter-centric is to hop using two feet (like a bunny). This may be a safer way for those with mobility issues to move, as opposed to balancing on one foot.
Easter Crafts for Seniors
Trouble finding an easy Easter craft? Look no further than these Easter crafts for adults. They prove that arts and crafts aren't just for younger audiences.
Dye Easter Eggs
Dying Easter eggs isn't a revolutionary Easter idea, but it's a springtime favorite great for all ages. While dipping the eggs in the dye is a popular method, there are many other ways to add color to your eggs.
For a mess- and dye-free alternative, try the Eggmazing Decorator. This can be a great option for those with mobility issues since you don't have to hold the egg in order to decorate it.
You can also use common foods to create natural egg dyes. If dyes or coloring aren't your thing, nearly anything that adheres to the egg's surface will work—temporary tattoos, stickers, tissue paper, and glue.
Don't be afraid to get creative! If you're making eggs homemade, remember to properly prepare them ahead of time.
Decorate Easter Baskets
Boring basket? No problem! Take time this year to spruce your egg-receptacle up. If you have grandkids or little loved ones, you can embroider or monogram special linens to line the bottom of their Easter baskets. It's a keepsake that will last for years to come.
Need other ideas? Head to your local craft store for faux flowers and greenery. Add some ribbon and you're good to go.
Easy Easter Bunny Ears
Felt Easter bunny ears can be easy to create and fun to wear around this springtime holiday. Simply grab a headband, at least two colors of felt, and some wire if you wish to shape the ears or keep them standing in place.
Using a pattern or instructions can help to make the process more simple. Most projects use glue or sewing to bind the materials, and there are even some no-sew options.
Easter Cards
Send some easter cheer in the mail by creating your own Easter cards or postcards. Pastels are a popular color family this time of year, but don't let that limit you! Common Easter motifs include bunnies and carrots, baby chicks and lambs, flowers and tulips, and (of course) eggs.
Feeling eggs-tra creative? Try making pop-up Easter cards or including fun puns like "Hoppy Easter"!
Homemade Easter Gift Ideas
If you're in a giving mood, making an Easter gift might be right up your alley! Turn a bag of marshmallows or cotton candy into edible "bunny tails", make carrot-shaped carrot cake mix to give away, or create cute themed gifts from store-bought cosmetics if you're short on time. Get your creative juices flowing with thoughtful homemade gifts for friends and family.
Easter Decorations
Have paper, pom poms, twine, and a hole punch on hand? You've got enough to make a garland! Like the felt or headband-based Easter bunny ears mentioned above, a pattern can help guide you and make the process easier.
Luckily, many free templates are available online. Garlands are perfect for hanging almost anywhere around the house, including fireplace mantles, stair railings, and along the top of windows, cabinets, or shelves.
In Summary on Easter Fun for Seniors
From religious events to secular celebrations, Easter is a great time for gathering. Invite family, friends, or members of your community to join you for special themed meals, activities, crafts, and games. From bunny hop-scotch to easy Easter bun-ny rolls, there are plenty of ways to make the holiday festive and fun for all ages.
References:
Blooming Haus. Easter Flowers | 10 Symbolic Choices & Their Meanings (2023). Bloominghaus.com. Published March 2022.
DailyCaring Editorial Team. 6 Fun and Festive Easter Activities for Seniors. Dailycaring.com. Published April 2022.
Heritage Woods. Fun Easter Activities for Independent Senior Living. Heritagewoodsseniorliving.com. Published March 2020.