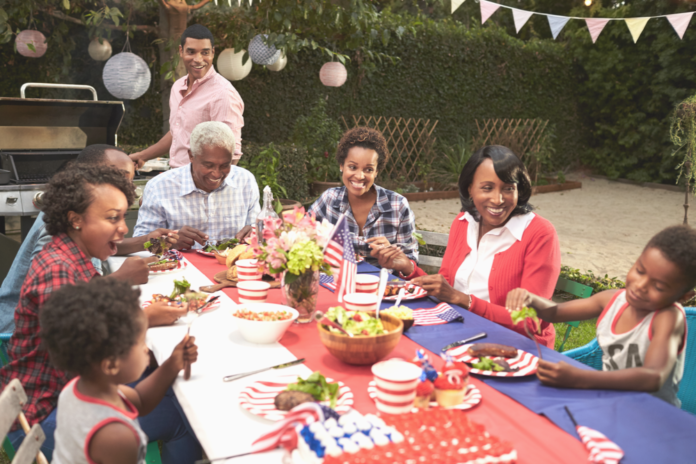 Wondering how to celebrate the nation when a loved one is losing a bit of their own independence? Have a safe and fun 4th of July party with the best senior-friendly activities.
Involve everyone in the celebration with 4th of July games and 4th of July activities made specifically for a patriotic older population. Read on to discover the 15 best tips for a senior-friendly, safe 4th of July party.
4th of July Tips for Seniors
Involving older adults in 4th of July activities is important. However, there may be events that are not appropriate due to a variety of reasons such as heat, noise, and smoke. 
Opt for a fun, indoor 4th of July activity when seniors need the stability or access of staying home. It is still possible to enjoy traditional activities from the safety of one's own home. 
With a little preparation, planning, or adaptation, most 4th of July activity ideas can be made fun and safe for seniors.
Consider Sun Exposure
Plan ahead of time to stay hydrated and bring sunscreen. If possible, find a nice and shady location to enjoy the festivities.
Keep Seniors Comfortable
Older adults can find socializing or standing to be tiring. Some options that provide relief and support include:
Mobility devices
Portable chairs
Folding chairs
Cushions
Walkers
Wheelchairs
Motorized scooters
Be Mindful of the Weather
From day to night, summer temperatures can shift. While the morning and afternoon may be hot, be prepared for temperatures to drop at night. Pack a light jacket or blanket for outings.
Be Flexible and Accessible
Seniors might have a different schedule or routine that helps them stay healthy. Make sure they enjoy their time at an event. Have someone available to take them home or provide support to them as needed.
4th of July Games & Activities
Participating in parades, firework shows, or parties might be out of the question for some seniors. Reduce the stimulus that overwhelms older adults by introducing these fun ideas.
Start a new tradition at the senior home or with an elderly loved one with these 15 great ideas for patriotic fun!
1. Play Firework Bingo
Fireworks shows are a classic 4th of July activity. However, crowds can cause heavy traffic, lots of noise, and easy spread of disease for immunocompromised seniors. Instead, watch the fireworks from afar (i.e. senior home, balcony, boat, hill) and play fireworks bingo. 
Remember to bring or prepare the following:
Printed bingo game (can laminate and use dry erase markers for future use)
Writing utensil for bingo game
Light jacket or blanket (in case it gets cold)
Outdoor seating (as needed)
Light source (if leaving home)
2. Compete in Trivia
Get in the holiday spirit with a trivia game. Test guests' knowledge of historical facts, U.S. history, and more! Create enticing incentives for the winner, such as being the first to get a tasty dessert. 
3. Piece Together Patriotic Puzzles
Puzzles are a great way to celebrate while engaging older minds. Keep the mind sharp by putting together a puzzle depicting a patriotic scene or theme.
4. Throw a Backyard BBQ Party
If a senior cannot participate in activities away from home, bring the party to them! Throwing a backyard barbecue can allow them to connect with family and friends.
To involve older adults even more, include them in the following:
Picking the music
Making the food
Inviting the guests
Setting up/creating the decorations
5. Watch a Parade
A wrap-around porch or shady location can be a great perch to watch a 4th of July parade from. Remember, loose-fitting and light-colored clothing provides comfort and good circulation on hot summer days.
Also take note of where bathrooms are located, and do not forget to hydrate and bring sunscreen.
6. Attend a Baseball Game
From older athletes to baseball lovers, most everyone loves a ballgame. Shady seats in the stadium and hydration throughout the game make for a cool experience. For a less expensive option, consider visiting the closest minor league game.
7. Create Red, White & Blue Crafts
Luminary bags are just one example of patriotic crafts seniors can make. Many crafts like luminaries take few supplies and kits can be found at a local craft store to save time.
Other craft ideas that can be customized with festive 4th of July colors or themes include:
Paint pots or vases
Wine glasses
Candles
Door hangers
Wreaths
Photo frames
Mosaic
8. Tie Dye
Inexpensive and easy to do, tie-dying is a great 4th of July craft for seniors. Opt for tie-dye kits to save time. If shirts are not a seniors thing, try beach towels, socks, or tablecloths for a fun twist. 
Seniors with grandchildren can invite them to participate in this activity. Make the mess easier to clean up by tie dying on a tarp outdoors.
9. Share an Experience
Give seniors a chance to share stories and memories of their favorite 4th of July celebrations. Veterans may enjoy sharing why the holiday is important to them. Journaling can be a powerful way to focus on gratitude, too.
10. Thank a Veteran
Write thank you cards to veterans. Invite seniors to share in their letters why freedom means so much to them or how it has personally impacted their life. This activity can be extra special for the eldery who have children or grandchildren serving the country.
11. Consider Alternative Fireworks Shows
Firework shows can also be televised, which makes a great option if an organized show is not in the cards. Youtube makes it easy to watch pre-recorded fireworks shows at a time that is more convenient for seniors. 
12. Watch Movies
Create an at-home cinema experience or catch a showing of a recent release. Ask seniors what movie makes them feel patriotic. They may have a favorite war drama, documentary, or history movie they would enjoy watching.
13. Host a Sing-Along
Sing patriotic songs together. This could also be turned into a "name that tune" game. Popular favorites include: 
America the Beautiful 
My Country 'Tis of Thee
This Land is Your Land
Yankee Doodle Boy
14. Have a Garden Party
Plant red, white, and blue flowers around the house or senior home. These lovely petals can remind residents once the holiday is past to ponder the freedoms they enjoy each day.
15. Make Patriotic Recipes
Cooking with a patriotic theme can be a great way to introduce an element of celebration. When hosting family or friends, invite older children to assist seniors.
Make delicious red, white, and blue treats together, including jello, fruit kabobs, and parfaits with watermelon, berries, etc.
The Final Word for Senior-Friendly 4th of July Activities
Beyond patriotic parties, older adults can celebrate the 4th of July with an assortment of adaptable games and activities. Whether a party of two or surrounded by friends and family, choosing senior-friendly 4th of July activities can help the elderly feel included.
And with these festive July party games and ideas, seniors will have the freedom to have fun this Independence Day!
References:
American Senior Communities. Senior Friendly 4th of July Activities. Asccare.com. Published July 3, 2019. https://www.asccare.com/senior-friendly-4th-of-july-activities/. 
Chow C. Fantastic 4th of July Activities For Seniors. Carelinx.com. Published June 28, 2016. https://www.carelinx.com/blog/fantastic-4th-of-july-activities-for-seniors. 
Daily Caring Editorial Team. 16 Fun Ways to Adapt the 4th of July Activities for Seniors. Sharphomecare.com. Published July 3, 2019. https://sharphomecare.com/blog/f/16-fun-ways-to-adapt-the-4th-of-july-activities-for-seniors. 
Enlivant. 4th of July Activities for Seniors. Enlivant.com. Published June 28, 2017. https://www.enlivant.com/blog/4th-of-july-activities-for-seniors. 
Eversound. Five great fourth of july senior activity ideas. Eversoundhq.com. Published June 13, 2018. https://eversoundhq.com/blog/activities/fourth-july-senior-activity-ideas/. 
Owens D. Fun 4th of July Family Activities for Seniors. Cottageassistedliving.com. Published June 25, 2018. https://cottageassistedliving.com/blog/fun-4th-of-july-family-activities-for-seniors/.