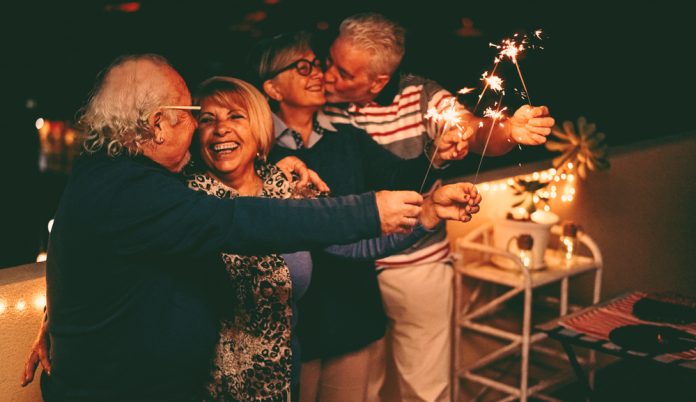 If you're searching for a creative way to celebrate the new year, you've come to the right place. From New Year's crafts to party games for seniors, there are plenty of activities to keep you busy until the ball drops.
Read on to find nine New Year's activities for seniors, including party games for senior citizens.
New Year's Activities for Seniors
For many people, fireworks ring in the new year. However, you may be interested in starting a new tradition this year. From at-home activities to celebrations for senior living facilities, enjoy the new year with these exciting activities.
Cook Foods for Good Luck
Celebrate the new year with foods from around the world. According to tradition, many countries enjoy certain "good luck" foods on New Year's Eve such as:
Many countries consume circle-shaped foods (symbolizes coming "full circle")
Spanish and Portuguese cultures eat 12 grapes at midnight (symbolizes 12 months)
Chilean people eat lentils at midnight and southern states in the United States enjoy black-eyed peas on New Year's Day (both foods symbolize prosperity)
Residents of Sweden and Norway eat rice pudding with an almond hidden inside one of the desserts (the lucky person to discover it is thought to have good luck for the New Year)
Go to a Fireworks Show
With shorter days in the winter, fireworks shows may start as early as sundown. Connect with local community organizations and senior centers for groups going to view fireworks together. In lieu of fireworks, you can opt for a New Year's fair or parade that takes place during daylight.
Try a New Tradition
Starting a new tradition can be cathartic and symbolize new beginnings for the new year. For example, the Reiki technique (a Japanese alternative medicine method used as a form of energy healing) suggests participating in a bowl-burning ceremony. In this ceremony, what you wish to change in the new year (i.e. behaviors, beliefs) are written down and then burned in a bowl.
For the early-to-bed types, you could start a tradition of celebrating New Year's Day according to a time zone in another country. So if you live in Los Angeles, 4 PM Pacific Time (PT) is actually 12 AM in London. You could celebrate with a late lunch or early dinner full of classic English foods.
Each year, pick a new time zone and celebrate in the style of another country.
Celebrate With Classic Flicks
Just like Christmas, there are many films set around New Year's Eve and New Year's Day. If Hallmark movies aren't what you prefer, pick from this list of popular classic flicks:
After the Thin Man (1936)
Holiday (1938)
Holiday Inn (1942)
Sunset Boulevard (1950)
An American in Paris (1951)
An Affair to Remember (1957)
Chimes at Midnight (1965)
Happy New Year, Charlie Brown (1986)
Sleepless in Seattle (1993)
New Year's Crafts
Looking for super easy crafts for seniors? Here are two of the top favorites for older adults.
Make Some Noise This New Year's
Did you know noise makers were actually used in ancient new year's traditions to ward off "evil spirits?" Homemade noise makers full of rice, pasta, or beans are both a craft and fun party favor if you are planning on a crowd.
Plus, a craft like this allows seniors to show a bit of personality by way of decoration and design.
Party With Pipe Cleaner Crafts
Pipe cleaners may be the most versatile craft supply. A twist on party hats, create pipe cleaner crowns or headbands (a perfect craft for kids or family members to be involved in).
Looking for a new look this New Year's (literally)? Pipe cleaners can also be made into fun glasses. Use sparkly pipe cleaners for a festive flair.
Party Games for Seniors
Hosting a New Year's Eve party? Play these classic and unique party games for senior citizens!
Have a Sparkling Cider Contest
Instead of wine tasting, host a sparkling cider or juice tasting. Have residents taste ciders from pre-portioned cups. Then, allow them to guess what hints of flavor they taste and see how keen they are on each flavor.
Not only is this a fun way to try something new, but it also is an alcoholic-free way to toast the new year. Martinelli's, a popular brand, sells these sparkling sips along with its original cider:
Apple-Cranberry
Apple-Grape
Apple-Mango
Apple-Pomegranate
Blush (non-alcoholic, made from apples with a hint of cherry)
Peach
Pear
You may also want to look at local shops for flavors. Some areas celebrate with signature sparkling ciders, which could be a fun way to find out what flavors your community is known for.
Play Games (While You Wait)
Card games can be a great way to pass the time while you wait. Large print cards may be helpful for those who have a difficult time seeing the small print.
If card games aren't your thing, board games or a classic game of bingo can also be fun to play while you are waiting for the clock to strike midnight.  
Throw It Back With a Themed Party
Select a decade and throw a themed party! For example, many people threw a 1920's "roaring 20s" party to celebrate the new year in 2020.
Include fun games that highlight residents born in the decade, such as a baby picture matching game where correctly guessing earns the winner a prize. 
Recapping Seniors Celebrating the New Year
It's never too late to start a new tradition for the new year! Whether you are reminiscing or ready to leave the old year behind, there's an activity for everyone. Set yourself up for good luck in the new year with these fun crafts, games, and more.