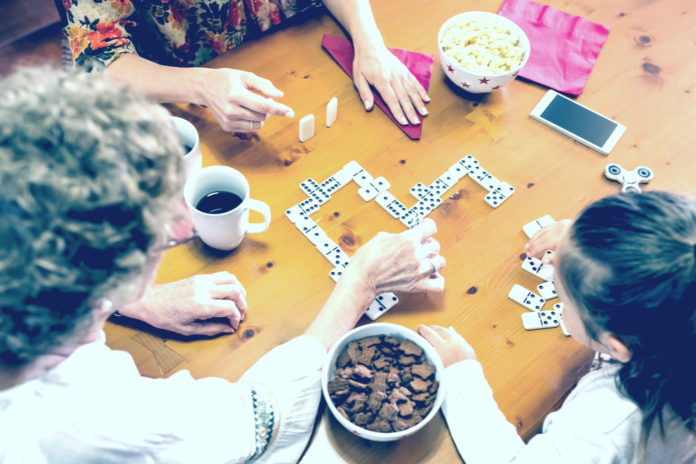 Wondering what to do for New Year's? A new year offers new opportunities, and that calls for celebration. 
New Year's Eve games and New Year's Eve crafts for seniors can be an exciting and special way to ring in the new year. Older adults may find it difficult to participate in traditional activities as they age, but that does not mean the holiday fun has come to an end. 
These unique activities offer an intentional way for the elderly to celebrate, incorporating old favorites and fresh new festivities. Read on to discover the best party games for seniors, great snacks, and creative activities for welcoming the new year.
Simple Party Snacks
Unsure of what snacks to make for a New Year's Eve party for seniors? The best rule of thumb is to provide simple snacks that are appropriate for the palettes of the guests. Nothing too fancy needs to be involved to put an impressive celebration spread on the table!
Cheese and Crackers
This crowd-pleasing pair is often a hit at parties because of its universal appeal. Offer a variety of low-fat cheeses and whole wheat crackers for an easy snack.
Charcuterie Boards
Charcuteries are great for events because they deliver a variety of options that can be mixed and matched according to the guest's tastes. Use these simple steps to make an impressive charcuterie board:
Set out a cookie sheet, decorative cutting board, or another flat surface.
Arrange deli meats and dips such as spinach and artichoke dip, hummus, and other favorites.
Pair with an array of whole wheat crackers or pretzels, low-fat cheese slices, fresh fruit, dried fruit or figs, nuts and seeds, and any other snacks that seem fit for the occasion.
Remember to provide guests with the proper plates, napkins, and serving utensils if needed.
Popcorn
Popcorn is one of the easiest snacks to make. If possible, steer clear of added sugar and salt and opt for vegetable oils and seasonings instead to deliver flavorful popped corn.
Fresh Fruits and Veggies
Pre-cut fresh fruits and vegetables are a great option to have out at a New Year's party for seniors. Just like the new year, they offer a fresh start to the party and fuel older adults by being full of antioxidants, vitamins, and minerals that nourish their bodies. 
Sparkling Drinks & Infused Water
Sparkling drinks and infused fruit water can add a colorful, bubbly touch to the table without needing booze to get the party going. Be sure to choose drinks low in or with no added sugars or artificial flavorings.
Soak fruits like lemons and berries, or vegetables and herbs like cucumber or mint in water overnight to add a natural, nutritious flavoring to New Year's drinks. Sparkling water or sparkling cider that is low in sugar or artificial sweeteners can also be a good option for beverages
Cookie Cutters
Cookie cutters are one of the most underrated kitchen instruments. Use cookie cutter numbers, letters, shapes, or other symbols to celebrate the new year. Foods like cheese slices, whole-wheat breads, melons, pie crusts, and more can all be molded to make common food just a little more exciting.
Fun Party Games for Seniors
The best party games for seniors are those that are easy to learn and captivating to play. To choose the appropriate game, it is important to get to know the person or audience and pick an option that meets their needs.
Choose games that are easy to read and easy to modify for those with vision problems or disabilities. A variety of games exist, and most are senior-friendly or easy to adapt to elderly guests.
Trivia
Trivia can be a thoughtful way for seniors to recall facts and figures from over the years. Retail games such as Trivial Pursuit and Scene It? are popular favorites.
Decade Dance
Decade themed party activities can be an excellent way to ring in the new year. Picking a specific decade can help to narrow the decor, music, and other aspects of the party to a specific era. Host a dance contest or teach seniors a new dance from a specific decade to keep them moving in the right direction.
Year of Invention
This game is fun and can also introduce some competition into the celebration. Set 10 items that are common, everyday inventions out on a table and number them. Hand out pens and paper and have guests write down the year in which they believe that object was invented.
Guess Who
Guess Who can be a great game, especially for those who need a little ice-breaker activity to get the party started. Have guests bring a childhood photo or a photo of them celebrating new year's past. Then, number each photo and have guests write down the corresponding names and numbers as they try to match the correct name with the correct photo. 
Name that Tune
This game can be a fun way to wax nostalgic. Be sure to pick popular tunes that appeal to the audience and that the guests will know and enjoy.
Get Creative
If there is not a game option that meets the criteria, customize or create a game that will. Many games offer special editions or additional packs that help add on to the original game and can make it more appropriate or appealing to a senior audience.
Making your own game can also be a unique way to cater to the older adult(s) you are celebrating with.
An Old Favorite
Bingo is a classic game that often appeals to most older adults. Large print cards and easy-to-hold markers make this a great game for guests with limited abilities to get involved. To spice it up, add prizes to fit the guests or theme to raise the stakes of the celebration.
Other Fun Options
Puzzle, Tile, and Board Games: Games such as Ticket to Ride, Cranium, Backgammon, Chess, Mahjong, Checkers, and Dominos are thought to help slow cognitive decline and decrease depression in the elderly. They are also a great option for family or friends joining the party and since they are generally played while seated they are an excellent option for seniors with limited mobility.
Video Games:

Recent research

reported the "video-game based interventions are helpful in promoting physical health (i.e., balance, mobility, strength, physical fitness, and walking performance/gait parameters) and mental health (i.e., balance confidence, executive functions, reaction time, and processing speed) among older adults." Popular picks include Bejeweled, Candy Crush Saga, and Words With Friends (a mobile game similar to scrabble).
Card Games: Portable and practical, these games are great for facilities that may not be the most high tech. All you need is a flat surface and a couple decks of cards. These games also offer an atmosphere for socializing, conversation, and can even be taken outdoors if the weather is nice. Most require a bit of strategy but are easy to explain and play.
To make card games more accessible, purchase oversized playing cards, decks with large prints, accessories such as card holders, or an automatic shuffling device so that all older adults can participate. Fan favorites include Gin Rummy, Bridge, Spades, Crazy Eights, Old Maid, Go Fish, UNO, Phase 10, and War.
Dice Games: Similar to card games, dice games require little to no equipment other than some dice and a pen and paper. They can also be taken on the go if needed and are easily portable. Common crowd pleasers include Bunco, Liar's Dice, and Yahtzee. 
Word/Number Games: Games like these are great for any size group, from solo players to multi-guest games. Crosswords and word search games can even be generated online and help to emphasize a specific theme. Other games such as Sudoku, Scrabble, Scattergories, and Balderdash are also great options.
Easy Crafts for Seniors
The following crafts for seniors are inexpensive but do not skip out on the fun. Be sure to think about if the audience being catered to needs assistance with tasks such as using scissors or writing. 
Each of these crafts is low-cost and adaptable depending on the size or design of the party. Customize them to fit the older adults involved, and they are sure to add something artsy to the party!
Colored Sand Bottles
Reminiscent of beach memories, this fun activity can also help to symbolize the sands of time. Low cost and easily customizable, colored sand bottles also double as a fun souvenir and keepsake that lasts after the party is over.
Silhouette Portraits
This craft is suitable for all sizes of groups. Caregivers Activity Source provides a complete guide to using this activity to keep seniors active. Tailor it to the needs of your senior or community by having people available to help when needed with the different steps such as cutting or tracing.
Hand-Colored Bookmarks
All that is needed for this craft are simple art supplies such as thicker stock paper and crayons or colored pencils. Have guests create colorful bookmarks to keep their place in the books they will read during the new year.
Paper Link Garland
This craft is a good option for guests who are expecting kids or grandkids to come along to the celebration. Create a chain by cutting thin strips of paper and then secure the ends together. Slip the next strip through the first loop and repeat, creating a chain structure.
This craft can be customized according to the wishes of the senior, such as a countdown to a special date or a chain with 365 links for each day of the new year!
Clippings Collage
Inexpensive and artsy, this craft is great for creative types. Collect magazines, newspapers, and catalogues from the current year or decade and have guests cut pictures or phrases from them that they feel symbolizes the year(s). Secure the images to some sort of poster board or other surface. The end product will be a collage that captures the year and it can also provide a window into that elderly person's perspective and experience. 
Whatever games, snacks, or crafts are involved, it is bound to be a great beginning to the new year. As long as the activities have been designed with the elderly in mind and needs are taken into account, the new year will be off to a fun and festive start.
References:
Redd L. 81 Top Games for Seniors and the Elderly: Fun for All Abilities. Great Senior Living. 2020. https://www.greatseniorliving.com/articles/games-for-seniors.
Hearthside Senior Living. Party Games for Seniors. Foster Senior Living. 2020. https://www.hearthsideseniorliving.com/party-games-for-seniors/.
Xu W, Liang HN, Baghaei N, Berberich BW, Yue Y. Health Benefits of Digital Videogames for the Aging Population: A Systematic Review. Games for Health Journal. Ahead of print. 2020.