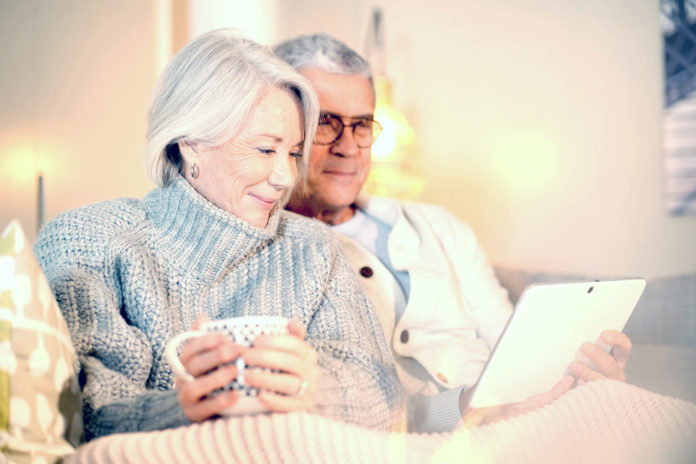 Winter can be a difficult time of the year for seniors with increased feelings of isolation. Cold temperatures, flu, and cold germs are also on the rise.
And as COVID concerns remain with advisories of limiting travel and social interactions, this winter season could be especially challenging.
Fortunately, one can protect physical, mental, and emotional health this winter season. Read on to find out how!
7 Senior Winter Safety Tips
Wintertime is inevitable, but it can be approached in a healthy manner. Use these winter season tips to be as safe and prepared as possible.
1. Avoid Ice & Slippery Surfaces
A main concern for senior winter safety is limiting risk of falling on icy surfaces. Fall risk is higher in winter months for seniors and a concern for injury or hospitalization. In fact, falls are one of the leading injury related visits to the emergency room for those over the age of 65 years.
Lower risk of falling in the winter by avoiding slippery surfaces. When venturing outside, wear shoes or boots with good traction and make sure to walk on clear, salted sidewalks as much as possible. Avoid going outside if roads and sidewalks are unplowed and unsalted.
Make sure to take boots/shoes off safely before walking around once inside. The snow or ice build up on the bottom of shoes can make it slippery when your guard may be down once inside.
2. Fight Feelings of Isolation & Depression
Feelings of depression and isolation can be increased especially around the holidays for some older adults. Winter time brings about darker, shorter days, and the shortest day of the year, which can increase risk for seasonal affective disorder (SAD).
With the combination of isolation from COVID and potentially SAD, risk for feeling isolated or depressed during this winter season can be increased. Fight isolation and depression this winter season by:
Implementing a strong social support. This may include family members, friends, community resources, support groups and a healthcare team.
Creating a "check in" system with neighbors or friends to break up feelings of isolation.
Reaching out to someone when feeling down and continue to stay active, even if in your own home.
Overall, do not hesitate to reach out if or as needed and take part of safe activities that bring joy.
3. Travel Only for Essential Reasons
With COVID restrictions in place on top of cold weather and other winter virus concerns, try to only go out when it is considered necessary. Limiting unnecessary travel can help protect against falling on slippery surfaces and limit exposure to others who are potentially sick.
If needing help retrieving essentials, reach out to family, friends or neighbors to help so you do not have to go out. Schedule virtual visits with loved ones, too, when travel is limited.
4. Dress Appropriately for the Cold
When needing to go out in the cold, make sure to dress warmly enough for the weather conditions. As we age, body heat loss increases.
The National Institute on Aging (NIA) also suggests a concern in older adults is a change in awareness of body temperature regulation. There may not be feelings of cold or hot until being very chilled or very warm which can come at dangerous temperatures.
The NIA suggests wearing the following during the winter season (depending what is weather related to your location):
Dress in loose fitting layers when going outside.
Cover the neck and head with a hat and scarf.
Wear a warm, waterproof jacket when it is snowing.
Change clothes right away if they get damp.
5. Eat a Nutritious Diet
Eating a nutritious, healthy diet is important year round. However, especially during the winter months, eating a nutritious diet can be an overlooked senior safety tip.
Eating nutritious foods is important for many reasons, including the following:
Promote brain health

during the winter months
Help fight feelings of depression
Keep the immune system strong
Prevent unwanted weight loss or gain
Maintain proper body temperature
Make a habit of eating a simple, healthy breakfast, drinking enough water (or tea!) throughout the day, and eating a good variety and balance of fruits, vegetables, lean proteins, dairy or dairy alternatives, heart-healthy fats, and whole grains.
Consult a healthcare team to discuss if a vitamin D supplement would also be beneficial, as older adults are at risk for lower levels of vitamin D. Low levels of vitamin D are associated with cognitive decline, depression, osteoporosis, and cardiovascular disease.
6. Stay Warm While Inside
Even if not going outside in the cold, the NIA suggests there is still a risk for hypothermia even when staying inside during the winter months. Living in a cold home, apartment or room with inadequate heating can be a concern for maintaining healthy body temperature regulation during the winter.
Be sure to heat the living space as best as possible while keeping in mind to close off vents for rooms that are not being used and placing towels or other devices to block drafts coming in from doors or windows. Dress warmly when inside and keep blankets nearby that can easily be accessible to take on and off as needed or available in case of a power outage.
Consider the following resources if having a hard time paying heat bills:
Local power or gas company for help to weatherize the living space and help keep heating costs down. These agencies and companies may also have special programs for people who have a limited income and qualify for help paying the heating bill.
Local Area Agency on Aging, or local senior center may have information on additional programs or local assistance.
7. Test for Carbon Monoxide & Beware of Fire Risks
Using a space heater may seem like a viable solution to stay warm during the winter months. However, leaving a space heater on for extended periods of time could increase fire risk.
Care.com suggests keeping a carbon monoxide detector inside a living space, as using a fireplace, gas heaters, lanterns, and other heating sources can lead to carbon monoxide poisoning. Check the batteries of the carbon monoxide detector to make sure it is working properly.