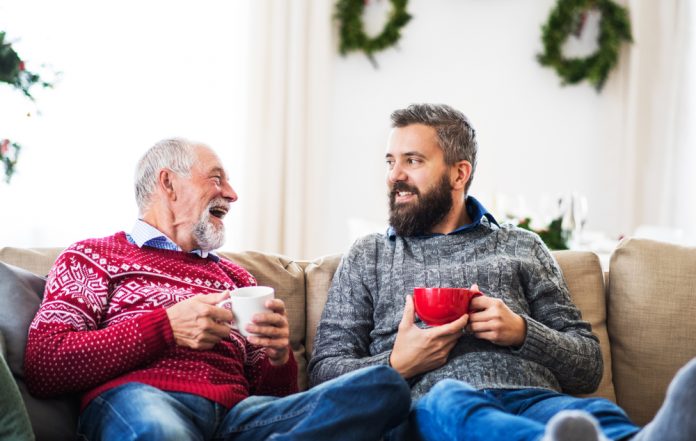 Senior depression can get severe during the holiday season. While normally a time of holiday cheer, social isolation, or other risk factors can cause the "holiday blues." Fortunately, there are many ways to manage holiday depression in the elderly. 
Read on for tips on dealing with depression and the holidays for seniors.
Seasons And Senior Depression
Depression around the holidays is more than just "holiday blues." It's also not a natural part of aging, although that is what many older adults assume.
Holiday depression can be a form of seasonal or situational depression. While seasonal affective disorder (SAD) often gets all the attention during winter months, seasonal sadness can also be a signal of a larger root problem. Conditions such as clinical depression or major depressive disorder may also be to blame.
Seasonal Depression Risk Factors
Younger people and older people can both deal with seasonal depression. However, an older person may have more risk factors, such as:
Alcoholism or addiction
Genetic predisposition
Inability to (or lack of) exercise
Other medication conditions (i.e. cancer, dementia, diabetes, or stroke)
Physical limitations
Sleep disorders
Social isolation
Stress or caregiver stress
If you've ever experienced depression, you know it can affect your quality of life. Luckily, there are several options for mental health treatment.
How To Deal With Holiday Depression
While the holidays feel like the most wonderful time of year for some people, seasonal festivities can be overwhelming for others.
Here are some helpful ways to deal with depression around the holidays.
Recognize the Signs of Depression
The first step on the road to treatment is to see the signs and signals of depression. Some symptoms of holiday depression can include:
Becoming tearful or weepy
Being anti-social or wanting to be alone all the time
Changes in appetite
Difficulty sleeping
Fatigue or lethargy
Feeling hopeless or helpless
Losing interest in favorite activities or events (i.e. hobbies)
Mood changes (i.e. anxiety, irritability)
Moving more slowly
Neglect of personal hygiene
Suicidal thoughts or attempts
Trouble with concentration, memory, or decision-making
Accept Help from Family and Friends
Friends and family can not only help you recognize the warning signs, but they can also help you seek treatment. Sticking to a treatment plan often requires support from your social circle.
Surrounding yourself with loved ones can also help you stay involved in holiday activities without being too overwhelmed by the festivities. For example, going to a holiday party with a friend or family member who knows what you can handle can help you enjoy the holidays without overdoing it.
Ask a Health Care Professional for Tips 
There are many types of treatment for depression, and a healthcare professional can help you choose the best option for you. Treatments available to you may include: 
Bright light therapy (i.e. a light box) 
Medications or supplements (i.e. antidepressants, vitamin D)
Psychotherapy (i.e. cognitive-behavioral therapy [CBT])
Don't Give Into Obligations 
Unless you find volunteering or gift-giving truly enjoyable, don't feel obligated to participate in all the seasonal activities. Engage in activities that bring you joy, such as hand-making and mailing Christmas cards. Homemade gifts can be inexpensive and meaningful for your friends and family to receive. 
If you're missing someone who is gone around the holidays, you can carry on traditions that honor them if you'd like. Alternatively, you can try a new practice, such as lighting a memorial candle or attending a church service.
Emphasize Eating Well and Exercise
Eating well and exercising regularly have been linked to reducing the risk of disability and depression. Some simple actions you can take this season to avoid holiday depression include:
Eat five fruits or vegetables each day
Limit alcohol
Lower salt and sugar intake
Participate in exercise you enjoy (i.e. short walk to look at Christmas lights)
Start a mindfulness or yoga practice
In Summary On Seasonal Depression
The holidays can be a tough time for seniors. Fortunately, seasonal depression has many treatment options that can make the "most wonderful time of the year" feel truly enjoyable.
Family, friends, and health professionals can help you find the right fit when it comes to treatment. 
References:
Depression and Older Adults. National Institute on Aging. Published July 2021. https://www.nia.nih.gov/health/depression-and-older-adults#risk. 
Help Seniors Battle Holiday Blues. Visiting Angels. https://www.visitingangels.com/knowledge-center/senior-health-and-well-being/help-seniors-battle-holiday-blues/15. 
How to Recognize Seasonal Depression in a Senior. Five Star Senior Living. Published March 2020. https://www.fivestarseniorliving.com/blog/how-to-recognize-seasonal-depression-in-a-senior. 
Poklemba V. Holiday Depression: Strategies for Overcoming Seasonal Stress. Aging Care. Published December 2021. https://www.agingcare.com/articles/dealing-with-holiday-depression-108018.htm.