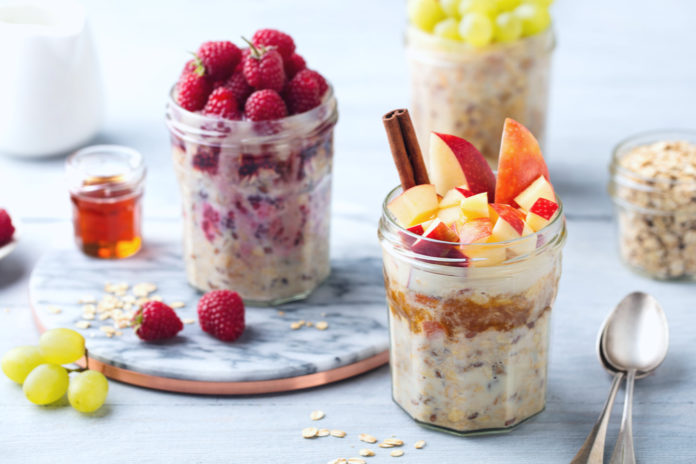 It is that time of year again… The calendar has commenced for tempting, sweet, and pumpkin-spiced fall treats and foods!
However, many traditional dessert recipes contain filler ingredients like artificial flavorings and added sugars. While such treats should be enjoyed now and then, one can still enjoy fun fall flavors while maximizing essential nutrients.
The following snacks and desserts are designed with senior health top of mind, all without compromising the festive flavors. Read on to get inspiration for healthy fall snacks and desserts!
6 Healthy Fall Desserts & Snacks for Seniors
From caramel apple nachos to autumn avocado ice cream, these festive fall snack and dessert ideas are both delicious and healthy!
1. Caramel Apple Nachos
Caramel apples are a fall favorite, though they can be difficult to eat and packed with sugar.
Caramel apple "nachos" is a great recipe to ensure an apple a day whilst satisfying that caramel apple craving. The apple "chips" are also much more manageable to bite into.
To make, core a green apple, chop into slices, and arrange on a plate. Lightly drizzle with caramel sauce and garnish with favorite toppings such as:
Chopped peanuts
Crushed graham crackers or pretzels
Mini chocolate chips
Shredded coconut
The recipe is completely versatile, so feel free to use another preferred apple, a peanut butter drizzle, and other favorite toppings!
2. Mixed Berries Yogurt Parfait
For a healthy, balanced snack this fall season, prepare a Greek yogurt parfait with mixed berries.
Cranberries and raspberries are in season during fall, and blueberries are considered a brain-healthy food. Greek yogurt is packed with calcium, protein, probiotics, and other essential nutrients. The combo supports aging in a number of ways, including preserving muscle and bone health.
Simply layer Greek yogurt with fresh or frozen berries. Lightly drizzle honey and a dash of ground cinnamon for natural sweetness. Adding a tablespoon of peanut butter adds healthy fat and more protein, and makes for a subtly sweet and salty treat!
3. Homemade Fall Trail Mix
Mixed nuts are a great source of healthy fats as well as other nutrients. However, storebought mixes can be laden with added salt, oils, sugars, and other unwanted ingredients.
Making a homemade mix of unsalted, unsweetened nuts and seeds helps control ingredients and offers the chance to be creative! Some fall favorite mix-ins include:
Bite-sized pretzels
Candy corn
Ground spices such as cinnamon, cloves, and nutmeg
Pecans
Pumpkin seeds
Walnuts
When enjoying trail mix, candy pieces included or not, stick to the concept of portion control. While nuts and seeds contain healthy fat and essential nutrients, they are rich in calories and can be overconsumed easily.
4. Autumn Avocado Ice Cream
Avocados are in season during the fall, and they provide healthy fats, fiber, folate, copper, and other nutrients essential to senior health.
The unique fruit also makes the base of one creamy autumn avocado "ice cream" that packs mega nutrients and fall flavor!
Ingredients:
3 ripe avocados
3 medium-sized bananas – peeled, chopped, and frozen
1 tsp vanilla extract
1/4 cup of favorite unsweetened milk (cow's, almond, cashew milk), add 1 Tbsp at a time in addition as needed
2 Tbsp canned pumpkin
1 tsp pumpkin pie spice (or use a homemade mix of ground cinnamon, nutmeg, cloves, and ginger)
Instructions:
Cut avocados in half, remove the pits, and scrape out the edible flesh into a food processor. Also add the frozen banana, vanilla extract, milk, canned pumpkin, and pumpkin pie spice.
Blend ingredients together until mixture is smooth. Splash with milk as needed to soften the mixture, stopping and scraping the edges a time or two as needed.
Serve and enjoy or freeze until use. Once frozen, the ice cream may need thawed prior to serving.
Top with toasted pecans for a light crunch and drizzle of maple syrup for natural sweetness. (Optional, but recommended!)
5. Apple Crisp Oatmeal
Oats are one of those foods that just "works" thanks to their versatility and health benefits. The small yet mighty oat packs fiber, vitamins, minerals, and other nutrients that support blood sugar control, good digestion, and heart health.
Oats can be added to many dishes and complement many flavors, especially fall favorites like this delicious "apple crisp" oatmeal recipe. While the recipe makes for a perfectly balanced breakfast or hearty snack, it tastes like one warm slice of apple pie!
Ingredients:
1/2 cup chopped apple
1 tsp maple syrup
Pinch of ground cinnamon
1/2 cup old-fashioned oats, rolled oats, or gluten-free oats
1/2 tsp vanilla extract
Pinch of apple pie spice (or ground cinnamon, cardamom, nutmeg, and ginger)
Pinch of salt as desired
Instructions:
Add chopped apple, maple syrup and cinnamon in a small microwave-safe bowl. Stir until apples are coated then microwave one minute, or until apples have softened.
While the apples are heating, add all ingredients into another microwave-safe bowl. Cook according to package or to reach desired consistency.
Spoon warm cinnamon maple apples atop the oats, along with other preferred toppings (see prep tips) as desired.
Prep tips:
Prepare oats with milk for added calcium, vitamin D, protein, and creaminess.
Make overnight oats for a swift morning breakfast or hearty snack. Combine all desired ingredients into an airtight container such as a mason jar and store in the fridge overnight.
Mix in or top with chia or flax seeds, chopped pecans, peanut butter, and/or pureed pumpkin for added nutrients.
6. A Square (or Two) of Dark Chocolate
Sometimes a square or two of dark chocolate is all that is needed to curb a sweet tooth. (Also, no assembly needed or required!)
Dark chocolate contains antioxidants, along with healthy fats, vitamins, and minerals. Who knew that chocolate could be a healthy snack and not just a dessert?
To ensure the healthiness, though, be sure to check the ingredients and labels when choosing and purchasing. Limit products with unnecessary added sugars, salt, or artificial ingredients.
All-in-all, keep this season of life lively by incorporating the inspiration above into your own fall dietary plans. Celebrate autumn by eating intentionally and enjoying the seasonal flavors!