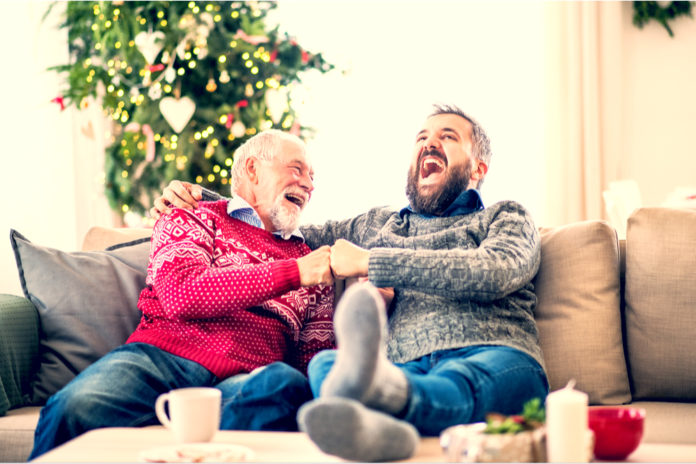 The holiday season can bring up mixed feelings for many seniors…
Some may embrace this time of year with joy and happiness. Others, however, may associate the holidays with a level of dread with increased feelings of isolation and depression.
Including seniors in holiday activities, whatever feelings they have for the holiday season, can help keep their social connections healthy. It can also help combat loneliness during the holidays.
Here are 10 fun holiday activities seniors can do with others and socially distanced if needed.
10 Fun Holiday Activities for Seniors
From celebrating holiday events to getting creative with arts and crafts, get festive with these fun activities!
1. Holiday Games
Playing games is a fun way to get seniors laughing and interacting during the holiday season. It also helps lighten the mood and bring out some friendly competition especially if prizes are on the line.
Holiday games do not need to be complicated, either. They can simply be regular games with a holiday twist such as bingo and trivia.
Holiday Bingo
Holiday bingo cards can be printed off and festive candies or chocolates can be used for chips. Holiday bingo can also be done by playing 15 to 30 seconds of holiday carols or even showing holiday video clips. The bingo cards will either have the title of the carols or holiday movies. 
Holiday Trivia
Trivia offers a fun, interesting way to stimulate the brain during the holiday season. Of course trivia questions can be tailored to the participants, or you can use these already made holiday trivia questions. 
Holiday trivia can pull from old holiday movies, songs, historical events around the holidays or other unique twists. Keep in mind old holiday songs may cause negative emotions for some, so be sensitive to the needs of the audience.
2. Touring of Holiday Lights
Depending on weather and availability, touring holiday lights on foot or in a car/bus can be a holiday outing option. There may be a specific neighborhood or street in the area that is known for having beautiful displays, or if possible, driving a short distance to another town nearby may provide more light display options.
Local zoos or botanical gardens are other group activity options to easily tour holiday lights in one place. As an added bonus, walking around and enjoying the twinkling lights is a great way to sneak in physical activity.
3. Secret Santa Claus
There are many ways to do a secret Santa gift exchange that can encourage senior participation. There can be a set gift limit and gifts can be given secretly with names randomly picked. At the end, it can (or doesn't have to) be revealed who gave who their gift.
Secret santa can also be done by giving a gift without spending any money, giving a gag gift or a charitable donation made in honor of your secret santa.
4. Outdoor & Indoor Caroling
If musically inclined, door-to door-caroling may be a fun activity for seniors during the holiday season. Seniors living in a care facility could also carol door-to-door for festive indoor activity.
Socially distanced caroling may be done in smaller pairings as opposed to a larger group. Check local health departments for any precautions that need to be taken locally.
5. Charitable Giving
The Salvation Army anticipates an extra 1.6 million more people seek help this holiday season due to the COVID pandemic. With the increased need for giving, organizing charitable giving opportunities this holiday season is an important consideration.
Charitable giving during the holidays may include adopting a family or supporting other local charities. Also search for a designated date for dropping gifts off and helping to wrap dropped off gifts if needed.
6. Knitting Club
According to Mental Health America, knitting may provide many health benefits such as lowering blood pressure, depression, anxiety, and loneliness. Seniors can knit together (socially distanced or virtually) for various organizations or people in need.
For example, Knots of Love accepts knitted beanies and blankets for people going through chemo, and the Christmas at Sea program donates knitted gifts to professional US mariners working abroad. Before starting a knitting group, check local or national organizations for any restrictions for donations.
7. Share Favorite Holiday Memories
Memories of past holidays may trigger feelings of happiness, loss, loneliness or a combination of mixed emotions. However, having the option for people to share any favorite past holiday memories may be a positive and healing experience.
So, invite seniors to share any special holiday memories via writing, online, or in person. Hearing from others and participating can help break loneliness and feelings of isolation during this season.
8. Help Wrap Presents
Seniors could offer their time and expertise of wrapping if this is something they enjoy doing. This may be to help community members during the holidays who feel they do not have time to wrap their presents or feel they are not the best gift wrappers.
Wrapping centers at shopping centers during the holidays may be limited during this time, so the need for help wrapping may need to be done on a smaller scale. Reach out to friends, neighbors, and family for contactless transfer of unwrapped and wrapped gifts as a way to offer this activity.
Some older adults may need help themselves wrapping presents or purchasing supplies for wrapping. Consider buying extra supplies or offering to help seniors wrap any presents that could benefit from this service.
9. Deck the Halls
Holiday celebrations and get-togethers may look different this holiday season. However, Sourcing Journal suggests consumers may focus more on home and outside decor instead of things like holiday travel. 
Decorating a Christmas tree, hanging lights, or helping others do so may hold more significance this year for some to feel holiday spirit. For a friendly festive rivalry, seniors could hold a decorating competition that is virtually-based!
10. Watch Favorite Christmas Movies
Celebrate the holidays by cozying up with those favorite Christmas movies! This may be with family and friends, or simply solo by the warm fire.
No matter who joins, do not forget a big bowl of popcorn, cup of hot cocoa, or other festive favorites!