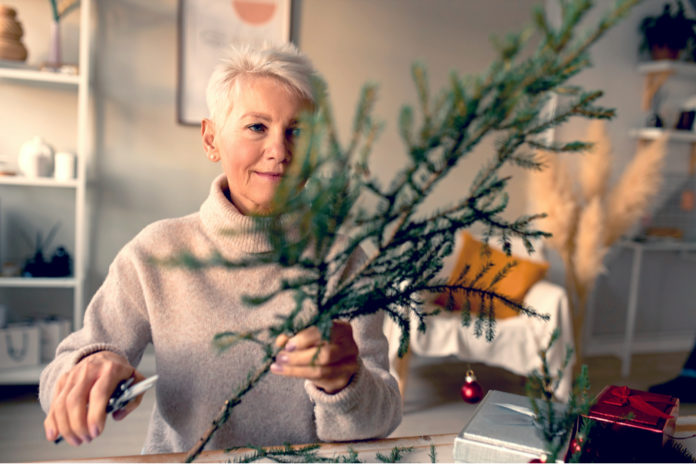 Nursing home holidays can be just as festive as past holidays spent at home. From nursing home Christmas door decorations to Christmas day activities for nursing home residents, there are plenty of fun activities to take part in. You've come to the right place for nursing home Christmas crafts, Christmas activities for nursing home residents, and even more!
Read on for 12 of the top holiday nursing home activities and Christmas crafts for nursing home residents.
Christmas Day Activities For Nursing Home
Around the holidays, activities in an assisted living facility can add Christmas spirit to your community. Holiday activities for seniors can be just what your community needs to come together and create some Christmas spirit.
It isn't too late for the elderly to create holiday traditions. Here are six seasonal ideas for seniors sure to create a holiday theme in your senior living facility.
Holiday Lights
Light displays are a great way to create a festive atmosphere. Try decorating fixtures at eye level or below instead of risking high-reaching places on a ladder. Hanging lights can also be a fun activity to invite family and friends to help out with.
Holiday Movies
There are many classic Christmas movies with a great message. Seniors may enjoy sitting together and watching the following holiday favorites:
A Charlie Brown Christmas
A Christmas Carol (1951)
Christmas in Connecticut
Holiday Inn
It's a Wonderful Life
It Happened on Fifth Avenue
Miracle on 34th Street
Rudolph, the Red-Nose Reindeer (1964)
The Shop Around the Corner
White Christmas
Christmas Tree
Putting up and decorating the Christmas tree may be one of the most classic Christmas activities. Be sure to include sentimental ornaments and decorations. Sometimes, live Christmas trees aren't allowed in health facilities. Be sure to check your nursing home's rules, and remember that even a small artificial tree can add holiday spirit to any room.
Christmas Carols
Nursing homes and assisted living are perfect for Christmas caroling. Whether you're inviting outsiders or having your own residents sing door-to-door, carols are sure to bring holiday cheer.
Family And Friends Festivities
Don't forget to have an activity to which friends and family are invited! Even far-away relatives may be visiting the town during the holiday season. From low-cost potlucks to fancy holiday soirées, plan an event perfect for your elderly community around Christmas.   
Holiday Retirement Party
Since Christmas falls at the end of the year, it marks a holiday retirement for many. If you live in an independent living facility for seniors, celebrate the retired members of your community with a holiday-themed retirement party.
Christmas Crafts For Nursing Home Residents
Christmas inspires some of the best craft projects. Senior residents will love arts and crafts that celebrate the season. Many of the following craft ideas can be enjoyed among family, friends, and fellow residents. 
Festive Door Decor
Like welcoming, festive elementary school facades, decorated doors can also be great in nursing homes. A unique way to show personality and talent, try holding a door decorating contest. Like other activities, door decorating can be a great way to involve friends and family around the holidays.
Christmas Wreaths
Making a Christmas wreath isn't as complicated as it seems! You can acquire craft materials at your nearest dollar store. All you need is a wire base, some faux greenery, and ornaments or other decorations as desired.
Snowflake Cutouts
Looking for another inexpensive craft? Cutout snowflakes only require paper and a pair of scissors. While it may not be a great craft for seniors who struggle with precision or hand movement, many seniors can still participate in this craft by hanging cutout snowflakes after a friend or family member creates them.
Holiday Cards
Holiday cards are often store-bought, but handmade salutations can be a fun seasonal craft for older adults. Usually, seniors will have an established Christmas card list and can create thoughtful cards for each person on their list. Stamps and themed paper can make even the least artsy resident excited about creating cards.
Holiday Photos 
Compiling holiday photos from years past can be a fun way to honor the current holiday. Sit around and reminisce about your favorite holiday memories. Alternatively, you could hang young photos of older residents and have a guessing game for who's who. 
Holiday Cookies 
Perhaps the most pleasant holiday activity is baking cookies. A cookie exchange can be a fun way to socialize and share recipes. Want something artsier? Host a cookie decorating party, complete with classic shapes like trees, stars, and reindeer! 
Recapping Christmas Crafts & Activities 
Holiday activities for seniors are a fun and festive way to get your community involved. From classic movies and treats to new crafts and traditions, there is something everyone will love. You're never too old to get into the holiday spirit!
References
Janes D, Nicolaou E. 35 Classic Christmas Movies That Will Put You in the Holiday Spirit. Oprah Daily. Published December 2021. https://www.oprahdaily.com/entertainment/tv-movies/g29615777/classic-christmas-movies/.