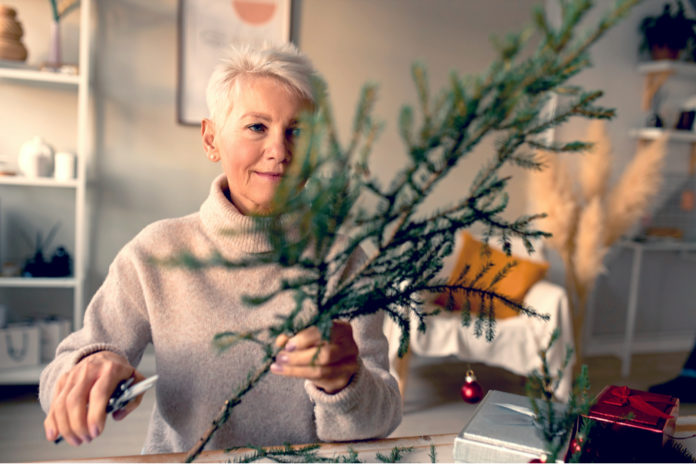 The holidays, especially for the elderly in assisted living facilities, might look a lot different this year. While celebrating holiday traditions in person may not be able to take place, there are still festive ways to celebrate traditions in assisted living.
Add warmth and meaning this year for holiday senior living with these 5 ways to still celebrate holiday traditions.
5 Ways to Celebrate Holiday Traditions in Assisted Living
From putting up festive decorations to cozying up to a classic movie, relish longstanding holiday traditions with these fun ideas!
1. Put Up Holiday Decorations
In person holiday celebrations and gatherings may not be able to happen for loved ones in assisted living, depending on local health guidelines in place. Regardless, seniors can still decorate for the holidays in their own space.
While seniors may not be able to put up fancy decorations that require a ladder or high reaching, they can put up small holiday things that are festive. If they do not have any holiday decorations, family or loved ones should consider sending some simple, easy to place decorations they can put up themselves. Examples could include homemade holiday drawings, snowflake cutouts, or small holiday trees.
Friends and family can send a small piece of decoration that may have sentimental value for you both. Send a picture of the same or similar decoration in your own household to add personal meaning.
2. Watch Holiday Movies
Watching holiday movies may be just the thing to help get in the mood for the holidays. Seniors can schedule to watch some of their favorite, traditional holiday movies this season to get in a festive holiday mood.
If possible, seniors can watch holiday movies "together" virtually with friends or family so they can laugh or make comments throughout movies together. Another option is to call them after a movie to go over the movie highlights!
3. Make a Holiday Craft
If making holiday crafts is a holiday tradition for a senior, a family member or friend could send them a holiday craft box they can make crafts from. They can either use it to decorate their space or share with others around them to spread holiday cheer. These holiday crafts could include popsicle stick snowflakes, light bulb snowman ornament, or tea light snowman ornaments. 
Sending them a box of things needed for a craft means they do not have to try to go out and get supplies and provides them with the tools to do this if going out is not an option. If this is not an option, seniors can get creative to use what they have around them to make a craft. This could be simply folding white paper and cutting out snowflakes or doing a collage of pictures from magazines.
4. Send Holiday Cards or Treats
It is better to give than receive, especially at the holidays. Celebrating holiday traditions may look different this year, but giving to others is one holiday tradition that can still be done. Sending things to loved ones near or far may have more significance and connection this year than before. Sending cards or holiday treats can be a meaningful way to continue to celebrate holiday traditions.
If a senior cannot get out to buy cards, postage, or ingredients for baking a treat, volunteer to get them for him or her. They may also need some help getting these cards or packages dropped off at a post office. Simply helping to do that may help make the holidays more meaningful for them.
If making and sending holiday treats is not feasible, another option is to order some gifts from a local restaurant, bakery, chocolate shop or florist to send holiday gifts to loved ones. This will not only bless the people receiving these gifts but also local businesses that could use support.
5. Send Copies of Past Holiday Photos
In this digital age, tangible pictures seem more special. If old holiday photos are available, consider celebrating holiday traditions by making copies of these special photos and sending to loved ones. Seeing these pictures will bring a smile and warm hearts during the holidays.
If tech-savvy, upload these images and order, send and customize pictures online. If not so tech-savvy, consider asking a friend or family member to help upload photos online to send out.