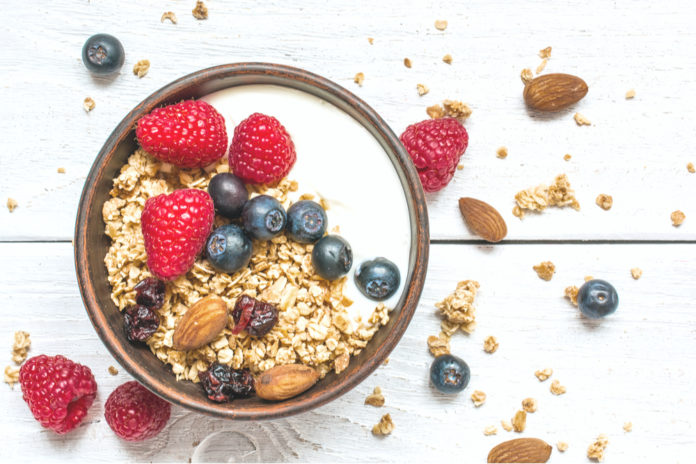 When it comes to aging, it is important to know that protein needs are met. The daily recommendation for women and men over age 50 is to consume around 5 to 5.5-ounce equivalents of protein each day.
In addition to meals, offering protein snacks for elderly people can ensure needs are being met. This can especially be helpful for seniors who may struggle with eating larger meals.
Read on to discover seven high-protein foods and snacks perfect for meeting the needs of older adults.
7 High-Protein Foods & Snacks for the Elderly
Nutrient-dense protein foods aid older adults in so many ways, including:
Maintaining a healthy weight and energy levels
Preserving muscle mass and strength
Reducing the risk of chronic disease
Fighting infection
Helping with normal blood clotting
High-protein foods for the elderly can often be incorporated into the diet with ease. The snacks listed below, along with balanced meals and an overall healthy diet and lifestyle, can help make a difference in overall wellbeing for older adults.
1. Nuts
A handful of homemade trail mix or nut butters can be an excellent source of protein and healthy fats, especially when substituted for high-fat foods.
Be sure to watch portion sizes and additives, and opt for products that are low in sodium when possible. This will help to manage blood pressure and aid in overall health.
Nutrient-Rich Nut Snacks
Each of the following snacks is equal to about 1-ounce protein equivalent (about a handful):
20 almonds
5 brazil nuts
15 cashews
20 hazelnuts
10 macadamias
20 pecans
50 pistachios
150 pine nuts
10 walnuts
1 tablespoon peanut butter
Likewise prepare a homemade trail mix and ration out servings to keep portions in check. Options are endless, including dark chocolate chips for a touch of sweet or bite sized pretzels for some salty crunch. Or, combine each for the ultimate salty-sweet combo!
2. Beans, Peas & Seeds
Many beans and seeds require little preparation but are full of protein. These plant-based sources are great when paired with other vegetables and can easily be digested, especially compared to other meat-based alternatives.
Each of the following snacks is equal to a 1-ounce protein equivalent, and on average they contain 2-4 grams of fiber as well:
2 Tbsp of hummus (chickpea spread)
1/4 cup falafel (spiced, mashed chickpeas)
1 Tbsp chia seeds
1 Tbsp sunflower seeds
1 Tbsp flax seeds
1 Tbsp hemp seeds
1/2 oz pumpkin seeds
1/2 oz sesame seeds
1/4 cup snap peas
3. Eggs
Packed with many of the nutrients needed to generate life, eggs can be an excellent source of protein in a balanced diet.
According to the US Department of Agriculture and the Harvard School of Public Health, "One egg a day, on average, doesn't increase risk for heart disease, so make eggs part of your weekly choices."
Plus, there are so many neat ways to enjoy an egg, including scrambled, hard-boiled, or added to a small salad or sandwich. one chicken or duck egg is equivalent to 1 ounce of protein.
4. Soy
Soy products, often a favorite of vegetarian and vegan eaters, include tofu, tempeh, and other plant-based products. They can be incredible sources of protein and usually come naturally low saturated fat while staying high in fiber.
Each of the following snacks is equal to a 1 ounce- protein equivalent:
1/4 cup tofu (made from soybeans)
1 oz tempeh, cooked
1/4 cup edamame (young soybeans)
5. Dairy Foods
Dairy products contain a good amount of protein as well as calcium to best support muscle and bone health during aging.
Greek yogurt is an excellent healthy snack idea, as it also contains probiotics valuable for gut health. Try topping yogurt with sliced nuts or seeds for a burst of protein and healthy fat, along with fresh fruit for natural sweetness and other nutrients.
A cup of cottage cheese is another excellent option. Like yogurt, pair it with fresh fruit for some extra nutrients to make a healthy and hearty snack.
When looking for other sources of dairy, be sure to aim for low-fat or fat-free milks and cheeses to keep calories in check. Also be cautious of added sugars, which is commonly used in store bought yogurt varieties.
6. Oats
Snacks made from oats can be an excellent source of protein, whole grains, fiber, and an array of needed vitamins and minerals that keep energy maintained. A half cup of cooked oats is equivalent to 1 ounce of grains.
Instead of instant or quick-cooking oats, opt for options that take longer to cook. These types of oats generally have a lower glycemic index, which means they help to balance and control blood sugar levels.
Quick Fix Ideas for Protein-Packed Oat Snacks
Oatmeal topped with homemade granola and fresh fruit
Overnight oats with peanut butter or chia seeds
Oatmeal bites with nut butter and seeds
7. Canned Tuna
Canned tuna is a great source of protein, as well as healthy fat. It is a convenient option to use in a pinch and can be enjoyed as is or served alongside veggies or atop whole grain crackers.
For a mega protein-packed tuna salad, combine tuna with a chopped hard-boiled egg and dollop of Greek yogurt. Add mustard, salt, pepper, and other preferred seasonings for a boost of flavor.
As a bonus tip, choose a canned tuna product soaking in water rather than oil.
References:
ChooseMyPlate. Tips for Vegetarians. US Dept of Agriculture. 2020. https://www.choosemyplate.gov/node/5635.
ChooseMyPlate. What foods are in the Protein Foods Group. US Dept of Agriculture. 2020. https://www.choosemyplate.gov/eathealthy/protein-foods.
Gordon B. How Much Protein Should I Eat. Academy of Nutrition and Dietetics. 2020. https://www.eatright.org/food/nutrition/dietary-guidelines-and-myplate/how-much-protein-should-i-eat.
Harvard Health Letter. Quick-start guide to nuts and seeds. Harvard Medical School. 2020. https://www.health.harvard.edu/staying-healthy/quick-start-guide-to-nuts-and-seeds.
Henneman A. Nuts for Nutrition. UNL Extension. 2020. https://food.unl.edu/nuts-for-nutrition.pdf.
National Institute on Aging. Know Your Food Groups. National Institute of Health, US Dept of Health and Human Services. 2020. https://www.nia.nih.gov/health/know-your-food-groups.
Stevens M. Nutrition: Nuts & Heart Health. Cleveland Clinic. 2020. https://my.clevelandclinic.org/health/drugs/17283-nutrition-nuts–heart-health.
The Nutrition Source. What Should I Eat? > Protein. Harvard School of Public Health. 2020. https://www.hsph.harvard.edu/nutritionsource/what-should-you-eat/protein/.
2015-2020 Dietary Guidelines. Cup- and Ounce- Equivalents. Figure 1-1. 2020. https://health.gov/our-work/food-nutrition/2015-2020-dietary-guidelines/guidelines/infographic/1-1/.