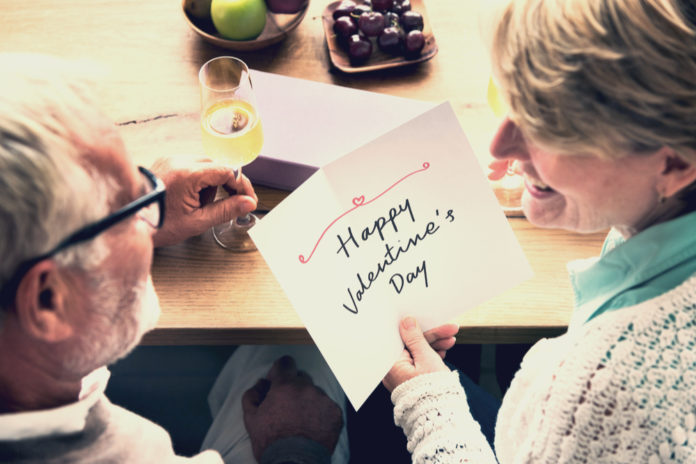 For older adults, Valentine's Day can sometimes be difficult, and finding valentine games for seniors that excite and thrill can seem like a challenge. With spouses gone or loved ones far away, it can feel hard for the elderly to want to celebrate on a day that can feel increasingly hard as the years pass.
However, the right party games for seniors as well as Valentine crafts for senior citizens can truly foster a special connection! They can also help make it easier to warm hearts during the day focused on love and appreciation.
Find out the best Valentine's Day ideas for seniors that are sure to fill hearts with laughter, love, and joy.
Valentine's Day Crafts
Get creative this Valentine's Day with crafts, including festive decorations and handmade cards.
Decorations
Assembling handmade or simple store-bought decorations such as garlands, wreaths, and paper hearts can be a fun activity in and of itself. Valentine hearts cut out of tissue paper can transform a regular window into one that looks like stained glass.
Valentine Boxes
Just like in elementary school, seniors can reminisce on younger years by decorating shoeboxes and cutting a slot to collect valentine cards in. Simply gather a few decorative arts and crafts items, and allow the senior to express themselves through this heart-themed project.
Give Someone a Friendly "Heart Attack"
Try "heart-attacking" the door of an elderly person who may be experiencing feelings of loneliness this time of year. This involves writing nice notes about someone on heart-shaped paper cut-outs and then pasting them to someone's door.
Handmade Cards for Servicemen & Women
This craft is especially great for veterans or those who have friends or family members serving in the military. Many materials can be used, including:
Construction paper
Glue sticks
Magazine scraps
Other decorative items
Pre-made cards in bulk for those needing a less intensive activity
Several pens or other writing utensils such as markers
If seniors do not personally know any servicemen deployed organizations such as Hugs for Soldiers can help get heartfelt cards in the hands of those serving the country on Valentine's Day.
Easy Gifts
Simple crafts like painted rocks or handmade bookmarks can be useful and sweet gifts that take little assistance to make.
Knit Together in Love
For needle-art lovers, an activity for older adults who knit, crochet, sew, or embroider could be making simple items like scarves, blankets, or hats and beanies. These items can then be donated to a local shelter, hospital, or other organization in need so that the love is passed on.
Coloring
Both relaxing and creative, coloring is a fun way to allow seniors to connect with loved ones or even new friends over the Valentine holiday. Many free coloring pages can be found online, and they can also be catered to the interests of the senior.
Valentine Games
This Valentine's Day, consider stimulating the brain with word games and expressing emotions with poems.
Word Search
These word puzzles can be a fun way to incorporate popular terms into the day. Depending on the senior(s), it is possible to generate custom word searches online for printable Valentine's searches.
Some even use popular love song titles or other throwbacks to Valentine's Days past as the words they are searching for!
Poems
Heartfelt poems can be a fun way for creatively-inclined seniors to express themselves. With a pen and paper handy, help a senior find the right words to say to someone they love.
Turn it into a game by challenging a senior to write a haiku, which does not rhyme but instead follows this pattern:
Line 1 is 5 syllables
Line 2 is 7 syllables
Line 3 is 5 syllables
It can also be a competition where everyone writes a haiku and then reads them aloud, and everyone votes for their favorites at the end.
Fun Party Games for Senior Groups
What's a Valentine's Day party without these fun party games? Add a puzzle, puppet show, or movie scavenger hunt into the heart-felt day rotation.
Puzzles
With two or more people, putting the pieces of a puzzle together can become a nice way to connect while still having a stimulating activity to do.
Put on a Puppet Show
Great for groups, this idea can even turn into a contest to see who puts on the best puppet show, ending in happily ever after of course.
Classic Movie Scavenger Hunt
For this simple activity, pick a classic movie such as Casablanca or Singin' in the Rain. Be sure to pick something to view that the group would find enjoyable or help them to reminisce on years past.
Then, create a scavenger hunt or related puzzle game (i.e. word search, bingo) that the older adults can use to follow along in the movie.
Simple Game Ideas
Keep games simple (yet still fun!) with Valentine's bingo and digital meetup. Find out how cranking up music tunes can turn into a creative game, too.
Valentine's Bingo
Although an old standby, bingo is a sure crowd pleaser and can even be customized with markers made out of candies like heart candy or Hershey's kisses.
Name that Love Song
Play ballads and love songs from back in the day to excite older adults. Have a paper and pen ready and see who can remember the most songs.
Host a Digital Game Meetup
Digital games bring connection and the best part about it is it isn't limited to Valentine's Day. For families and friends living far away that still want to connect and make their seniors feel special, digital games are a great way to bridge the gap and incorporate players of all ages who love gaming.
References:
14 wellness-boosting valentine's day activities for seniors. Buzztime. https://www.buzztime.com/business/blog/14-wellness-boosting-valentines-day-activities-seniors/.
10 fantastic Valentine's Day ideas for seniors: Activities and gifts. Dailycaring.com. Published February 5, 2020. https://dailycaring.com/valentines-day-activities-for-seniors/.
Valentine's crafts for seniors in assisted living – SeniorAdvisor.Com blog. Senioradvisor.com. Published February 3, 2016. https://www.senioradvisor.com/blog/2016/02/valentines-crafts-for-seniors-in-assisted-living/.
Home Care Assistance. 15 activity and craft ideas for Valentine's Day with an aging loved one. Homecareassistance.com. Published February 6, 2020. https://homecareassistance.com/blog/valentines-day-activities-for-seniors.