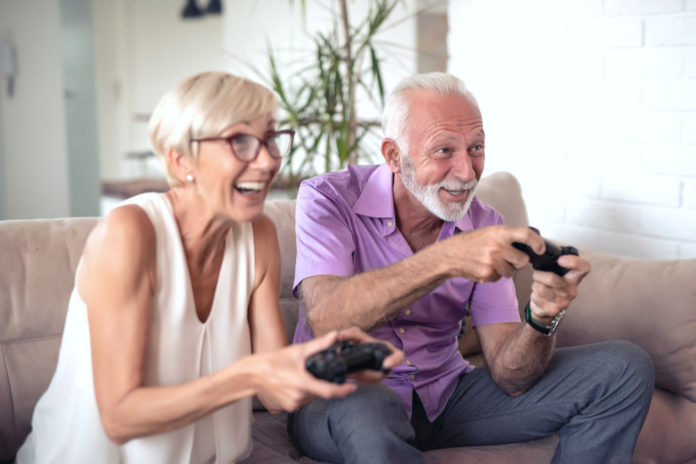 Games for old people do not have to be old news… Home activities for adults can (and should) be enjoyable!
Finding the right activities for the elderly and seniors can help them escape boredom and embrace excitement. And with COVID restrictions and cold temperatures, now is the perfect time to stay in with home activities for adults.
Whether one or more people are involved, there's something for everyone to enjoy and a way for caregivers or grandkids to join in. From old classics to newer online options, all ages can engage in many activities.
Read on for the 16 at-home activities for seniors, including boredom-busting games and other fun ideas!
Games for Seniors
From classic card games to virtual interactive activities, the following games can provide hours of entertainment.
Card Games
Card games are a great option because a deck (or two) of cards is inexpensive and very versatile. Be sure to consider whether the senior needs larger cards for easier visibility. Most card games are easy to learn and easy to play.
Board Games
Classic games like Monopoly can be an easy way to create conversation while introducing an element of friendly competition. Chess or checkers can also be great options and many seniors have boards just lying around the house already.
So, dust it off, start up a game, and spend time with loved ones!
Trivia
Online trivia games or classic favorites such as Battle of the Sexes can help seniors recall meaningful facts and memories from over the years. Plus, they might learn something new. Keep in mind that this game might not be the best option for those who struggle with memory loss.
However, there are plenty of other fun games and activities that those seniors can enjoy. Keep reading to find other options that may be better suited to their needs.
Video Games
Virtual games and video games can connect new and old friends alike, and recent research has even shown that video games can play a helpful role in promoting physical health as well as mental health. 
Older adults can even have virtual social interactions and connect with younger friends or loved ones through talking in a headset while playing multiplayer video games.
At-Home Crafts for Seniors
There are many exciting activities that can be completed with common household craft items. This is also perfect for a rainy afternoon or cozy night in.
The following crafts offer an easy and fun experience for seniors, and even opportunities to get involved in a great cause. Arts and crafts can be an excellent mode of expression as well. 
Paint-by-Numbers
A Paint-by-Numbers craft can be a fun way to get artsy without having to deal with a lack of inspiration. Find some templates online, or order a special kit in the mail that will be delivered to the senior's doorstep.
Order a Custom Kit in the Mail
Have a special interest or know someone who does? Save on art supplies by ordering custom kits such as painting, embroidery, or other packages. With everything in one kit, it couldn't be easier to get into the art.
Crafts with a Cause
Organizations like Knots of Love help to put crafts to a good cause. Exploring options like this or donating to a similar cause can help seniors feel invested in the community and find opportunities to serve others. 
Free & Fun Activities
Activities don't have to be expensive to be exciting. The following list contains free options for engaging in at-home activities
Puzzles
Piecing a puzzle together is thought to keep senior minds sharp and active. Affordable and friendly for almost any age, caregivers, kids, and older adults alike will enjoy this fun activity.
Raid the spare closets and storage space to see if there are any jigsaw puzzles or other ones lurking on the shelves.
Home Videos
Watching old home movies can be a fun, meaningful, and free experience for everybody. Especially for the elderly, reliving cherished memories can be a priceless activity.
They may even want to share stories about the experiences they watch or remember details from the past. 
Take an Online Class
Many online classes or introductory skills are taught online for free. Beyond bonding, this experience can offer older adults a chance to learn something new.
Learning new skills can help keep the mind stay active and evolving.
Make a Meal
Establishing healthy habits will nourish your elderly loved ones. Seniors are known to especially be at risk of malnutrition, so making a meal can help avoid boredom while also increasing the likelihood that the older adult is getting the nutrition they need.
Chair Exercises
A safe and easy way to make physical activity in the day, chair exercises are great for older adults. Those with mobility issues will find it easier to stretch and add exercise to the day, and grandkids and other loved ones can even join in.
Raid the Bookshelf
Exploration does not have to extend beyond the front door, especially with a good book. Pick an old favorite to read or read aloud to a loved one.
Another option is to find something new and exciting to read that is hiding in an old, dusty bookshelf. Joining a virtual book club can also help older adults connect to others.
Use the Internet to Stay Connected
Many internet and social media services allow users to set up an account for free. Navigating social media can bring laughs, connection, and a feeling of closeness, especially if traveling is difficult. Loved ones living far away are sure to appreciate the updates, too.
Watch a Classic Film
Black-and-whites are anything but boring to older adults who grew up cherishing classic films. Many movies can even be found online, such as on streaming services like Netflix, or on television channels such as Turner Classic Movies (TCM).
Have a Movie Marathon
Got a trio of beloved favorite films? Throw a movie marathon and enjoy a series with an elderly friend. Star Wars can take seniors to a galaxy far, far away without even leaving the living room!
References:
Bischofberger B. 7 fun Indoor Activities for Seniors and Caregivers to Enjoy. SeaCare In-Home Care Services. 2019. https://www.seacarehomecare.com/resources/7-fun-indoor-activities-for-seniors-and-caregivers-to-enjoy.
Marolf M. Indoor activities for seniors and caregivers this fall. SeaCare In-Home Care Services. 2020. https://www.seacarehomecare.com/resources/indoor-activities-for-seniors-and-caregivers-this-fall.