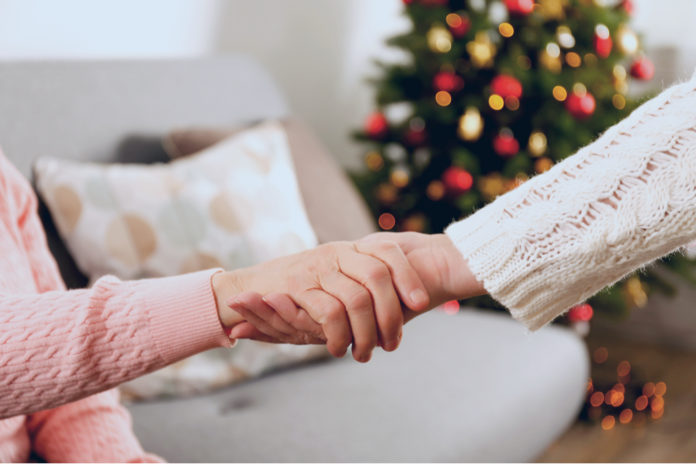 The holidays are a time to celebrate the season, spending it with the ones we love the most. But the holidays can also cause stress, especially if tending to a loved one amidst unprecedented times.
The good news is you can keep both you and your loved one healthy and happy this year! Find out how to nourish a happy holiday season, and download our free senior holiday guide full of helpful tips and delicious recipes.
Holiday Senior Caregivers
Caregivers are unpaid or paid individuals who assist in the care of others. They often wear many hats, including raising children, working full-time jobs, amongst other obligations.
Senior caregivers tend to older adults, often a parent, grandparent, or another family member. They work hard to develop a safe care plan and improve the quality of life of their loved one.
However, burnout and overwhelm can take a toll on the health of the family caregiver and senior if not careful. The holiday season, living in unprecedented times, and/or a combination of both can elevate stress and negative feelings even more.
Finding a sense of balance can feel off the table during these times. However, caregivers and their loved ones can live in harmony during the holidays if equipped mentally and physically with the right resources.
7 Tips for Happy & Healthy Caregiving Over the Holidays
Caregiving over the holidays is similar to caregiving any day, but maybe with a bit of extra attention. Special focuses may include the following:
Adapt routines
Focus on the fundamentals
Certify a safe holiday environment
Communicate all feelings
Plan and encourage holiday activities
Tend to self-care
Consider senior other senior care options as needed
1. Adapt Routines
From carrying out in-season traditions to balancing day-to-day tasks, holiday caregiving can bring a whole new level of stress. However, these seasonal and daily routines may need to be modified to alleviate stress of all sorts, including emotionally and financially.
Instead of striving for perfection, adapt roles and experiences as needed. This may involve rethinking that annual holiday trip and replanning for safe personal and senior travel. If going to visit extended family in years past, celebrate from afar with a virtual Zoom gettogether or write cards to one another.
Overall, allow yourself some grace during these times, and know you are trying and doing your best!
2. Focus on the Fundamentals
Rather than getting too caught up in the holiday details, focus on the fundamentals that truly matter for your loved ones. These include tending to their medical needs, assisting in mealtime, aiding in personal care, and helping with transportation as needed.
Tend to medical needs:
With the guidance of their primary care provider, tend to medical needs such as monitoring blood pressure and administering medications. Using a medication reminder system is a beneficial way to ensure medications are taken appropriately and offer greater peace of mind.
Assist in mealtime:
Good nutrition is imperative for senior health, though it can be challenging to meet needs due to a variety of factors. Assisting in mealtime, including planning and preparing meals, helps minimize such barriers.
Aid in personal care and ADLs:
Aid in seniors with personal care and hygiene such as bathing and grooming. Also assist in activities of daily living (ADLs), including light housekeeping tasks.
Help with transportation:
Help provide or find transportation services as needed. This includes doctor appointments, church services, and other errands.
Sticking to the basics helps simplify routines and ease routines, all while ensuring senior needs are being met.
3. Certify a Safe Holiday Environment
Especially since falls are a leading cause of injury amongst seniors, help certify a safe environment for your loved ones. General home safety tips include:
Providing adequate lighting
Installing railings and ramps
Eliminating clutter
Considering an alarm system
Also try to minimize holiday decorations that can compromise senior safety, or at least decorate safely. This might include ensuring any lights are not laying loosely on the floor and rethinking that train set.
4. Communicate All Feelings
With the grit to do anything for your loved one, you might be keeping feelings bottled in when the going gets tough. However, doing so can impact the health of your own and loved one if not careful.
Suppressing feelings can start trickling into personal health, eventually funneling into your loved one. Communicating feelings openly, though, can offer mega relief.
Also do not be afraid to ask for help from others with meal prep, transportation, gift shopping, and other tasks. This may include a spouse, another family member, or a close friend.
Using a senior home meal delivery service such as Silver Cuisine can likewise ease a loaded plate while ensuring nutritional needs are being met.
5. Plan and Encourage Holiday Activities
Participating in activities and hobbies can give seniors a sense of purpose and stimulate brain function. In addition to encouraging your loved one to stick to current hobbies, plan holiday activities!
Including seniors in holiday activities can help keep their social connections healthy and combat loneliness during the holidays. Fun and festive ideas include playing holiday games and watching holiday movies.
6. Tend to Self-Care
Self-care is always important, but perhaps now more than ever. So rather than neglecting self-care, tend to it and make it a priority.
Self-care can be as simple or indulgent as you wish and may include simply taking time to cook a nourishing meal or purchasing a massage. No matter what you choose to do, add self-care to the top of your list!
7. Consider Other Senior Care Options as Needed
While caregiving is both selfless and rewarding, both you and your loved one might benefit best to consider all elder care options. This might include using an in-home care service or moving your loved one to a long-term senior living facility, especially if requiring specialized care such as dementia care.
If your loved one does live away from home and family, the holidays can still be special! Family and friends can also care for loved ones from afar and encourage holiday traditions in assisted living.
At the end of the day, do what is best for you and your loved one at any season of the year and life. Consider all areas of safety and health, including physical, mental, and emotional health.