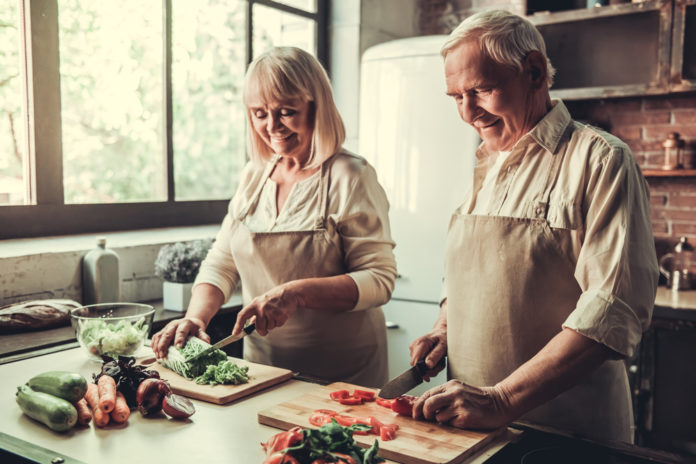 Healthy Eating and Nutrition for Older Adults
Though the concept of eating well for aging well is not new or surprising, a recent study published in The Journals of Gerontology: Series A is among the first to analyze the long-term benefits of healthier diets across adulthood for physical function in older age. Led by the University of Southampton, researchers tracked the dietary patterns of almost 1,000 British men and women since birth, with higher quality diets being characterized as greater in the consumption of fruit, vegetables, and wholegrain bread throughout adulthood. Researchers analyzed data points at ages 36, 43, 53, and 60 to 64 years, along with assessing physical performance using chair rise, timed-up-and-go, and standing balance tests at age 60 to 64. The results concluded, "Higher diet quality across adulthood is associated with better physical performance in older age," including the associations of faster chair rise speed and longer standing balance times.
Further research published in The Journals of Gerontology: Series A represented the strong international interest in nutrition and health aging with data from varying countries. Noteworthy findings included:
Compliance to a Mediterranean-style diet was associated with more favorable lean mass and body mass indexes.
Individuals consuming a more traditional Japanese-style diet were significantly less likely to develop dementia, as the Japanese style of diet has also been associated with less physical disability.
Higher protein intake and higher monounsaturated fatty acid intake are both inversely associated with frailty risk, particularly related to retention of lean muscle mass.
Consuming higher intakes of fiber were more likely to age healthfully, along with the total mortality rate lowering in the high-fiber group.
Based on surveyed long-term care facilities in the United Kingdom, researchers found a strong association between dehydration and renal disease, diabetes, and impaired cognition.
In relation to micronutrients, vitamin K biomarkers were associated with better Short Physical Performance Battery scores and fast gait times, moderated doses of vitamin D may offset fall risks, and folic acid has shown to lead improvements in IQ and memory tests.
Health Tips for Seniors
Consume A Balance Diet
Good eating practices are generally taught at a young age, primarily in hopes to embed healthy habits for a lifetime. But the identification of healthy foods for the elderly is essentially a healthy, balanced diet encouraged throughout all lifespans, including whole grains, colorful produce, lean proteins, milk and dairy products, and fatty fish.
Moderate Processed Foods
Whether in the form of a sweet treats or salty snacks, foods that have undergone processing and contain refined flour, sugar, and sodium have shown to speed up the aging process. And while enjoying a cookie or small bag of chips is certainly okay every now and then, it is important to moderate their intake and incorporate more wholesome foods in the diet.
Keep Hydrated
Hydration status in seniors is critical, particularly. To mitigate the consequences of dehydration, consume at least 64-ounces of water each day unless instructed otherwise by a healthcare professional. And although water should be the primary drink of choice, consuming water-rich fruits and veggies, broths, and gelatin can also help achieve sufficient hydration.
Consider A Multivitamin
Whereas multivitamins should not replace, and especially if food intake is poor or managing a malabsorption disorder, seniors should consider their intake. Nonetheless, a primary care provider can help determine whether or not a multivitamin might be beneficial to health, along with recommending a safe product.
Adopt an Exercise Regimen
In addition to diet, seniors are encouraged to adopt an exercise regimen. In fact, new research has found the best way to lose fat (and preserve muscle) is via weight training. However, the inclusion of aerobic and balance exercises is also key for maximizing overall health.
Confide in Silver Cuisine
Whether desiring meal prep assistance or the guidance of healthy eating, confide in Silver Cuisine! Created with seniors in mind, Silver Cuisine by bistroMD offers home-delivered, nutritionally-adequate meals to people aged 50 years or older. Seniors can enjoy and choose from an array of nutritious and delicious meal entrees and snacks, including artichoke spinach and roasted red pepper frittata, lasagna with garden marina, chicken paella with andouille sausage, black bean chicken jerky, and kicken' honey mustard pretzels. Discover the invaluable benefits of Silver Cuisine by visiting the official Silver Cuisine page or calling 844-404-FOOD (3663) today!