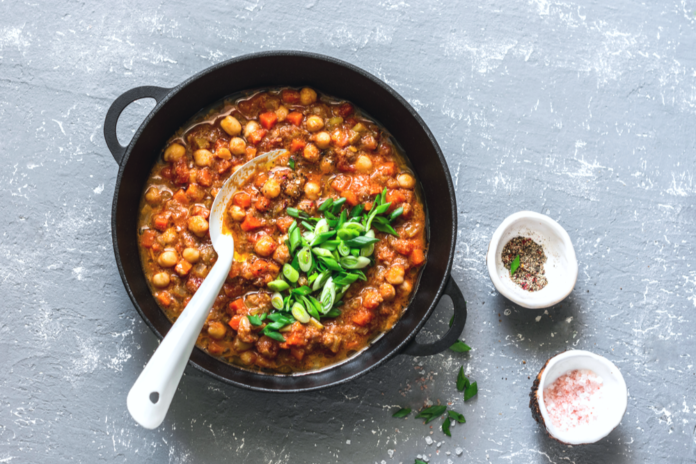 What is more cozy and comforting than a delicious, hot meal on a cold day? Using a crockpot can provide this comfort and nourishment that is craved during the winter months.
Better yet, using a crockpot, or slow cooker, to make a comforting meal requires little effort and meal prep compared to other cooking methods. It's as simple as assembling ingredients, combining in a crockpot, and cooking as long as needed.
Crockpot meals also make great leftovers that can provide a delicious, nutritious meal throughout the week.
Craving a cozy and healthy meal with little effort? Explore these easy, healthy crock-pot recipes that will help warm and nourish all season long.
Crockpot Meal Prep
Using a crockpot truly helps cut down on overall meal prep time. Making a healthy crock-pot meal will still entail some prepping of vegetables and/or meat initially. But using the leftovers throughout the week takes out the hassle of meal prep other days of the week. Therefore, using a slow cooker is handy for getting nourishing, healthy meals without a lot of effort.
Crockpot meals most often make a lot of food! If a recipe provides more than enough food to last the next few days, extra portions can be sealed/stored and put in the freezer. Doing this step cuts down on food waste and can help ensure there are healthy crockpot meals on hand that can easily just be reheated.
Easy & Healthy Crockpot Recipe Ideas
Whatever eating style or flavors you are craving, there is a healthy crockpot recipe to cover your needs. These recipe ideas are here to inspire creativity and taste buds to explore new options this season for delicious, easy ways to use a crockpot.
Crockpot Soups
The easiest way to use a slow cooker is arguably with soup. Cooking a crockpot soup requires a few steps like dicing some vegetables, then simply placing all ingredients in the pot, and letting slowly cook until ready. There are many healthy soup variations depending on preferences from vegetarian, high fiber, high protein, high or low calorie.
Slow cooker chicken tortilla soup is a popular go-to recipe that can make cold winter months feel cozy. It requires chopping onion, pepper, and garlic, but the rest of the ingredients can simply be added as-is. Option to add cut-up corn tortilla strips or packaged tortilla chips for even more convenience.
Craving a healthy creamy soup? Creamy chicken and rice can hit the spot and serve as a great freezer meal for months to come. The combination of whole grain rice, chicken, and vegetables provides a balanced, nutrient-dense, comforting meal.
Vegetarian soups can still provide a filling, nutritious meal if they include beans and/or whole grains. For example, a simple white bean soup or minestrone soup can be satisfying, budget-friendly, and filling slow-cooker meals.
Crockpot Chili
While some may consider chili a soup, crockpot chili deserves its own category. Chili options are almost endless, and everyone has an opinion on what makes the best chili. For example, it can be made with or without different types of meat, beans, spice levels, and vegetables. Chili's mild (or hot) spicy flavors also provide an extra layer of coziness during the cold months making it a crowd-pleaser meal for all.
If using meat in crockpot chili, the meat is usually browned or cooked separately in a pan then added to a slow cooker with the rest of the ingredients. For chili, often other ingredients can be canned or frozen which makes it an easy meal prep recipe.
Looking to serve a lean chili? Ground turkey can be a learner choice compared to beef, as in this turkey crockpot chili recipe. However, traditional chili with ground beef can still be considered a healthy slow cooker recipe, as in this slow cooker beef chili recipe.
Vegetarian chili can also serve as a comforting, filling, and nutritious meal. A benefit of vegetarian chili is the prep time is minimal like in this slow cooker vegetarian chili.
Healthy Crockpot Meat Dishes
Making meat in a crockpot provides a quick source of protein to use for sandwiches, salads, bowls, taco filling, etc.
For example, pulled pork, easy balsamic beef, and 5 ingredient honey garlic chicken recipes can be repurposed in many ways throughout the week. A pot roast with vegetables, such as this healthy pot roast, can also serve as a balanced, nutritious meal by itself.
Crockpot Casserole Recipes
Casserole dishes are a warm, comforting, easy meal perfect for cold winter nights. Casseroles are best known for being all-inclusive by providing a protein source, vegetables, and either a grain or potato.
While some casserole dishes are high in calories from cream-based sauces, healthy and easy crockpot casseroles can include the following:
Healthy enchiladas

take only 15 minutes of prep work and include an assortment of vegetables combined with enchilada sauce, chicken breasts, cheese, and black beans.
Eggplant parmesan

can be made in a slow cooker by layering eggplant slices dipped in egg, breadcrumbs, cheese, and tomato sauce. Once layers are complete, cook for 4 hours and enjoy.
Warm Crockpot Breakfasts
Crockpots are not just for dinner in the winter months. Why not wake up to a warm and comforting breakfast all ready to go in the morning? Crockpot oatmeal is easy to make the night before and can be flavored with a variety of toppings.
Kitchn suggests oatmeal can be made in a slow cooker by following these steps:
Combine 3 cups of water and 1 cup of oats in a 2-quart slow cooker and stir to combine.
Cover the slow cooker. Cook on the LOW setting for 8 hours or overnight.
Suggestions for oatmeal toppings include:
1 Tbsp nut butter
1 Tbsp chia or flax seeds
1/2 cup Greek yogurt
1 to 2 Tbsp trail mix
1 Tbsp nuts (such as almonds and walnuts)
1/2 cup fresh fruit
2 tbsp dried fruit
Sprinkle of cinnamon
1 scoop protein powder (plant-based or whey protein powder)
Another healthy crockpot breakfast can be to make a scramble with eggs, veggies, cheese, and optional meat like this recipe. Extra servings can also be frozen for an easy and filling reheat breakfast option.
Healthy Crockpot Recipes Summary
Using a crockpot not only provides a warm, comforting meal but also requires minimal prep and oversight during the cooking process. Do not forget crockpots can be used for any meal – including breakfast!
A healthy meal can easily be made with a combination of proteins, vegetables, grains, and beans. Soups and chili can be satisfying meals that can either be reheated throughout the week or frozen for later meals. Crockpot soups can be made with or without meat and with a variety of flavors to satisfy any palate.
Making a meat dish in a crockpot serves as a base for sandwiches, tacos, or salads for future meals. Another option is to add in some vegetables to make a balanced pot roast meal. Healthy crockpot casserole dishes can also be an all-inclusive meal that provides a comforting balance of vegetables, grains, and protein.