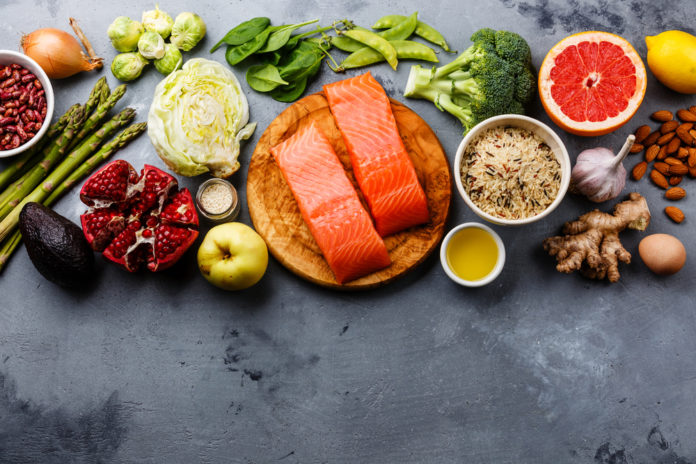 If you have a heart issue—you probably already know how important it is to watch your diet. We think getting more heart healthy foods should be easy! Just one trip to the grocery store and you'll see just how stress-free heart healthy eating can be.
Below is a list of heart healthy diet foods to choose, and ones to lose.
1. Choose: Low-Sodium Canadian Bacon or Turkey Bacon
Avoid: Pork Bacon processed and cured with nitrates and nitrites
Reason: Low-sodium Canadian bacon is a delicious way to get lean quality protein without all the fat. Turkey bacon is a good second, though it can often contain too much sodium to really be part of a heart healthy diet. Regular pork bacon contains way more fat than protein, and well, let's face it—bacon is mostly just saturated fat. It also usually contains nitrates and nitrites, which have been linked to the development of various stomach and colon cancers.
Heart Healthy Food Recipe: Heart Healthy Eggs Benedict
Servings: One Sandwich
Ingredients:
1 whole grain light English muffin, cut in half and toasted
1 slice of low sodium Canadian bacon
½ cup egg substitute or 1 egg white
1oz low-fat cheddar cheese
1 tsp. gourmet mustard
1 tsp. plain greek yogurt
Salt and pepper to taste
Directions:
While toasting the English muffin, take out a small sauce pan and heat to medium-low temperature. Use a circle egg shaper to cook the egg white slowly, forming a disc shape.
In a small bowl, mix together mustard, plain yogurt, and salt and pepper. Spread this mixture atop the toasted English muffin.
Layer Canadian bacon, cheese, and egg white disc, and top with other half of English muffin.
Place in a toaster oven at 350 degrees for 5-10 minutes or until cheese is melted. Enjoy!
What you're getting: The whole grains in the English muffin have fiber, a necessary nutrient for a heart healthy diet. The egg white, cheese, and Canadian bacon have high quality lean protein to keep you full and satisfied until lunchtime!
Take it Up a Notch: Add a dash of hot sauce or lemon juice to the mustard spread.
2. Choose: Avocados
Avoid: Vegetable Oils like safflower, sunflower, and cottonseed oils. Skip the margarine spreads too.
Reason: Avocados are a powerhouse of nutrients. Not only do they contain about 11g of fiber, they are rich in nutrients like monounsaturated fatty acids and magnesium that are perfect for a heart healthy diet. High intakes of polyunsaturated vegetable oils like those found in cooking oil and vegetable oils and vegetable spreads have been show to spike inflammation in the body. This same kind of inflammation is the underlying cause of heart disease. Luckily olive oil doesn't fall into this category, and neither does the healthy fat found in avocados. In fact, research published in the Journal of the American Heart Association revealed that people who were overweight or obese with high cholesterol who consumed one avocado each day significantly decreased their LDL, or 'bad' cholesterol (80% drop on average) after just 5 weeks of eating avocados. This definitely makes it one of the best heart healthy foods in the grocery store.
Heart Healthy Food Recipe: Guacamole to Die For
Servings: 4 servings
The secret to making this guacamole great? Let the red onions rest in the lime juice for about 2 minutes.
Ingredients:
2 ripe Hass Avocadoes
1 tablespoon thinly sliced red onion
2 limes
5 grape tomatoes or 1 medium sized tomato
Coarse sea salt
Chopped cilantro for garnish
Directions:
Squeeze two limes into a small bowl, and add in the thinly sliced red onions to the lime juice. Allow flavors to develop by letting this rest for a couple of minutes.
Then, slice the avocados in half, put one of the center seeds in the bowl with the onions and lime juice. This keeps your guacamole from turning brown when it sits out.
Cut out any brown spots in the avocados, then dice into chunks.
Dice the tomatoes, and stir in tomatoes, salt, and top with cilantro.
This is heart healthy guacamole to die for, and it's good you could almost eat it with a spoon.
What you're getting: Avocados have such a large amount of fiber, they meet almost 1/3 of most people's daily fiber requirement. Add to that healthy fats and the heart-loving lycopene in tomatoes, and you've got a delicious part of a heart healthy diet.
Take it up a notch: Add some seeded and diced jalapeno for a spicy kick. Add a pinch of garlic powder to take it over the top.
3. Choose: Wild-Caught Salmon
Avoid: Hamburger or Ground Beef
Reason: Wild-caught salmon is rich in two heart healthy omega 3 fatty acids—EPA and DHA. These two fatty acids can help cool inflammation in the body, which is one of the main problems in heart disease. While some people may avoid wild-caught salmon because of reports of the toxins and mercury—removing the skin can remove most of these contaminants because these are largely dissolved in the oily skin of the fish.
Heart Healthy Food Recipe: Asian Grilled Salmon
Servings: 2
Allowing the fish to come to room temperature prior to cooking keeps it moist and allows for more even cooking.
Ingredients:
2- 8oz salmon fillets, wild caught
1 tablespoon brown sugar
2 tablespoons lemon juice
1 tsp black pepper
2 tsp salt
2 tablespoons low-sodium soy sauce
2 tablespoons olive oil
1 tablespoon water
2 garlic cloves, minced
Directions:
Combine all ingredients into a plastic bag, mix and then add salmon fillets. Push all air out of bag and seal tightly.
Marinate in refrigerator for 1-3 hours. Allow fish to come to room temperature before heating a grill or a cast iron skillet to medium high heat.
Take a piece of tin foil and fold up the sides to form a boat to keep the juices locked in. Place the fish, skin side on the bottom, into your tin foil 'boat' and pour some of the marinade on top.
Place onto grill, cover with lid and grill for approximately 20 minutes. For a beautiful sear, place the salmon, skin side up, on the grill, and the skins will lift off. Grill for 1-2 more minutes and serve.
What you're getting: Not only does salmon contain easily digestible protein, it's rich in heart healthy omega 3's, which can help reduce inflammation in blood vessels.
Take it up a notch: Serve with lemon wedges and chopped chives, and a dollop of greek yogurt!
4. Choose: Pomegranate Juice
Avoid: Sweetened Soda, Fruit Juices, Diet Soda
Reason: Pomegranate juice is super-rich in heart-healthy polyphenols, little molecules that essentially help scrub your arteries, and reduce inflammation. Research with pomegranate juice revealed that consuming as little as 3 oz each day can help protect you from certain cancers as well. Sweetened sodas and fruit juices contain too much sugar for your health, making you more likely to become overweight. Diet soda may cause sugar cravings in some individuals. This bubbly and refreshing drink is almost too easy to make.
Heart Healthy Food Recipe: POM Fizzy!
Serves: 1
Ingredients:
3 oz of fresh pomegranate juice
One 12oz can of flavored, sparkling water
Directions:
Pour pomegranate juice into a tall glass.
Slowly add sparkling water.
This is even more delicious when your sip through a straw for some reason!
What you're getting: Bubbly hydration and artery-scrubbing polyphenols join to form a delicious and refreshing heart healthy beverage.
Take it up a Notch: Garnish with a twist of lime.
5. Choose: 72% Dark Chocolate Squares
Avoid: Sugar-sweetened desserts like cupcakes, cake, pie, candy bars, and doughnuts.
Reason: Dark chocolate contains antioxidants which protect cells from harmful free radicals. Flavonoids found in chocolate can lower your blood pressure, too, by helping blood vessels relax. Desserts and sweets can make you more likely to gain weight, which can put more stress on your blood vessels. Fried desserts like doughnuts contain harmful trans fats, which can make you much more likely to have a stroke. Swedish researchers found that people who ate dark chocolate twice per week actually dropped their risk of dying from heart disease by 66 percent.
Heart Healthy Food Recipe: Rustic Nut Chocolate
Serves: 1 snack
Ingredients:
½ oz, or one small square of 72% dark chocolate.
10 unsalted almonds
Directions:
Rough chop one 72% cacao dark chocolate square.
Toss with 10 almonds. It just doesn't get much simpler than that!
What you're getting: Flavonoids in dark chocolate give it the delicious cocoa flavor, and heart health benefits too. Almonds contain healthy monounsaturated fats and both almonds and chocolate are rich in heart healthy magnesium.
Take it up a notch: Add a small pinch of coarse sea salt and toss.
6. Choose: Probiotics
Avoid: Ice cream, cheesecake and other high-fat frozen desserts.
Reason: Recent research has shown that four different probiotic strains in the Lactobacillus and Bifidobacterium families have the ability to decrease LDL. In fact, consuming these probiotics can also help reduce other inflammatory biomarkers of coronary heart disease. How do probiotics reduce cholesterol levels? Well scientists are still attempting to explain it, but it's possible that probiotics bind to cholesterol in the digestive tract, or that probiotics actually use cholesterol to grow. As a result—we won't absorb as much cholesterol from food when probiotics are present.
Heart Healthy Food Recipe: Raspberry Dark Chocolate Protein Smoothie
Serves: 1
Ingredients:
One 6oz container of vanilla greek yogurt
½ cup skim milk
1 scoop of low-sugar vanilla protein powder
1 tablespoon dark cocoa powder, unsweetened
1 cup raspberries, washed
3-4 pieces of ice
Directions:
Blend all ingredients well.
If shake is too thick, add 1-2 more pieces of ice and blend again.
What you're getting: Cholesterol-lowering probiotics from the yogurt, alongside lots of calcium and protein. Raspberries have plenty of fiber, as well as good-for-your-heart phytochemicals and potassium, too.
Take it up a notch: Swap out vanilla protein powder for chocolate protein powder – this makes a super-rich, chocolately, frosty drink!
References:
Wang L, Bordi PL, Fleming JA, Hill AM, Kris-Etherton PM. Effect of a moderate fat diet with and without avocados on lipoprotein particle number, size and subclasses in overweight and obese adults: a randomized, controlled trial. J Am Heart Assoc. 2015 Jan 7;4(1). pii: e001355. doi: 10.1161/JAHA.114.001355. PMID: 25567051
Shema-Didi L, Sela S, Ore L, Shapiro G, Geron R, Moshe G, Kristal B.
One year of pomegranate juice intake decreases oxidative stress, inflammation, and incidence of infections in hemodialysis patients: a randomized placebo-controlled trial. Free Radic Biol Med. 2012 Jul 15;53(2):297-304. doi: 10.1016/j.freeradbiomed.2012.05.013. Epub 2012 May 17.
DiRienzo DB1. Effect of probiotics on biomarkers of cardiovascular disease: implications for heart-healthy diets. Nutr Rev. 2014 Jan;72(1):18-29. doi: 10.1111/nure.12084. Epub 2013 Dec 13. PMID:24330093