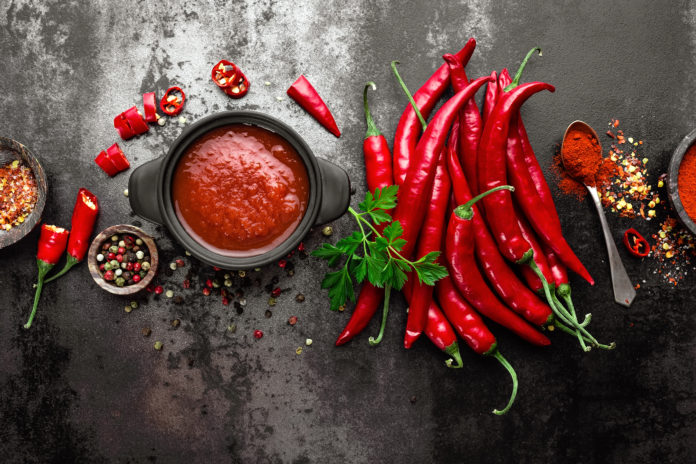 There are often two groups when it comes to spicy foods: Those who think the more the better and others who break a sweat just thinking about spice. But those who think spice is nice may just live a longer life, according to spicy new research.
The Lasting Benefits of Spicy Food
Food spices have bared numerous uses for centuries, including food preservation in absence of climate-controlled appliances, in culinary use simply because it delivers a somewhat dangerous, yet pleasurable sensation, and to improve health in various ways.
The benefits of spicy foods are particularly linked to capsaicin, which is the compound responsible for eliciting heat predominately sourced from peppers. And unlike popular belief, the seeds are not the dominant supplier of the heat, as the inner white piths and ribs contain the most capsaicin.
Capsaicin has been shown to curb appetite, speed up metabolism, offer pain relief, manage symptoms related to arthritis, improve blood sugars, support heart health, and halt the progression of cancer. But new research is coming in hot regarding the link between spicy foods and longevity.
Spicy Foods and Longevity
Rewind to 2015: Research published in the British Journal of Medicine examined the association of regular consumption of spicy foods and mortality in approximately 487,000 men and women in China. The association was inversely related: That is, as the intake of spicy foods increased, the risk of death decreased. In fact, those who consumed spicy foods six or seven times weekly reduced their risk of death by 14 percent! Even consuming fiery foods just two days a week lowered the risk by 10 percent.
Fast forward to 2017, researchers recognized the scarcity of available research in the American culture and set out to the find an association between consumption of hot red chili peppers and mortality risk.
The study was published in PLoS ONE, in which researchers gathered data from the National Health and Nutritional Examination Survey (NHANES) and included 16,179 eligible participants at least 18 years of age. The primary predictor was hot red chili pepper consumption per month, which was derived from subjects' responses to, "How often did you have hot red chili peppers? Do not count ground red chili peppers."
The overall outcome detailed the consumption of hot red chili peppers was associated with a 13 percent reduction in total mortality, primarily in deaths due to heart disease or stroke. Though the exact mechanism is not known regarding how spicy foods lowers the risk of death, researchers speculate capsaicin's role in obesity prevention and heart health is a likely role.
But despite what's left to be discovered, researchers suggest consuming spice foods may become a dietary recommendation and fuel further research in relation to its health benefits and longevity.
Spice Up Your Life
With such exerted spicy food benefits, how can you spice up your life? Add more spice in the kitchen whilst exercising safe use with these tips.
How to Add More Spice in the Kitchen
From snacks to main entrees to desserts, add spicy foods in your repertoire by:
Dipping bell peppers into hummus for a satisfying, spicy snack.
Mixing various peppers into soups and chilis.
Topping tacos with jalapenos and/or salsa.
Using cayenne to a number of recipes, including roasted nuts, beef stew, and chili
Enjoying nutritionally-adequate, ready-prepared meals from Silver Cuisine, including artichoke spinach and roasted red pepper frittata, chicken alfredo with broccoli and peppers, roasted cauliflower and lentils with charred red pepper sauce, salmon with bell pepper coulis, and oven fried catfish with spicy tomato leek sauce.
Adding some heat to your sweet treats with these spicy dessert recipes, such as hot honey peanut butter cookies, spicy mango no-churn ice cream, Mexican hot chocolate brownies, and spicy Caribbean pineapple upside-down cake.
And if you have accidentally added to much spice, don't give up on the dish just yet! Revive its integrity with the use of:
Preexisting ingredients to dilute it (I.e. if a tortilla soup is too spicy for your liking, try adding more broth, chicken, or beans).
Dairy products, including milk, yogurt, and sour cream.
Nut and seed byproducts, which may include peanut butter, almond butter, and tahini.
Acid-based products such as vinegar and citrus juices.
A sweetener in various forms, including granulated sugar, honey, and maple syrup.
Blander foods, such as bread and rice, to pair the spicy food with.
Words of Caution
Though effects vary from person-to-person, there are a few words of caution when it comes to ingesting and handling foods with capsaicin.
High intakes of spicy foods may cause indigestion, heartburn, nausea, abdominal pain, burning diarrhea, and other stomach issues. Additionally, especially if pregnant, breastfeeding, taking certain medications, and managing a health condition, it is always best to speak with your doctor and tread cautiously if interested in the health benefits of capsaicin.
Furthermore, capsaicin can cause a burning sensation to the skin and other tissues it comes into contact with, including of the eyes. To protect from these unpleasant side effects, wash hands immediately after handling to remove any residue from the compound, along with washing all cooking utensils and equipment to prevent transference of capsaicin. Wearing plastic gloves when cooking with spicy foods can also be helpful.
But if that burning sensation comes…
If the spice was not so nice, luckily there are a few methods to cool off that heat. And while you might naturally grab for a glass of water, reaching for a cold cup of milk has proven to be the most effective in relieving the burning sensation. A lemon wedge, spoonful of sugar, and bread slice can also ease the burn.
For external contact, oils found in vegetable oil, petroleum jelly, and creams can attenuate the discomfort. Likewise remove and wash any clothing that becomes in contact with the capsaicin. Seek medical attention if the severity and intensity do not alleviate.