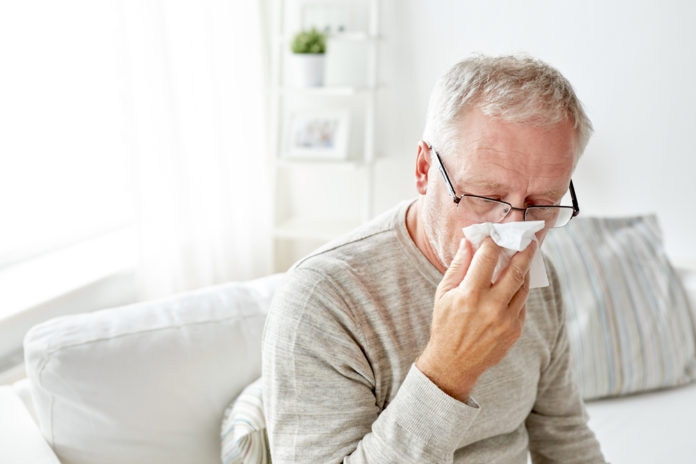 When it comes to the flu, and like any health conditions, prevention is always better than trying to cure it following its unwanted arrival. And while preventing the flu is highly encouraged throughout the lifespan, it has been recognized seniors are at a greater risk of serious health complications caused by the flu, primarily as the immune system weakens with age. However, caregivers and seniors can take preventative measures to lessen their risk of developing the flu, along with implementing management techniques to reduce symptom severity and further consequences if the virus were to occur.
How to Prevent Getting the Flu
1. Get the Flu Shot
According to the Centers for Disease Control and Prevention (CDC), the best way for preventing the flu is by getting the flu shot, further recommending everyone six months of age and older should get the vaccine annually. Though vaccination is important across the board, the CDC encourages people 65 or older to get the vaccine, as they are at a high risk for complications from the flu. Two vaccines are designed specifically for those 65 and older, including the "Fluzone High-Dose Seasonal Influenza Vaccine," and "FLUAD™ Flu Vaccine with Adjuvant," which may result in more of the mild side effects that can occur with the standard shot. Seniors should not get the nasal spray, intradermal flu shot, or jet injector flu vaccine. Ultimately, anyone providing care for any senior should take precautionary measures and reduce the risk of spreading the virus.
2. Along with A Pneumococcal Vaccine
In addition to getting the flu shot, the CDC recommends people aged 65 and older should also be up-to- date with their pneumococcal vaccination. The vaccines work to prevent against forms of pneumococcal disease, including pneumonia, which is a serious flu-related complication that may lead to death. Talk with the senior's primary care provider on which vaccination best suits them.
3. Practice Good Health Habits
Practicing and implementing good health habits can protect yourself and others from the flu, along with helping to stop the spread of germs. Avoiding close contact, staying home when you are sick, covering your mouth and nose when coughing and sneezing, keeping hands clean, and avoiding touching eyes, nose, and mouth can help stop germ spreading. Cleaning and disinfecting frequently touched surfaces, getting plenty of sleep, being physically active, managing stress, and consuming a nutritious diet are other ways to prevent the flu.
But If the Flu Attacks…
Despite the precautionary measures taken, there is still a chance of getting the flu. It is important to be able to recognize flu symptoms and seek medical advice as soon as possible, as antiviral drugs are most beneficial if given within the first two days of illness. Flu symptoms to recognize include fever, cough, sore throat, runny or stuffy nose, body aches, headache, chills, fatigue, vomiting, and diarrhea. Some individuals may also experience respiratory symptoms without a fever. If an official flu diagnosis is made, antiviral medications are commonly prescribed. Doctors and pharmacists can further validate whether a cold or flu medicine is beneficial and will not interfere with or complicate other medications or medical conditions. Flu symptoms can similarly be managed by getting lots of rest and drinking plenty of liquids. It is likewise imperative to continue consulting with a doctor until the flu is terminated to maintain an effective plan and prevent additional complications. If caregivers come down with the flu, it is critical to stay away from others to prevent the risk of spreading the virus.