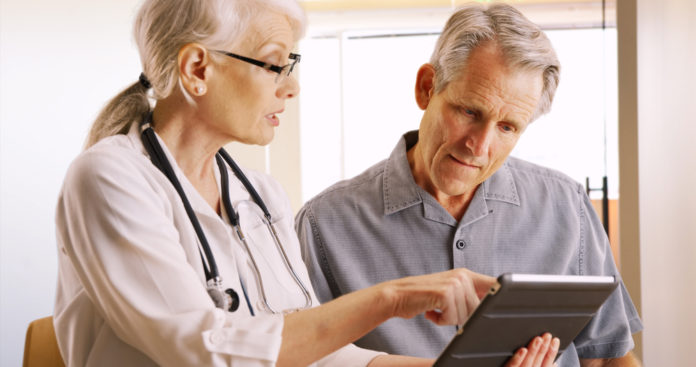 12 Most Common Medical Conditions Amongst Seniors

Heart Disease
Chronic Lower Respiratory Disease
Cancer
Diabetes
Chronic Kidney Disease
Alzheimer's Disease and Dementia
Arthritis
Osteoporosis
Shingles
Influenza and Pneumonia
Urinary Tract Infections
Depression
Senior Health Concerns Detailed
1. Heart Disease
According to the American Heart Association, an estimated 85.6 million American adults have one or more types of heart disease, which may include high blood pressure and heart attacks. Of the estimated 85.6 million, 43.7 million are estimated to be over 60 years of age. Furthermore, the leading cause of death in women over the age 65 is heart disease and About 80 percent of people who die of CHD are age 65 or older.
There a number of risk factors that can add up to heart disease, though adopting a heart-healthy lifestyle comprised of heart-healthy foods, adequate exercise, stress management, and sleep can deter the risk of heart disease.
2. Chronic Lower Respiratory Disease
Chronic lower respiratory disease, primarily chronic obstructive pulmonary disease (COPD), was the third leading cause of death in the United States in 2014 according to the Centers for Disease Control and Prevention (CDC).
COPD refers to a group of diseases that cause airflow blockage and breathing-related problems and includes bronchitis, emphysema, and asthma in some cases. Individuals living with COPD are more likely to experience physical limitations, disengage in social activities, have other chronic conditions, and report a reduced quality of life.
Tobacco smoke is the primary cause of COPD in the U.S., while exposure to air pollutants in the home and workplace, genetic factors, and respiratory infections also play a role. Nonetheless, those who smoke are vastly urged to quit. Being cautious of and avoiding home and workplace air pollutants is also advised to reduce the risk of COPD.
3. Cancer
Cancer is an umbrella term to describe a collection of related diseases, particularly in which the body's cells become damaged. There are over 100 types of cancer, which may impact a single area of the body or spread to other tissues.
While there are numerable influences of cancer, advancing age is a high risk factor, with the incidence of cancer in those over 65 is 10 times greater than in those younger than 65 and the cancer death rate is 16 times greater in patients over 65 compared to younger patients according to an article published in the Transactions of the American Clinical and Climatological Association. More than 70 percent of the mortality (death) associated with many cancers including prostate, bladder, colon, uterus, pancreas, stomach, rectum and lung occur in patients 65 and older.
Seniors are encouraged to partake in appropriate screenings and preventative measures set by their primary care providers. The American Cancer Society also suggests you can help lower your cancer risk by maintaining a healthy weight, exercising regularly, eating a healthy diet, avoiding tobacco, and limiting alcohol. 
4. Diabetes
The American Diabetes Association (ADA) reports about 25 percent, or 12 million seniors are living with diabetes, a condition in which the body is resistant to or does not produce enough of insulin. Insulin helps the body utilize energy from food and shuttles the glucose (or sugar) into cells. But when this does not take place, the sugar remains in the blood, thus causing high blood sugar.
With the chances of having diabetes increases after age 45, seniors are encouraged to assess their diabetes risk and take appropriate action. Early detection and treatment can reduce the risk of complications, including of the skin, eyes, nerves, kidneys, and heart.
5. Chronic Kidney Disease
Kidney disease is a gradual progression and measured based on the glomerular filtration rate (GFR), which the measure of kidney function and determinate of the five kidney disease stages. And without appropriate management, the kidneys can end up in failure, also known as end-stage renal disease, which requires a kidney transplant or regular dialysis to survive.
Early detection and treatment can reduce kidney disease progressing into end-stage renal disease or kidney failure. Additionally, with 90 percent of end-stage renal disease patients having chronic diabetes and hypertension, preventative measures start by preventing diabetes and hypertension predominantly through a healthy lifestyle. 

6. Alzheimer's Disease and Dementia
Dementia is a group of conditions that impairs brain function and compromises the ability to think rationally and clearly. Alzheimer's disease is the most common form of dementia and accounts for 60 to 80 percent of dementia cases.
Dementia and Alzheimer's disease are caused when brain cells are impaired, either from a neurodegenerative disease, brain injury and tumor, uncontrolled health condition, and even a poor diet.
Being able to identify the seven stages of Alzheimer's disease and consulting with a primary care provider can assist caregivers to better understand the condition and tailor interventions and care.
7. Arthritis
Whereas arthritis is not a leading cause of death, it is considered to one, if not the most, common medical condition seniors face. The CDC reports of persons ages 65 or older, 49.6 percent reported doctor-diagnosed arthritis between 2013 to 2015.
Individuals with arthritis commonly experience mild to severe pain, stiffness, and swelling. The discomfort may result to a declined capability for completing day-to-day functions and a lower quality of life. Adults with arthritis are also about two and a half times more likely to have two or more falls and suffer a fall injury compared to adults without arthritis.
The goal of treatment is to reduce associated pain and inflammation and improve overall functioning. Individuals may be prescribed with medications, use a splint or brace, or undergo surgery. Additionally, natural remedies and foods for rheumatoid arthritis may further alleviate signs and symptoms. 
8. Osteoporosis
According to the International Osteoporosis Foundation (IOF), 1 in 3 women over age 50 will experience osteoporotic fractures, as will 1 in 5 men aged over 50 worldwide. Furthermore, women over 45 years of age, osteoporosis accounts for more days spent in hospital than many other diseases, including diabetes, myocardial infarction and breast cancer.
Osteoporosis is a condition in which bones become weak and brittle, thus increasing the risk of fractures and falls. While being female and advancing age are significant, unmodifiable risk factors, individuals can lower their risk and prevent osteoporosis by ensuring a nutritious diet and adequate calcium and vitamin D intake, participating in regular weight-bearing activities, and avoiding smoking and heavy drinking.
9. Shingles
Also known as herpes zoster, shingles is caused by the same virus that causes chickenpox, though it stays inactive after the body recovers it typically during childhood. Shingles triggers a painful, blistering skin rash that can last two to four weeks over even up to years and can nonetheless interfere with total quality of life in numerous ways.
The CDC reports one out of every three U.S. citizens will get shingles during their lifetime and the risk of contracting it increases as you get older. The CDC recommends that healthy adults age 50 years and older receive two doses of a shingles vaccination, which is the only method to reduce shingles risk at this time. 
10. Influenza and Pneumonia
While the flu is dangerous for all, seniors aged 65 and older and at a greater risk of serious complications from the flu compared to younger adults, particularly related to a weaker immune system that comes with advancing age.
Seniors are also at a greater risk of complications, including pneumonia and potentially even death. In fact, it has been estimated between 54 percent and 70 percent of seasonal flu-related hospitalizations have occurred in people aged 65 and older, with an estimated 71 percent and 85 percent of seasonal flu-related deaths according to the CDC's estimates based on a flu-related data published in PLOS ONE.
The CDC highly recommends people 65 or older to get the vaccine, as they are at a high risk for complications from the flu, along with staying current with their pneumococcal vaccination(s). Doing so can prevent against forms of pneumococcal disease, including pneumonia, which is a serious flu-related complication that may lead to death.
10. Urinary Tract Infections
Urinary tract infections (UTIs) occur when germs infect the tract that transports urine from the body, which includes the kidneys, bladder, ureters, and urethra. When bacteria introduced into the urinary system and travels up the urethra to the bladder, an infection can occur.
UTI is one of the most commonly diagnosed infections in older adults related to a number of factors, including a compromised immune system, muscle loss and weakening, menopause in females, and increased frequency of catheter use.
Whereas UTIs commonly affect the bladder and kidneys, agitation, delirium, and other behavioral changes may be the only sign of a urinary tact infection in elderly men and women. It is absolutely imperative to seek medical help if symptoms are present, as unmanaged UTIs can be life-threatening.
12. Depression
According to Mental Health America, depression affects more than two million of the 34 million U.S. adults aged 65 years and older. Symptoms of clinical depression can be triggered by other age-related conditions, including Alzheimer's and Parkinson's diseases.
Seniors can support brain health by playing games, staying social, adopting a pet, staying active with exercise finding a club or hobby group to join, and implementing a heart-healthy lifestyle. Ultimately, though, seeking out professional guidance is advised for proper treatment and management of depressive feelings and symptoms.