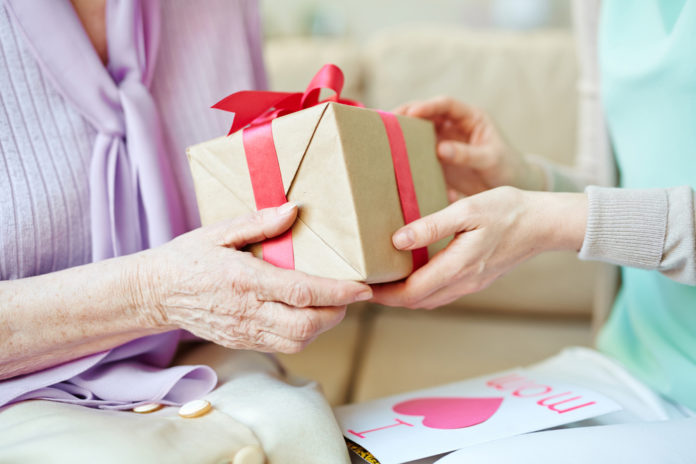 Gifts for Elderly Women
1. Personalized Cookbook
Remember that infamous green bean casserole made each Thanksgiving? Or that decadent chocolate cake with the homemade frosting? Compile favorite recipes into a cookbook so your loved one can reminisce, too! Ask family members or close friends for a memorable recipe and add them to a bound cookbook.
2. Cookware
With a personalized cookbook, comes the acquiring of new cookware! Accommodate utensils with favorite recipes and add a customized dish towel embroidered with the family name. Round up the grandkids one Sunday afternoon and make recipes and memories in the kitchen.
3. Birthstone Jewelry
Gift a nice, thoughtful piece of jewelry! In the form of a bracelet, necklace, or ring, highlight personal birthstones within them – their own, children, grandchildren, etc.
4. Stepping Stones
Create customized stepping stones for their garden or favorite landscaped area. Have children and/or grandchildren mold handprints into stones like in this how-to guide.
5. Garden Tote
Give the green thumb in your life a garden tote or organizer! Fill the tote with new seeds, a garden tool set, and gloves. When it comes time to plant, assist in setting up garden beds, pouring soil, and other heavy labor garden tasks.
Gifts for Elderly Men
6. Toiletry Bag
Either to visit grandkids or the annual family vacation, ease traveling for your loved one. Gift a compact toiletry and travel bag and load it with the all the necessary essentials – deodorant, shampoo, toothbrush, etc.
7. Facial Razor
Age does not stop the need for shaving. In fact, the duty may even increase as age does. Provide a well-functioning razor to aid in safe shaving, paired with shaving cream, aftershave, and a soft towel. These shaving tips can also assist in skin care for elderly men.
8. BBQ Supplies
The grill master of the family might need or deserve some new BBQ supplies! Create a basket filled with seasonings and rubs, tongs and spatulas, and other equipment that may be necessary or enjoyed. On a nice day, put the basket to great use and have a family BBQ!
9. Game Day Snack Jar
For the biggest sport fan, gift a game day snack jar! Fill with his favorite snacks and treats, including homemade flavored popcorn, trail mix, or beef jerky. During Sunday football or Monday night baseball, he will be sure to think of you when cheering on his favorite teams!
10. Fishing Gear
There may be no such thing as "too much fishing tackle." Offer grandpa or another elder with fishing gear complimented with. When the fishing conditions seem just right, take a family fishing trip!
Gifts for All
11. Customized Coffee Mug
Nurture the morning tradition with a more intimate touch! Whether it be a picture of the family or during a cherished vacation, create a customized mug they can relish each morning. Pair with a bag or fresh coffee beans and favorite breakfast pastries.
12. Game Books
Either played while sipping on morning coffee or prior to an afternoon nap, opening the pages of a game book offers much more than a daily activity. From word puzzles and searches to sudoku, such games offer mental stimulation and may combat against age-related brain deterioration.
13. Memory Journals and Scrapbooks
Nothing brings back a flood of memories like a memory journal or scrapbook! Have close relatives and friends provide pictures of momentous times, complimented with a note and description. With resources like Shutterfly, gifting a photo book will be simple and a piece to cherish and share for years to come!
14. Home Cooked Meal
Not all gifts come in wrapped boxes. Well, although home cooked meals could, supply your elder with flavorful, nutritious dishes in oven or microwave-safe containers. Offering them precooked meals offers health without their need to obtain groceries, assemble the ingredients, and clean up the kitchen.
15. Silver Cuisine
But if you are not an avid cooker or desiring more consistent delivery for your loved one, give them the gift of Silver Cuisine! With Silver Cuisine, all meals are crafted by seasoned chefs and nutrition experts, offering well-balanced meals straight to their doorstep. Flavorful, yet nutritious meals allow seniors to remain comfortably at home while providing you a peace of mind on the nutritional intake and status. Find all about program options at the official Silver Cuisine page here.
But the list certainly does not stop there! Despite the occasion, take the opportunity to gift a personalized item or experience, considering favorite activities and capabilities. No matter the size of the box or height of the bow, they will surely cherish a thoughtful gift! Find more ideas for your loved one here!