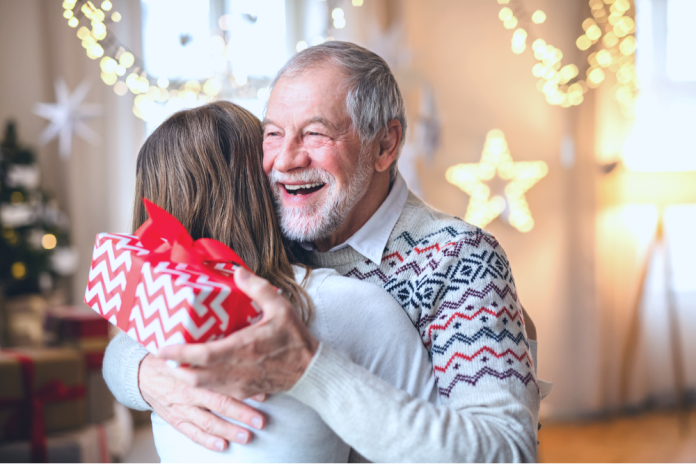 Gift ideas for older parents may seem hard to come by. When finding useful gifts for older parents or gifts for elderly friends, it is important to get something meaningful for a senior who already has everything. Often, the best gifts for seniors are the ones that come from the heart. 
Read on for 25 unique and useful gifts for seniors this season.
What Are Good Gifts For Seniors?
Great gifts for seniors are those that take the pressure off them to perform tasks that may be hard to manage with old age. Encourage a loved one to have fun and stretch their imagination with the following gifts.
1. Sign Up for a Star
Some seniors find the need to slow down during their later years in life. Stargazing is a perfect evening activity. It is possible to register for the name of a specific star, and it would make such a suitable gift for sentimental, stargazing seniors. 
2. Engage with Games
Gifting games is a great way to inspire togetherness. Not only do they promote mental fitness, they also are easy to use when entertaining friends and family. Whether single-player or for a party, games are a great gift idea. 
3. Win with a Weighted Blanket
Weighted blankets are the perfect gift for almost any senior. Especially for older adults with anxiety, weight blankets provide warmth and a sense of security. They are said to promote deeper, more restful sleep while also soothing the recipient.
4. Bring Beauty to Them
A subscription beauty box or a makeup gift set may be just the thing an elderly woman would love. Many older women still enjoy getting ready, regardless of if they leave the house or not! A makeup set or subscription can be a thoughtful way to help an older friend or family member feel as beautiful on the outside as they are on the inside.
5. Craft with Kits
A craft kit is a unique way to provide a gift and an experience all in one! Paint-by-numbers or similar kits typically come with everything one would need to encourage their creative streak. This is a great way to bring the wonders and beauty of the world to them.
6. Archive with an Autobiographical Journal
Autobiographical journals include prompts that help older adults tell their story. It is a gift to them and a gift to future generations all in one! These journals can typically be personalized to the recipient as well, making it even more heartfelt. 
7. Bring the Birds
Gift a window bird feeder to a senior who loves birdwatching! This gift brings the birds to them and allows them to enjoy one of their favorite hobbies from home. It is usually inexpensive and shows that one cares about their hobbies.
What Are Good Gifts for the Elderly? 
Elderly friends or family may find it difficult to engage in activities they once loved. Even daily tasks like cooking and gardening can become a chore, especially with arthritic hands or eyesight issues getting in the way.
These gifts take into account the aging process and provide a fun, accessible experience to all!
8. Subscribe to a Flower Delivery Service
A no-fuss flower subscription is a low-maintenance gift that can mean a lot. Sign up for a flower subscription service that delivers flowers and sometimes special gifts to the recipient. 
9. Gift a Grocery Subscription
Making meals can be a momentous task for some seniors. Gifting a grocery subscription is a thoughtful way to provide some relief from making meals. Subscriptions are often customizable and can allow for weekly, biweekly, or more frequent delivery.
10. Try Travel-Inspired Treats
Giving a globetrotting gift basket is a great way to bring exotic places to the elderly. Travel at an older age can be challenging, so giving an experience that brings the tastes of the world to them is a thoughtful gesture.
11. Heated Home Decor
These days, blankets and mattresses can be heated for comfort and warmth. Like a heating pad, heated blankets and other items can be used to ease minor aches and pains.
12. Provide an Audiobook
Eyesight may dwindle with age, but imagination does not have to! Giving a loved one an audiobook allows them a stimulating experience without the need to strain their eyes and read.
13. Alleviate Arthritic Hands
There are so many tools nowadays that can make having arthritis a bit more manageable. For example, an electric can opener can be a kind way to show care to an elderly family member or friend who has arthritic hands or autoimmune disease. Tap or touch sensor appliances, like lamps or remote controls, can also make everyday tasks less cumbersome. 
14. Wow with White Noise
Help an elderly friend tune out the noise with a white noise machine. This is a great gift for any senior who has difficulty sleeping. Beyond sleeping, white noise machines may be good for relaxation, breathing exercises, meditation, and even yoga. 
15. Factor In a Fitness Tracker
Keeping track of simple lifestyle factors can be a chore for older adults. Give them something to help them stay on track with their fitness goals. Something like a Fitbit can even help to monitor and record heart rate straight to their nearby devices.
Gifts for Seniors Who Have Everything
What about the older adult who already has everything? It can be difficult to shop for a senior who already seems to have everything in the world. However, these gifts are sure to be a great fit for any elderly friend or family member.
16. Digitize Memories
Precious photos and videos may be difficult for older hands to sift through. Digitizing photo albums, home movies, and memorabilia can be a great way to help a loved one reminisce. Go the extra mile by uploading their favorite pictures to a digital photo frame.
17. Give a Pair Of Genes
Help an elderly friend find more branches of their family tree. Modern DNA ancestry services (i.e. 23 and Me, AncestryDNA Kit) provide an easy kit to help seniors discover more about their genes and history. A gift like this also helps to tie the past and the future together.
18. Personalize a Puzzle
Send a favorite photo into most print shops and have it made into a puzzle. Puzzles are great for mental sharpness and also help keep seniors busy. Keep in mind that seniors with cognitive decline will need larger, more manageable pieces to puzzle with.
19. Make a "Mixtape"
Make a playlist or CD with a loved one's favorite songs. This collection of music is not only caring, it also allows for seniors to sing along with songs from their glory days. An iPod preloaded with their favorite tunes, podcasts, or poems can also make a great gift.
20. Experience an Event Together
Gifting tickets to an event or show can be a great way to show a senior that some thought and preparation went into their present. Moms, dads, and older adults who have everything really just want to spend more time with their loved ones. Try finding a local concert, hobby-related event, or convention that an elderly friend would enjoy.
21. Pick a Photo Blanket
Many print or specialty shops can turn a beloved photo into a memory that can keep one warm. Make sure that there is enough time before the holiday to send the photo in to be printed in time. 
22. Provide Large Playing Cards
Playing cards with large print are a great gift for seniors. Even though eyesight may fade, the fun does not have to! Make it easy to enjoy a good game by giving an older adult a large print set of playing cards. 
23. Online Cooking Class
Bring the world of food to them with a chef-taught online cooking class. This will allow them to visit (and taste their way through) places like Italy without ever having to leave the kitchen!
24. Care for a Cause
Donating in the name of an elderly friend is the perfect gift for a senior who has everything. Programs and conservation organizations around the world will allow one to "adopt" an animal for $25 and up. Most donations come with some sort of swag, like a certificate, newsletter, or photo of the animal they are helping to save. 
25. Make Everything Memory Foam
Most people would love a memory foam gift. Soft and ergonomic, supply support to the areas of life they most need it in. Memory foam seat cushions are a great way to alleviate pressure on the tailbone and back for any elderly friend.
In Summary On The Best Gifts For Seniors
Seniors may seem easy to please – until it comes to buying gifts! The key is to not overthink it and to find something thoughtful to give that comes from a place of love and caring. 
Pay attention to their daily routine, hobbies, and activities to get some insight and inspiration for what might be the best gift.
References:
Allen S. 53 Thoughtful Gifts for Seniors. Cozy Meal. Published October 26, 2021. https://www.cozymeal.com/magazine/gifts-for-seniors. 
Meinertzhagen A. Best Gifts for Seniors. Home Care Assistance. https://homecareassistance.com/blog/best-gifts-for-seniors.