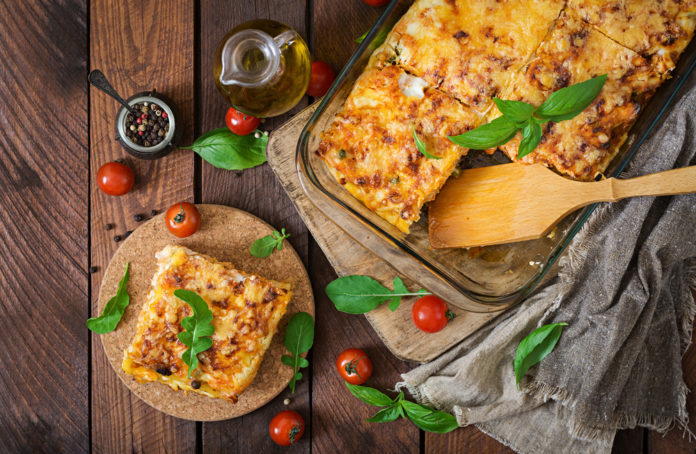 Nutrition Per Serving
Yield: 8 servings
Calories: 358
Protein: 23 grams
NET Carbohydrate: 32 grams
Ingredients
8-ounces lasagna noodles, or 9 noodles
1 tablespoon olive oil
1 small onion, chopped
1 medium green bell pepper, chopped
1 medium zucchini, chopped
1 tablespoon minced garlic
6 cups fresh spinach, chopped
3 cups tomato sauce
3 teaspoon Italian seasoning
2 cups fat-free ricotta
2 cups part-skim mozzarella, shredded
½ cup parmesan cheese, freshly grated
1 egg
¼ teaspoon nutmeg
Instructions
Preheat oven to 350°F. In a light pot of boiling water, cook noodles based on package instructions and set aside for later use.
In a large saucepan, heat olive oil then sauté onion, bell pepper, and zucchini for approximately 8 minutes. Add minced garlic and sauté for an additional minute then cook down spinach for approximately two minutes.
Stir in tomato sauce and Italian seasoning, bring to a boil, reduce heat, and simmer for 10 minutes.
While tomato sauce is simmering, mix together ricotta, mozzarella, parmesan, egg, nutmeg and beat until well-combined.
In a large baking dish, begin the layers. Start by spreading a light layer of tomato sauce at the bottom. Add three lasagna noodles over the sauce then top noodles with half of the cheese mixture and spread until evenly coated.
Continue layering until the noodles fill the dish, top with tomato sauce, and lightly garnish with more grated parmesan, mozzarella, and parsley as desired.
Bake for approximately 40 minutes, or until heated through and the cheese is golden in color.
Allow to set and cool for about 5 to 10 minutes then cut into 8 equal squares.
Enjoy initially or freeze for a future, convenient meal!
Freezing Tips
Prepare with fresh ingredients, as its best to not freeze and thaw the lasagna twice. For instance, rather than thawing and freezing spinach twice, use its fresher variation or leave it out.
Store in a freezer-friendly dish, including most glass and ceramic containers.
If you decide to bake it before freezing, allow it to cool completely.
Dismiss the use of aluminum foil to avoid a metallic flavor. Cover lasagna instead with a freezer-safe plastic wrap.
If you foresee the lasagna for tomorrow's dinner, allow it to thaw overnight. Doing so allows for more even cooking.
Cook in a 350°F oven for approximately 40 minutes and to freshen it up, top with fresh basil, oregano, and parsley.
The convenience of having ready-prepared meals is impeccable, though is not solely confined to lasagna. Find more delicious and nutritious freezer-friendly meals here.