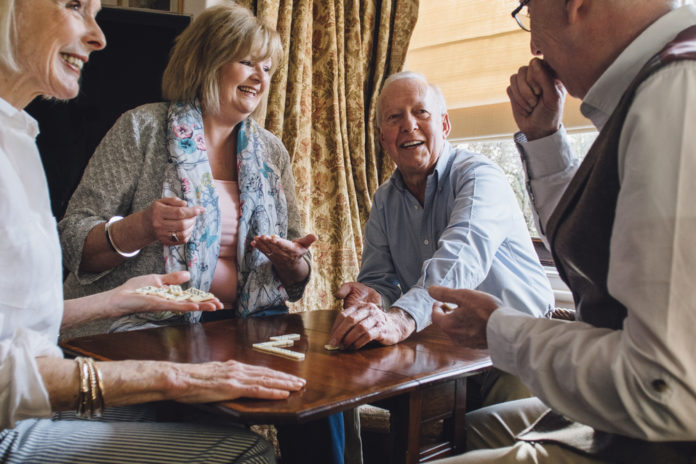 Reported by the National Adult Day Services Association (NADSA), there are more than 4,600 adult day services centers across the U.S., which was a 35 percent increase since 2002. Fast forward more than a decade later to 2014, the NADSA identified more than more than 5,500 U.S. adult day care centers in 2014.
The value of adult day care centers is not only beneficial to seniors, but to their caregivers. In fact, more than 260,000 participants and family caregivers are serviced by these centers, which is an increase of over 100,000 (63 percent) since 2002.
With such an influx of senior day care centers and interest towards them, these five tips can help you likewise find an adult day care that best suits the needs for both you and your loved one.
Benefits of Elderly and Senior Day Care Centers
According to the NADSA, "Adult day services is a professional care setting in which older adults, adults living with dementia, or adults living with disabilities receive individualized therapeutic, social, and health services for some part of the day." Senior day services centers provide an interactive, safe, and secure environment, along with serving as an intermediate provider of transitional care and short-term rehabilitation following hospital discharge.
Adult day care centers are often staffed by a full range of interdisciplinary professionals, including nurses, social workers, and practitioners specialized in speech, occupational, physical, and counseling therapies. And to address the higher prevalence of chronic diseases and conditions in seniors, there is a heightened focus on prevention and health maintenance.
Furthermore, with nearly half of the seniors utilizing such services having some level of dementia, approximately 90 percent of centers offer cognitive stimulation programs and 80 percent provide memory training programs.
Ultimately, the provision of such care provided by adult care centers may delay or avoid placement in skilled living and nursing home facilities.
But aside from the advantages for attending seniors, elderly day care centers are viable and opportunistic option for caregivers to break from structured hours and responsibilities, thus allowing them to be more flexible and in their personal lives and remain in the workforce. Most adult day services also provide essential resources for caregivers, including educational programs, support groups, and individual counseling.
5 Tips for Finding an Adult Day Care
1. Consider the Type
Caregivers align the type of center based on the needs of their loved one, which includes the three main types:
1. Social:
Social adult day cares provide interaction, recreation, and nutritious meals for seniors, along with offering some health-related services.
2. Medical:
Medical care facilities are staffed with nurses and offer more intensive health services, including medication and disease management, health monitoring, and physical therapy, and provide some social and therapeutic amenities.
3. Specialized:
These sort of adult day care centers specialize in providing care to seniors diagnosed with specific conditions, including dementia, Alzheimer's disease, and developmental disabilities.
2. Research Prospective Centers
Considering your loved ones needs, research centers in your local area with an online search. Investigate the location, whether or not they are licensed, regulations they follow, and any sort of reviews regarding the care they provide.
From verifying whether the internal source of the center, including if it is religiously affiliated, independently owned, government-backed, corporately ran, you can do additional investigation regarding their reputation.
Also investigate the history of the center, along with if they have ever been shut down for any reason, along with the current standing of their food service, health, and safety inspections.
3. Visit the Facility
One of the best ways to get the feel of an adult day care center is by personally visiting the facility. Calling ahead of time and planning a visit can help ensure a thorough visit, along with appropriate staff to help ask any questions.
Also remain cognizant on inspection documents, the quantity and quality of staff interaction, activities seniors are participating in, and other factors that may drive you to the center or steer you away.
4. Discuss Transportation Options
Many centers provide transportation to and from the center at no cost or on a per ride basis.
Transportation is a fundamental component of the adult day care system and while many centers provide transportation to and from to little or no cost, it is still important to discuss such options.
Along with the services provided by the center itself, there are a number of different modes of transportation seniors can utilize, including:
Volunteer driver programs, including from churches and nonprofit organizations
Public transportation, such as the the bus, subway, or train, which is often more ideal for seniors who remain mostly independent but desire social interaction.
Paratransit services, which caters to individuals with disabilities that may prevent them from using fixed-route buses or other forms of mass transit. Offering specially equipped shuttles pick you up at your doorstep and take you to where you need to go, paratransit services might be a viable option to qualifying seniors.
5. Inquire About Costs and Payment Options
The National Caregivers Library reports the average cost of adult day care is $64 per day (as of 2008), though individual facilities often vary based on geographical location center services might be needed for your loved one. For instance, if specialized care is not needed then you may find day care services at around $25 per day. However, if you require more advanced care, costs can easily reach or exceed $100 daily.
While Medicare does not cover any of the costs associated with adult day care, some of the expenses may be covered by Medicaid if the center is a licensed medical or Alzheimer's facility. Long-term care insurance may also cover some of the costs if medical personnel are involved and utilized for your loved one.
Ultimately, though, it is important to inquire about such costs specific to the prospective center, along with asking about sliding scale fees and discussing payment options. Learn more about Medicaid, coverage reasoning, and state-by-state adult day care benefits here.