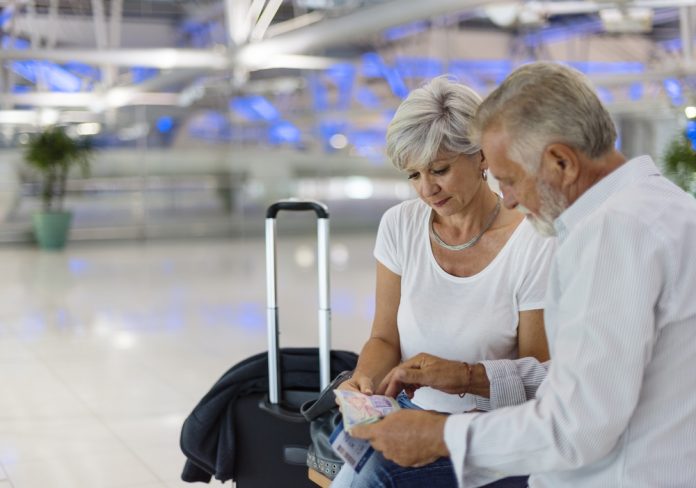 At first glance, traveling for seniors may not seem like it's worth the trouble. However, with proper planning and preparation, travel can be an enriching experience. Older travelers can enjoy new activities with ease by incorporating a few tips and tricks.
Keep reading for the top travel tips for senior citizens and answers to questions like "Is air travel safe for seniors?"
Travel Tips for Senior Citizens
Traveling can become intimidating with age. Luckily, there are many accessible adventures for older adults. Seniors can easily navigate traveling with planning and preparation.
Try these 10 tips for a smooth travel experience.
Research First
When making travel plans, doing research first can help you decide on a suitable destination and reduce your worries. For example, explore a list of top vacation spots for seniors to find areas friendly for older adults. Considering factors like the climate and what types of transportation are available are key in planning an enjoyable trip.
Start With National Parks
Looking for a low-key adventure? National parks are among some of the most popular spots for seniors.
With 28 states and two U.S. territories containing at least one National Park, there is plenty to discover. While not every state has a National Park, there are other National Park Service areas, such as:
Historical parks
Monuments
Preserves
Recreation areas
Locations like the Grand Canyon and Yellowstone are popular attractions, but you may find hidden gems in your home state. As a bonus, the National Park Service offers an annual senior pass for $20, or a lifetime senior pass for a one-time payment of $80. 
Search for Senior Discounts
National parks aren't the only place you can get a senior discount. AARP provides a great list of senior discounts during travel, including airfare, rental cars, cruises, and more.
When in doubt, it never hurts to ask if an organization offers a senior discount. Many places recognize older adults as a vital part of their community and encourage increased senior participation by offering a discount to senior citizens. Use your age to your advantage!
Look for Accessible Lodging
Even young people can tire during an exciting trip. Be wise when it comes to choosing travel accommodations. For example, opt for a hotel room on the first floor when possible so you don't have to climb stairs at the end of a long day.
In addition, as mentioned above, ask if your hotel or housing service offers a senior discount. If you are disabled, be sure to ask for rooms with accommodations. When relying on public transportation, be sure there is an accessible route from your hotel to the transportation system (i.e. bus, train, subway).
Invest In Insurance
For many seniors, investing in travel insurance makes sense. For dollars a day, you could protect yourself against problems while traveling abroad (beyond the basic health benefits of medical insurance). From cancellation coverage to accounting for lost personal items, some potential perks of travel insurance include:
Ambulance services
Delays
Emergency evacuations (i.e. in the case of natural disasters)
Hospital room and board
Repatriation of remains (in the case of death, transfer of remains back to the state of residence)
These benefits can range from covering small inconveniences to supporting seniors in more serious situations, like a motor vehicle accident. You can't always anticipate what will happen while on your trip. However, travel insurance can help to provide peace of mind.
Before heading on a long-distance trip or traveling abroad, it's always a good idea to understand what is included in your medical insurance. While it is unusual that a basic plan includes travel benefits, more premier packages may provide additional benefits worth looking into. Remember to take your insurance card with you on vacation in case of an emergency.
Plan Ahead for Air Travel
A couple simple tips can change long flights from a nightmare into an enjoyable experience:
When possible, pack light by including only essentials in your carry-on bag. Place items you need less often in the bag you stow away or check. Having no checked bag at all also has its advantages (fewer bags to check means fewer bags to carry along on your adventure).
Check in online, well before you arrive at the airport. Most flights provide details through an app or email at least 24 to 72 hours prior to departure. You can review details like weather predictions and more using these tools.
If you're the type of person who loses their patience in security lines, consider applying for

TSA Pre-Check

. This option is great for seniors who aren't traveling with bulky medical devices or equipment.
Before you board the plane (or even before you arrive at the airport), inquire about accommodations. For example, wheelchair assistance is standard at most airports and can even be indicated on your ticket at the time of purchase.
It may go without saying, but arrive in plenty of time! Rushing to your gate won't make traveling a pleasant experience. Remember, it's better to be an hour early than a minute late when it comes to boarding your flight.
Consider Health Beforehand
While traveling can improve quality of life, it is important to think of health risks before taking a trip. For example, traveling immediately after surgery for cardiovascular disease may not be the best decision. It's better to plan a trip when you know you'll be able to enjoy it.
Luckily, there are many accessible adventures for those with impaired vision or other disabilities. Even places like DisneyWorld offer disability services and devices for their guests. Some health factors to consider while planning a vacation include:
Activity level
Length of trip
Medication management
Vaccine and/or immune status
Although these tips are just the "tip of the iceberg," remember that experience is the best teacher. If you don't yet know what you can handle, take a short trip and then progressively longer ones to discover your tolerance level for certain activities. When in doubt, you can also ask your doctor if they think a certain type of travel is safe for you.
Review Your Resources
Before embarking on an exciting trip, it's a good idea to review your resources. Especially if there is a language barrier at your destination, be sure to have resources like the internet or translators accessible.
Once you are at your location, it's likely your resources will be far more limited than what you have at home. It never hurts to print out steps, instructions, maps, or tickets beforehand so you know what you're getting yourself into. Electronic devices with waning batteries won't help you, so it's a good idea to keep a paper copy close by.
Invite A Family Member Along
Having trouble managing all the details on your own? Invite a family member or dear friend to join you. Especially if you are windowed, divorced, or otherwise alone, inviting a companion along can make the trip much more enjoyable.
Having someone to share the journey with can help create lasting memories for years to come. Plus, you'll have someone there to take your picture!
Have Documents Handy
You've probably heard horror stories of people rushing back and forth from the airport to their houses for forgotten passports or IDs to ultimately miss their flight. Knowing where important documents are doesn't just ensure you travel swiftly. Preparing important documents and keeping them accessible can actually save you time, money, and energy.
Most passport holders contain a sleeve or two to slip other forms of identification into. Another option is to purchase a plastic envelope or a slim, zippered document sleeve for travel papers. This can keep them waterproof, safe, and ready for quick retrieval.
In Summary on Travel Tips for Seniors
Traveling can provide a sense of adventure for seniors. While health should be considered, there are plenty of accessible sites for seniors to visit. Search for discounts, services, and more to provide peace of mind for your next exciting excursion.
Related Questions
How do you travel as a senior?
A little preparation and planning go a long way when seniors travel. A quick Google search before a trip can help provide information about senior discounts, accessibility, accommodations, and more. Traveling with a caretaker, close friend, or family member as a companion can also help.
Is air travel safe for seniors?
Air travel is generally considered safe for seniors. However, the immune system often declines with age and the body may become less efficient at tasks it previously accomplished with ease. It's important to take health and safety into consideration before booking airfare. When in doubt, consult with your doctor.
References:
Dempsey C. Geography of U.S. National Parks. Geographyrealm.com. Published December 2020.
International Citizens Insurance. Seniors Travel Insurance. Internationalinsurance.com. Published 2022.
Road Scholar. 10 Tips for Worry-Free Air Travel. Roadscholar.org.