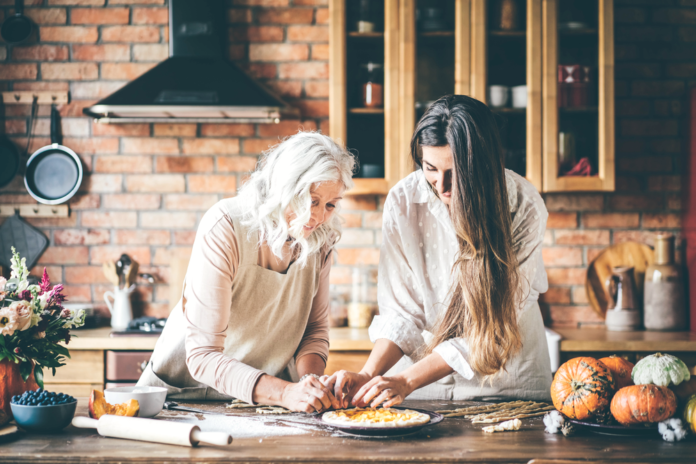 To celebrate the changing leaves, crisp air, and cozier moods, we have rounded up fun fall activities for adults, keeping the senior population at the forefront. These fall activity ideas are affordable, no-nonsense, and, of course, festive! And most are made better by grabbing a friend.
Organized into four different categories, take a look at some of the most engaging and exciting senior fall activities.
Outdoor Fall Activities
These outdoor fall activities are a great way to enjoy the fresh air on a nice fall day!
Take a Refreshing Walk
The vibrantly changing leaves are reason enough to take to the streets. The air is also crisp and refreshing, deeming it perhaps the most comfortable time of year to stroll outside.
The benefits of walking are plentiful and include improved mood, cardiovascular health, and brain function. For seniors, low to moderate intensity steady-state cardio is very important for retaining memory function and strength training is vital for maintaining or improving muscle mass.
If capable, it is encouraged to include both types of training within a weekly regimen.
Get in the Garden
Another way to appreciate the shifting season is to work or appreciate a garden. And one does not need to have their own garden to partake in this activity.
Nowadays, plenty of community gardens exist and are yearning for volunteers to maintain their beauty. Furthermore, many cities and towns host an activity called leaf-peeping, where horticulturists and arborists host walking or bus tours of local gardens, some quite grandiose in nature. This is a wonderful way to brush up on fall foliage and learn something new about the natural earth.
And if blessed with a home garden to tend to, do not hesitate to count it as physical activity!
Enjoy a Book
Exercising is not the only outdoor activity for seniors to enjoy. Reading, doing Sudoku, or playing solitaire need not be confined to indoors. In fact, there is a benefit to simply sitting and appreciating the outdoors.
For one, getting 10 to 30 minutes of early sunshine (5:00 a.m. to 10:00 a.m.) helps regulate circadian rhythm. Forgoing sunscreen during these hours for the same amount of time optimizes vitamin D status, something that is typically low in the senior population.
Other non-physical activities to try outdoors include bonfires, meditating, holding a bible study or small group talk, earthing, coloring, and sunbathing.
Indoor Fall Activities
As the weather starts to get crisp, consider these indoor fall activities. Not only are they fun but can benefit senior health!
Try Trivia
Classic trivia is an excellent way to keep senior minds sharp! Trivia and similar games improve memory function, concentration, and mental acuity in general.
Of course, one can hold their own version of trivia in the home and designate themes if desired such as scary movies, the history of Halloween, fall foods, or costumes. But do not forget to check out local restaurants, YMCAs, community centers, and cafes as well.
Create a Gratitude Wall or Room
Research demonstrates the profound impact of practicing gratitude. In fact, exerting gratitude is scientifically proven to:
Foster better relationships
Improve physical and psychological health
Enhance empathy
Promote better sleep
Increase self-esteem and mental strength
This is potentially even more exciting for seniors that suffer from higher levels of depression and loneliness.
There are plenty more ways to honor gratitude beyond the typical positive affirmations. Create a whole gratitude wall or even room by filling it with pictures, objects, and ideas that inspire the feeling of thankfulness and appreciation.
Host or Attend a Costume Contest
Costumes are not reserved for only the really young. Seniors can take part, too!
Channel your inner child by revisiting an old costume from the early days or create a totally new look by scavenging the thrift stores. Skip the overpriced, unoriginal costumes from commercial stores.
To further celebrate the Halloween holiday, host a costume party with friends or search for other costume bashes at restaurants, nursing homes, community centers, clubs (i.e book club, not the disco), or small groups.
Fall Activities at Home
Cozy up to festive fall activities right in the comfort of home! Enjoy as alone time or with a group of family and/or friends.
Carve a Pumpkin
Cannot leave pumpkin carving off a fun fall activity list! The most quintessential Autumn activity of all, pumpkin carving is a great way to channel those spooky and creative juices.
Of course, this activity is enhanced by picking the pumpkin from an authentic patch that also caters to apple cider donuts, corn mazes, and pumpkin patch wagon rides. Any and all parts of this activity are encouraged.
If carving does not come naturally, check out different templates online or have an artist friend draw a design before slicing.
All Hail Hygee
Pronounced hoo-gah, hygge is a Danish word for cozy. In other words, hygge captures the essence of a cozy, easygoing, peaceful vibe and is currently one of the most popular trends in America.
In the Danish culture, hygge involves joining with friends by fire or candlelight and enjoying simple but pleasurable activities, preferably in the comfort of PJs or other soft, comfy clothing. Typical hygge goodies include hot chocolate, tea, red wine, charcuterie boards, and home-style cooking.
Set the cozy mood even more by streaming calm music, watching a cultural film, and having a good conversation.
Cook a New Autumn-Inspired Meal
Fall boasts many seasonal delights such as root vegetables, pumpkin, apples, and more. Channel the changing season through warm, comforting recipes such as:
Baked pumpkin oatmeal
Pumpkin bread
Apple pie or strudel
Roasted brussel sprouts with cranberries
Fall harvest pasta salad
Roasted carrots with caramelized walnuts
Sweet potato pie
Caramel cider
Bonus points for substituting high fiber, unrefined ingredients like coconut sugar, honey, oat flour, almond flour, and plant-based milk.
Easy Fall Crafts for Seniors
Looking for fall craft projects this Autumn season? Consider giving these unique craft ideas a try!
Color in the Lines
Or outside of them! Nonetheless, coloring has been shown to improve mental acuity and enhance memory recollection in adults. Coloring is also implicated in easing anxious and depressive symptoms in people and can offer entertainment and mind stimulation for hours.
Capture fall by coloring autumn-inspired coloring books or drawing your own landscapes or fall objects. Use pre-made stencils and colors such as burnt orange, vibrant yellow, deep reds, neutral browns and tans, luscious greens, and warm blues.
Make a Mood Board
No better way to plunge into the fall feeling than by making a mood board. Using the same color palette as just mentioned, create a bulletin board, poster, Canva template, or any other medium to directly transport into the essence of Autumn.
Mood boards are also an energetic way to honor the different seasons of life and change as a whole. Life is cyclic, as are the seasons, and developing a way to honor this can put one at ease, help them handle the change better and calmer, and signifies respect for Mother Earth.
Paint Pumpkins
Finally, if gutting a pumpkin just is simply unappealing, try painting it instead! Check out Pinterest for hundreds of ideas or imagine a spectacularly spooky scenario on your own.
The color white particularly pops on a pumpkin, but feel free to use any color palette. While painting, sip some cider or hazelnut hot chocolate and appreciate all that Fall has to offer!
Fall Activity Ideas in a Nutshell
Fall activities for seniors and others are abundant! Including indoor crafts and outdoor adventures, an activity is available for all interests.
Know that this list is not exclusive, so have fun taking part in and exploring everything else fall has to offer! This may include telling ghost stories, hosting a scary movie marathon, roasting marshmallows, and visiting an apple orchard.
No matter the activities, make and check off a fall bucket list for the best autumn yet!
References:
14 Fall Activities for Seniors That Boost Wellbeing. Buzztime. Published October 7, 2017. www.buzztime.com/business/blog/14-fall-activities-seniors-boost-wellbeing/.
Morin, Amy. 7 Scientifically Proven Benefits of Gratitude That Will Motivate You to Give Thanks Year-Round. Forbes. Published November 27, 2017. www.forbes.com/sites/amymorin/2014/11/23/7-scientifically-proven-benefits-of-gratitude-that-will-motivate-you-to-give-thanks-year-round/?sh=173619f3183c.
Wurm, Michael. Favorite Fall FOODS: 20+ Recipes You Must Make This Fall! Published September 18, 2020. Inspired by Charm. www.inspiredbycharm.com/favorite-fall-foods-fall-recipes/.