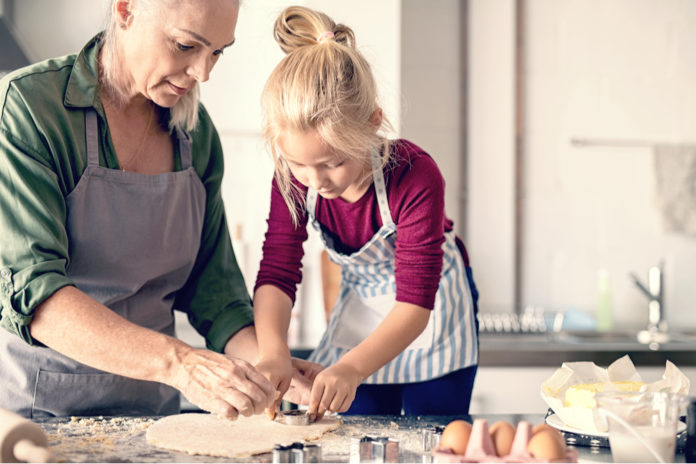 Seniors may face stress around the holidays for a number of reasons, including a move from home or the loss of a spouse. This can shift their mood from holiday hype to holiday blues.
Managing such stress and anxiety is personal, as what works for one may not work for others. But there are tips as a caregiver to boost their spirits, including with these fun activities for seniors!
21 HOLIDAY ACTIVITIES FOR SENIORS
From outdoor activities to Christmas crafts for seniors and young ones alike, find a wide range of festive things to do with your loved one this holiday season!
1. Take a Christmas Light Tour
Light displays are abundant during the month of December, so take a scenic tour to view them! This may include driving throughout a park or other local areas who set out sceneries.
If able to, take a walkable Christmas light tour throughout the neighborhood streets. Doing so can squeeze in some joyful physical activity!
2. Decorate the Christmas Tree
Decorating the Christmas tree is often a family tradition. Keep your loved one involved in this process and ask for their help and input.
To make Christmas truly special, gift them a new ornament to hang. This may include one with their name displayed or one made by a grandchild.
3. Watch a Holiday Parade
Most local areas holiday parades throughout the town or city. Make it even more of an outing by grabbing a meal before or afterward.
4. Host a Christmas Moviethon
Get that popcorn ready… Cozy up with a Christmas moviethon with the family!
Have each member choose their favorite movie to play, whether it be a classic or modern-day film.
5. Tell Christmas Story Time
Telling stories is a fun way to bring back childhood memories no matter the age. Let everyone tell their favorite Christmas story while sipping on warm hot cocoa around the fire.
There may be laughs and tears, but more memories made nonetheless!
6. Make a Christmas Scrapbook
Put those favorite holiday stories onto paper for a lasting memento!
Collect pictures of Christmas memories and have them printed out. Assemble and decorate the book together over a warm cup of coffee.
7. Go Christmas Caroling
Get in the Christmas spirit by going caroling! Gather a large group of friends and family and bounce door-to-door of a neighborhood.
This also makes a great nursing home activity, in which seniors can sing door-to-door at the residents' doors.
8. Volunteer Locally
There is no better feeling than volunteering, especially around the holidays! Volunteer options are also abundant.
For instance, visit a local food pantry or ring the bell for the Salvation Army. Love animals? Volunteer at a rescue group.
9. Pack and Send a Shoebox Gift
If unable to volunteer, there are other ways to give back, including Operation Christmas Child of Samaritan's Purse. Through the organization, people can pack and send a shoebox gift to children around the world.
Items to pack in the box include a "wow" gift, other small toys, hygiene products, and school supplies. Senders can also track the package to find out where the shoebox ends up!
10. Decorate Christmas Stockings
Spruce up the mantel with some homemade stockings. Let each family member select a stocking to decorate, as they often come in various sizes and colors.
Festive accessories to add to the stocking may include wooden name tags, shiny silver bells, and pom-poms "snowballs."
11. Decorate Christmas Wreaths
Christmas wreaths are another holiday craft project to consider making to get in the Christmas spirit.
Some decorative items for an eye-appealing wreath may include ornaments, pine cones, bright berries, ribbon, and burlap.
12. Make Mason Jar Candles
And the craft ideas keep coming! This one may not be as common as traditional Christmas stockings and wreaths, but it is sure to light up the room.
There are many ways to make a DIY Christmas mason jar light, some of which are centerpieces while others are hung. All-in-all, use your imagination when creating.
13. Cook Up an Original Family Recipe
Rather than going out in the cold for a meal, why not cook up a homemade meal in a warm kitchen? Better yet, why not cook an original family recipe?
Get the little ones involved in the cooking process, as they can learn the recipes themselves to teach for generations to come!
14. Bake Cookies for Santa
With Santa arriving soon, it is time to preheat the oven! Bake favorite holiday cookies for a delicious afternoon indoors.
Also, make various gingerbread men and sugar cookies to decorate. Using your imagination has never been tastier!
15. Build a Gingerbread House
Speaking of gingerbread men, build them a respective house!
Prepare the ingredients from scratch as desired or purchase them premade for super easy assembly. A local dollar store is a great place to find inexpensive candies to tack on.
16. Write and Seal Holiday Cards
Sending out Christmas cards is a great way to let others know you are thinking of them this holiday season.
Have your loved one write personal messages to others as desired. Or, they can be helpful for stuffing and sealing prepared cards.
17. Attend a Christmas Play or Concert
Gather the group and attend a Christmas play! Places likely to put on a play include churches, schools, and community centers.
Make it a night outing and grab dessert afterward, including at a new ice cream shop or bakery.
18. Host a Holiday Game Night
And we are not talking traditional board games here… Fun Christmas games include Christmas bingo and charades. What's more, they can be played by all!
19. Run Holiday Errands Together
Some older adults may not be able to or like to drive, so have them co-pilot for all those holiday errands you need to run. This emerges them in the holiday hustle and bustle and can boost their spirits.
If the crowds are overwhelming, go earlier in the day when it is often a little less busy.
20. Wrap Up Christmas Gifts
After gathering the gifts, wrap them up for their big reveal on Christmas!
Have your loved one assist as they can, including cutting the paper, taping the edges, or sticking on the bow.
21. Video Chat with Distant Relatives
The holidays are a time for the family to gather together and spend time with one another.
Unfortunately, responsibilities and circumstances may keep some relatives distant from home. On the flip side, technology makes it possible to interact with others unable to visit over the holiday season.
Schedule a date and time to video chat with loved ones. This can even be done at the assisted living facility if needed.