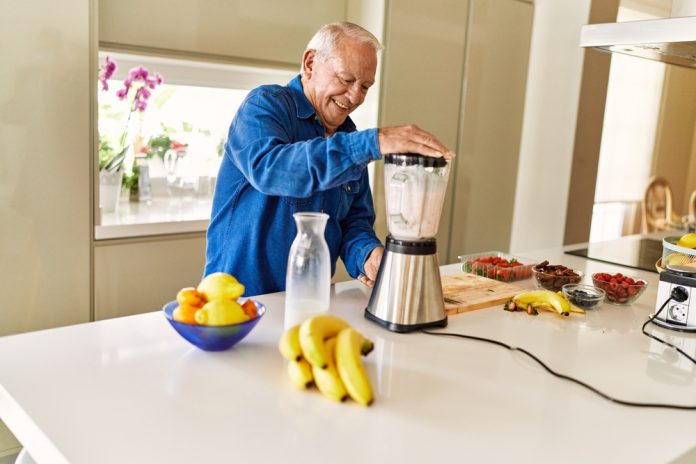 What is the best nutritional drink for seniors? Luckily, there are many nutrition drinks for seniors to choose from depending on their needs.
Increase protein, calories, or fiber in your diet with drinks made especially for seniors. Read on for the best nutrition drinks for seniors, including the top picks from dietitians.
Best Nutrition Drinks For Seniors
Every senior's diet could use the boost of a nutritious beverage. The best nutrition drinks for the elderly contain plenty of vitamins and minerals. Health drinks, in general, should also be lower in sugar content (with little to no added sugar).
Here are nine drinks for seniors, including beverages with a boost of protein and calories depending on your nutrition needs.
Kefir
It's likely that you've passed kefir on supermarket shelves before. Usually grouped next to yogurt or milk, kefir is a fermented dairy product that contains plenty of probiotics. Kefir also contains increased levels of nutrients like vitamin D, calcium, magnesium, and more. Plus, each cup contains about 10 grams of protein.
Kombucha
Kombucha, like kefir, is a fermented beverage with health benefits. Since it is made from tea, water, and "good" bacteria, it's naturally full of probiotics (which are good for gut health). It also makes a hydrating alternative to alcoholic beverages, with its sweet and tart flavor.
Smoothies
Smoothies are perfect for seniors who love experimenting with flavors! You can create high-protein, high-fiber smoothies with various fruits and vegetables.
Choose from the following calorie-dense foods to add for a satisfying smoothie:
Avocado
Cottage Cheese
Peanut butter
Protein Shakes
If you're looking to lose weight, protein drinks are generally lower in calories. They also are great for fortifying muscles, which can ultimately help protect you against falls and increase body strength.
Protein shakes aren't ideal for everyone, so it's important to understand the pros and cons. However, for many seniors, protein drinks are perfect for sustaining weight loss and building muscle.
Premier Protein
Looking for a protein drink with major power? Premier Protein drinks are a favorite among dietitians, with 30 grams of protein, 160 calories, 1 gram of sugar, and over 20 vitamins and minerals. Vanilla and chocolate are favorites, as are limited edition seasonal flavors like pumpkin spice and winter mint chocolate.
Orgain 
If buying organic is important to you, then Orgain protein powders and protein shakes are the perfect pick for you. Orgain is another top-notch option, complete with 20 grams of plant proteins (or more) per serving. It's also one of the most cost-effective options available!
Nutritional Supplement Drinks
Commonly called a "nutrition shake," supplemental nutrition drinks are intended to act as meal replacements. These beverages are also best for older adults who want to optimize weight gain.
Ensure
Ensure offers a variety of nutritious weight-promoting products, including their ever-popular original shakes available in many flavors. While the balanced Ensure Original contains 220 calories and 27 vitamins and minerals, Ensure also offers other products that may be better suited to your needs, such as:
Ensure Plus (higher in calories and protein)
Ensure High Protein (higher in protein and lower in calories)
Ensure Max Protein (higher in protein, but lower in calories and sugar)
Ensure Light (higher in protein and lower in calories)
Ensure Surgery (designed to boost immune health after an operation)
Ensure Original Protein Powder (comparable to Ensure Original)
Boost
Similar to Ensure, Boost products come in all shapes and sizes depending on your nutrient needs. While you may need to keep an eye on added sugar, these drinks come in several different varieties (some even targeted at a specific population), including:
Boost High Protein
Boost Plus (recommended for

loss of appetite

)
Boost Very High Calorie
Boost Glucose Control (recommended for diabetics)
Boost Women
Glucerna 
Glucerna carries a host of nutrition products, including drinks, to help balance blood sugar and hunger cues. While the brand is designed for diabetes, your doctor or dietitian may recommend Glucerna to help minimize blood sugar spikes.
They have an entire line of "Hunger Smart" shakes and powders to help you reach your health goals while maintaining a healthy appetite. Plus, even Glucerna original contains an impressive panel of nutrients, such as:
Calcium
Folate
Iron
Magnesium
Selenium
Vitamins A, B12, C, D, and E
Nepro
Like Glucerna, Nepro is made for a specific disease. Nepro nutrition shakes are well-suited for seniors who struggle with kidney disease. Considering this condition is more prevalent in aging adults (experts estimate 50-75% of seniors have kidney disease), Nepro may be the perfect pick for you.
Nepro has higher levels of nutrients you need—like protein—and lower levels of nutrients that might interfere with dialysis such as potassium and phosphorus. The shake also contains "CARBSTEADY," a unique blend of slow-release carbohydrates designed to minimize blood sugar spikes and manage blood sugar.
Recap: The Best Nutrition Drinks for Seniors
Regardless of disease, weight, or appetite status, there's a nutrition drink made especially for you. In general, look for a combination of vitamins and minerals that meets your needs. Be sure to look at the label and avoid unnecessary additives, like added sugar (ask your dietitian for help deciphering difficult ingredients).