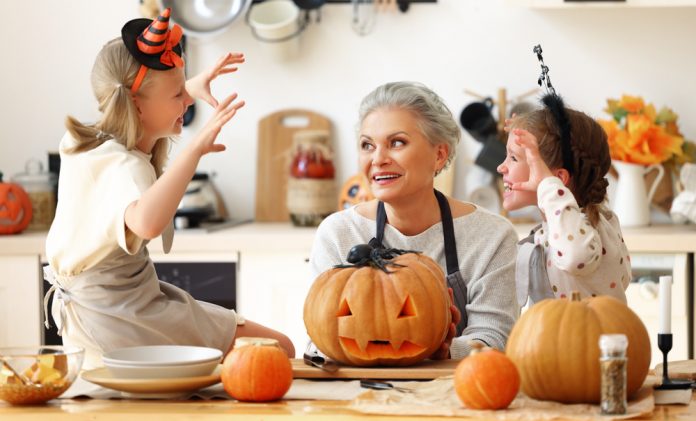 Halloween activities for seniors stretch beyond just trick or treating. Whether you're into thrills or just enjoy sitting back and observing the fun, senior Halloween games and Halloween activities for the elderly can be a safe way to step out of your comfort zone and connect with your community. If staying at home is more your speed, Halloween crafts for seniors can bring the spooky side of the season to you.
Keep reading for seven sources of senior-focused fun, including Halloween costumes for senior citizens and Halloween party games.
Halloween Activities for Seniors
There are so many fun fall activities for seniors to enjoy. While some are as sweet as pumpkin pie, other activity ideas are on the spookier side. From costumes to crafts, it's time to get creative.
Don't know where to start? Here are some Halloween ideas for seniors that are sure to make the Halloween holiday worth remembering.
1. Pumpkin Bowling
A twist on the popular bowling alley classic, pumpkin bowling is a great game for active seniors. In place of a bowling ball, use a pumpkin with the stem cut off. While you can use bowling pins, try the following ideas to make the game more festive:
Bottles painted white to look like ghosts or ghouls
Gourds of different shapes
Pins decorated to look like candy corn
2. Pin the Tail on the Black Cat
One of the most classic party games is pin the tail on the donkey. For a Halloween theme, try pinning the tail on the black cat. You can get templates on sites like Etsy, or make your own if you are artsy.
3. Bingo (Halloween Themed!)
Another classic party game is bingo. Easily alter this favorite activity for seniors by using Halloween-themed bingo cards. Free Halloween bingo cards are available online, and you can use candy corn as a marker.
Looking for something a little healthier? Use pecans which are heart-healthy, but also a fall food staple.
4. Halloween Costume Party
While you don't necessarily need a Halloween party to dress up, costumes add some excitement to get-togethers. As seniors, you've got a lifetime of costume ideas at your fingertips.
Throw it back to your favorite decade, movie, or pop culture moment with a fun solo, couple, or group costume.
5. Trick or Treat
Perfect for senior living facilities, door-to-door trick or treating isn't just for the little ones. If you live in a neighborhood, trick or treating is also a great way to meet people in your community and feel a little less isolated.
Plus, you can sit out on your porch and enjoy the fall weather before it gets too cold.
6. Horror Movies
As you age, you may feel like nothing gets your adrenaline going. However, a good old-fashioned scary movie can be truly thrilling!
Instead of visiting a haunted house (which can be difficult to navigate for the elderly or disabled), be haunted in your own house by using a TV streaming service (i.e. Netflix) to find your favorite horror films.
7. Halloween Crafts
Jack-o-lanterns and pumpkin projects may seem obvious here, but the real potential lies in mason jars. There are more than 50 DIY mason jar projects you can do with a leftover jar to help celebrate the season, making them both affordable and festive. Mason jars are great because beyond adding some decor to your room or home, they also add utility (i.e. pencil or utensil holder).
In Summary on Spooky Season for Seniors
Whether you are at home or enjoying a senior living situation for the season, Halloween can be a fun time to scare and care. From classic games with a twist to fun and innovative crafts, there's something for everyone.
Getting into the tricks and treats this season can be a great way to connect with the community around you.