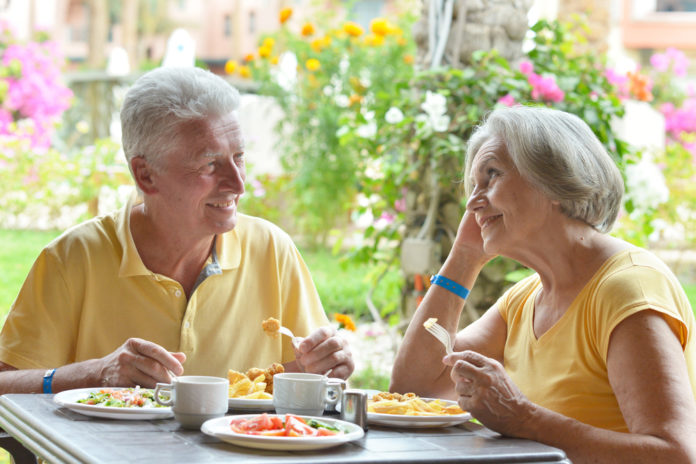 Senior meal delivery continues to hold countless worth to both the elderly and their caregivers. Offering meals straight to their door, seniors obtain nutritional meal plates while caregivers have one less task on theirs. Allow Silver Cuisine to transpire their knowledge and commitment into well-balanced meals and lasting support for you or your loved one!
Why Choose Senior Meal Delivery
Seniors face a multitude of physical and mental changes, all posing the risk of becoming malnourished or overweight. The following age-related revolutions may cause dramatic weight fluctuations and compromise total health:
Slower Metabolism
Lean body mass is often reduced as age advances. Losing precious muscle also slows down metabolism, which in turn makes it easier to withhold and gain weight.
Reduced Energy
Heightened fatigue and reduced muscle strength are large risk factors to living a more sedentary lifestyle. Especially if paired with a poor diet, inactivity can instigate and accelerate weight gain.
Loss of Appetite
The senior population commonly faces appetite loss, mostly related to taste and smell changes. When foods lose their appeal, they are less likely to be sought out and consumed.
Cognitive Changes
In addition to physical body alterations, seniors are at an increased risk of cognitive changes. These changes may cause a disinterest in foods and preoccupation, raising the likelihood to forget about mealtimes.
Medications
Though taking prescribed medications in the senior popularity is common, they tend to provoke side effects. Individuals may experience an increased or reduce appetite and lead to weight gain or loss, though dependent on the medication's side effect.
Home Delivered Meals for Seniors
While utilizing senior meal delivery varies based on individual circumstances, their availability can provide peace of mind to seniors in caregivers whenever the need may arise. And with Silver Cuisine, the senior meal delivery services offers…
…nutritional adequacy.
Doctor-designed, chef-prepared meals prepared with the freshest ingredients. Each meal is adequate in protein and healthy carbs and fats, the totality ultimately fostering a healthy weight, nurturing muscle mass, and reducing nutritional deficiency risk.
…specialty diets.
In addition to being nutritionally adequate, Silver Cuisine provides specialty diets to meet special, unique needs. Offered diets include heart healthy, low-sodium gluten-free, and diabetic.
…variety.
Silver Cuisine's rotating menu includes over 150 alternating, delicious meal options. From sliced ham with mustard maple sauce, to turkey breast with gravy and spiced apples, to eggplant lasagna casserole, seniors will never feel deprived of flavor and there is something to excite everyone's taste buds!
…simplicity.
With no contracts or minimum orders, Silver Cuisine fits any lifestyle with easy ordering. Simply select the meals you wish to have delivered, and Silver Cuisine will take care of the planning, shopping, cooking and delivery. Your order will arrive at your door so all that is left for you to do is simply heat, eat, and (most importantly) enjoy!
…ongoing support.
Silver Cuisine recognizes the benefits of ongoing support and continuously offers it not only to its members, but for caregivers. A team of healthcare professionals and customer service members are easily accessible at most hours of the day. Additional resources provide constant information in the form of newsletters, blogs, and individual consultations.
…time.
With Silver Cuisine taking the reigns, valuable time is extended on both seniors' and caregivers' ends! Knowing time is available, providing more of it to you is important to Silver Cuisine. Use the time to relish on memories, make new ones, and simply enjoy all of life's pleasures!