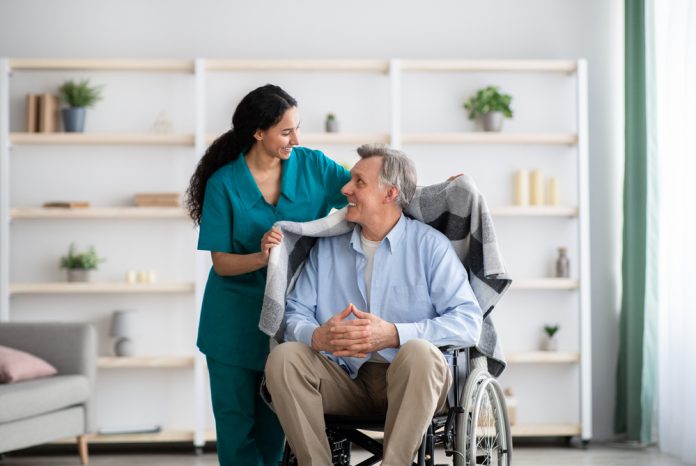 When it comes to selecting senior care, loved ones can wonder how to choose a home care agency that really cares. There are certain questions to ask a home health care agency before finding the right one. Learning what to consider in a home health company can greatly affect an older adult's quality of life.
Read on to find out what a home care agency is, as well as answers to your most common questions.
What Is a Home Care Agency?
A home care agency is an organization that is licensed to perform caregiving tasks in a person's home. These agencies employ trained individuals that can take care of needs. These needs range from basic medical care to housekeeping tasks that seniors may find difficult during advanced life stages.
A home care agency provides mainly two types of services:
Skilled care: medical care provided under supervision or by licensed medical personnel
Custodial care: non-medical assistance provided by non-licensed caregivers
Examples of skilled care include:
Medical care
Physical therapy
Wound care
Examples of custodial care services include:
Assistance with activities of daily living (ADLs)
Light housework
Planning or preparing meals
The advantage of home care is that both skilled and custodial care can occur in the comfort of one's home. It's important to find qualified individuals (known in some states as Home Care Aides or HCA-Cs) that can provide both skilled and custodial care. Both aspects of care, when performed appropriately, can improve a senior's quality of life.
Questions To Ask A Home Health Care Agency
You may be overwhelmed by the considerations involved in selecting a home health care agency. Luckily, there are many tools that can help you decide what agency is right for you.
The AARP Caregiving Checklist can be completed online or printed. This checklist is an excellent resource that can help you to evaluate how competent an agency may be at providing in-home care for your loved one. From rating quality of care to cost of care, this checklist is a great place to start and can help you gauge whether the staff is a good fit. 
Beyond the checklist, basic questions to ask include:
How are your home caregivers trained? Are they regularly tested for competency? Do they participate in ongoing training?
Are background checks performed on all caregivers hired?
Is one individual assigned to my loved one's personalized care case, or will there be different people completing care tasks throughout the day?
What is your care management process? Walk me through how your agency conducts admission, initial evaluation, care plans, and processes payment.
What happens in case of emergencies?
The National Association for Home Care & Hospice has additional questions to ask if you are comparing several providers. 
How to Choose a Home Care Agency
Beyond an organization's reputation and your financial investment, there are seven other important aspects to consider when employing a home health care agency.
1. Look for Special Certifications
A recent study on adults receiving home health care for heart failure found that many home care workers were involved in key aspects of care but did not have any special heart failure training. This can often cause frustrating communication among providers, worsening of symptoms in patients, and other adverse outcomes.
If your loved one has a specific condition, it can be helpful to look for a care agency that employs individuals with advanced or specific certifications.
2. Understand Policies & Practices
While logistics may not be the most exciting topic of discussion, it is important to understand how an agency accomplishes one-on-one private care. Knowing about how a company operates (i.e. the billing process) can ensure quality care.
Additionally, ask about your role in the process and how you can support successful outcomes. It is also important to understand when and how you can access the company (i.e. are they available 9-5 or 24/7).
3. Find an Agency with an Individualized Approach
With home health agencies and care, there often isn't a one-size-fits-all. It's important to find an agency that treats your loved one like an individual and approaches their health with individualized care.
4. Ask About Electronic Aids
Some companies may invest in technology that makes collecting health information easier. Electronics may help to fill traditional gaps in information and also make communicating with the care agency easier.
If connecting via devices makes care easier for you to manage, be sure to ask about how the agency uses technology to be more efficient in capturing, sharing, and coordinating information.
5. Inquire About Risk Assessment
Reducing risk is an important part of prevention and treatment during home care. Risk assessment can be a complex process, so you can ask the agency to simplify it for you and put it in terms that make sense to you.
When it comes to reducing risk, it is important to understand the process before an emergency strikes.
6. Take an Interest in Turnover
Turnover is a measure of how well a company is retaining their employees. While not all agencies will be forthcoming about this information, asking about turnover can help you get an idea of how satisfied the employees are and how meaningful they find their job.
Happy employees often equal happy elderly patients.
7. Communicate the Level of Care Needed
Adverse events during home care visits often occur when the nurse or practitioner involved does not understand the level of care needed. Higher needs are associated with a higher risk of adverse events.
The nursing agency for home care that you choose should be able to address the level of need your loved one has. It is also helpful to ask how care hours might be adjusted to meet changing needs.
The Bottom Line on Selecting Senior Care
When selecting senior care, it is crucial to find an agency that understands your needs and meets them. To help find a good fit, be sure to ask questions. If you are comparing two different companies, finding out more about their process can ensure improved quality of life for your loved one.
References:
American Cancer Society. Finding a Home Care Agency. Cancer.org. Published July 2021. 
Dowding D, Russell D, Trifilio M, McDonald V, Shang J. Home care nurses' identification of patients at risk of infection and their risk mitigation strategies: A qualitative interview study. Int J Nurs Stud. 2020;107:103617.  
Family Caregiver Alliance. 10 Tips for Hiring In-Home Help Through an Agency. Caregiver.org. Accessed 2022. 
Franzosa E, Stone R. Support From a Distance: How Home Care Agencies Influence Paid Caregiving in the Home. Innov Aging. 2021;5(Suppl 1):216. 
Huntsberry-Lett A. How to Choose a Home Care Agency. Agingcare.com. Published August 2021. 
Morioka N, Kachiwagi M. Adverse Events in Home-Care Nursing Agencies and Related Factors: A Nationwide Survey in Japan. Int J Environ Res Public Health. 2021;18(5):2546.  
Noguchi-Watanabe M, Yamamoto-Mitani N, Takai Y. A Cyclic Model Describing the Process of Sustaining Meaningfulness in Practice: How Nurses Continue Working at One Home Care Agency. Glob Qual Nurs Res. 2018;5:2333393618788265.  
Sterling MR, Dell N, Piantella B, Cho J, Kaur H, et al. Understanding the Workflow of Home Health Care for Patients with Heart Failure: Challenges and Opportunities. J Gen Intern Med. 2020;35(6):1721-1729. 
Sockolow PS, Bowles KH, Wojciechowicz C, Bass EJ. Incorporating home healthcare nurses' admission information needs to inform data standards. J Am Med Inform Assoc. 2020;27(8):1278-1286. 
Sterling MR, Silva AF, Leung PBK, Shaw AL, Tsui EK, et al. "It's Like They Forget That the Word 'Health' Is in 'Home Health Aide'": Understanding the Perspective of Home Care Workers Who Care for Adults With Heart Failure. J Am Heart Assoc. 2018;7(23):e010134. 
Sunrise Services Inc. 10 Tips to Help You Choose the Best Home Care Agency. Sunriseservicesinc.com. Published December 2020. 
Yang Y, Bass EJ, Bowles KH, Sockolow PS. Impact of Home Care Admission Nurses' Goals on Electronic Health Record Documentation Strategies at the Point of Care. Comput Inform Nurs. 2019;17(1):39-46.