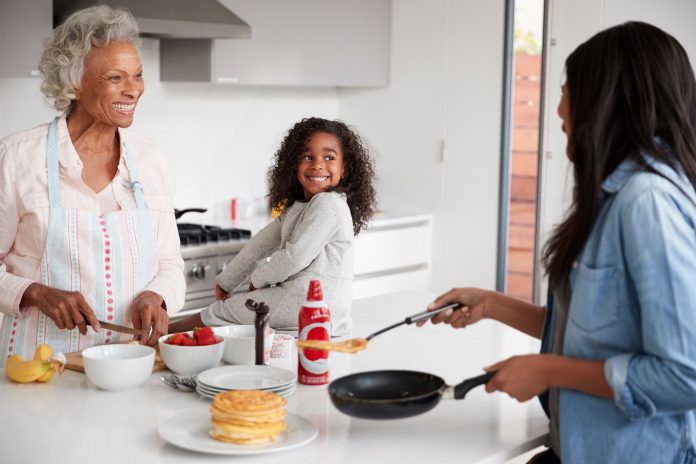 Warm winter breakfasts for seniors are the perfect way to start the day. They can be both hearty and healthy, helping you to meet your nutrient needs.
From toasts to tasty porridges, there are plenty of warm breakfasts to put into your weekly rotation. Read on for warm breakfast ideas for seniors, including protein-packed and nutrient-rich breakfast options. 
3 Benefits of Winter Breakfasts for Seniors
The health benefits of a warm breakfast have been long established. An ancient system of medicine called Ayurveda even suggests that certain foods provide heating properties. These foods are thought to help heal from the inside out.
Today, modern medicine is beginning to catch up to this ancient practice. Here are three reasons why warm foods are beneficial for older adults.
1. Easier To Eat
Hot foods are usually cooked or baked. These processes generally break down ingredients into softer, more palatable forms. For seniors, warm foods can be easier to eat, making breakfast more enjoyable.
2. Better For Delicate Digestion
Some vitamins in foods, when exposed to heat, become more bioavailable. This means that your body can access the nutrients it needs more easily. Warm foods can be a vital part of the diet if you're dealing with digestive issues. Plus, warm foods can soothe from the inside out and aid the muscles in your body that play a critical role in digestion.
3. Supports Slowing Down
Purely due to their temperature, hot foods are naturally eaten at a slower pace. This can help prevent digestive discomfort and make eating more intentional. For example, blowing on each bite before eating to ensure it won't burn your mouth can give your body the proper time to process your morning meal.
7 Warm Breakfast Ideas for Seniors
In winter, granola bars and Greek yogurt parfaits may sound satisfying, but certainly won't keep you feeling warm. Here are seven hot and healthy breakfast ideas to keep you feeling warm and satiated all winter long.
1. Toast
Whole grain toast can be an easy way to get plenty of vitamins and minerals in the morning. It's an easy breakfast, especially if you require home care or require help to get breakfast on the table.
If you're looking to add healthy fat (or some extra calories for healthy weight gain), turn your toast into avocado toast or smear it with nut butter. It's also a great option for people who prefer to eat plant-based.
2. Muffins
Muffins are an often underrated breakfast food. While store-bought varieties can be packed with sugar, homemade recipes can be customized for nearly any lifestyle. After cooling for about 5 minutes out of the oven, muffins can provide a warming breakfast bite (or a satisfying snack later in the day).
If you want an option that requires less preparation, try whole-wheat English muffins. Pair with a glass of milk, some hard-boiled eggs, or another preferred protein source.
3. Muesli
Muesli is a great alternative to your regular overnight oats or porridge. Typically enjoyed as a cold breakfast dish, muesli can also be eaten warm. Using an electric kettle to warm your water can quicken the process, making it easier to get your morning meal in just minutes.
Add flavor with homemade spice blends, like chai, apple pie spice, or pumpkin spice seasonings.
4. Omelet
Eggs are considered good sources of protein, providing a complete profile of all essential amino acids (nutrients the body can't produce on its own). Balanced with bell peppers, spinach, mushrooms, and other veggies, an omelet makes for a great breakfast on days when you want to be more active or awake.
The protein provided by the meal can help you feel full for longer. You can also pair it with fresh fruit or a whole-grain slice of toast for a completely balanced breakfast. 
5. Quiche
Like omelets, quiches are a quintessential breakfast dish full of eggs and foods like tomatoes or peppers. A quiche can be considered a balanced nutritious meal between the crust, custard filling, and toppings.
According to the ayurvedic tradition (referenced above), ingredients like artichoke, mushroom, onion, peppers, and tomatoes contain warming properties that can contribute to your quiche.
6. Breakfast Burritos
Another easy breakfast is burritos. In place of heavier ingredients, breakfast burritos contain a mix of classic warm breakfast foods like Canadian bacon, eggs, and white or sweet potatoes.
Wrapping these items in a whole-wheat tortilla can ensure you also get a serving of grains (and fiber) at the beginning of the day.
7. Pancakes
Pancakes are enjoyed year-round but can be especially satisfying during snowy seasons. Fresh off the griddle, pancakes can be both warm and filling.
To feel full for longer, make them more satisfying by mixing ingredients like peanut butter or protein powder into the batter before cooking in a frying pan. Top with blueberries, cinnamon apples, a dollop of Greek yogurt, cinnamon, a drizzle of honey or maple syrup, and other favorite pancake toppings. 
The Last Word on Healthy Winter Breakfast for Seniors
Senior-loved seasonal recipes can be a great way to stay warm this winter. Heat up your breakfast routine with easy recipes like toast or muesli.
Other winter breakfast ideas—like quiches or pancakes—often take longer to whip up. However, they can be a great way to connect with loved ones or become more familiar with warming winter foods!