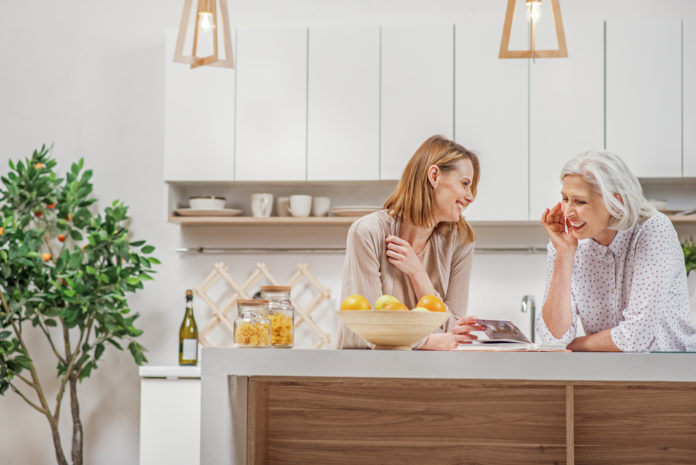 Alzheimer's disease is the most common form of dementia, affecting more than five million Americans and ranks as the sixth leading cause of death in America.
There is no cure for Alzheimer's disease, and managing the condition is often customized and coordinated with others for safe and effective care.
Alzheimer's caregivers are essential for devising individualized care plans based on preferences and needs, including the provision of regular mealtimes.
Caring for a Loved One with Alzheimer's
Caring for someone with Alzheimer's disease can be extremely challenging, yet also completely rewarding.
And while it is vitally important to help maintain a sense of dignity and independence for your loved one with Alzheimer's disease, sometimes it easy to overlook mealtime.
Overcoming this barrier is vital, though, as skipping meals and forgetting to eat is common in individuals living with dementia and Alzheimer's diseases.
Fortunately, there are useful meal planning and timing tips, along with available meal delivery services to help ensure adequate nutrition for your loved one.
Alzheimer's Meal Plan and Timing Tips
Although good nutrition is key throughout the lifespan, it can be quite the barrier in seniors related to inevitable body changes and cognitive decline.
A balanced, nutritious diet is the foundation of health for those living with Alzheimer's disease. Eating well can ensure that the disease slows in progression, and that their mental state remains stable.
Caregivers are in a unique position to provide and support adequate nutrition for their loved one. Tips to help ensure adequate nutrition include:
• Assisting in meal prep: From gathering ingredients to assembling the meals and snacks, preparing meals can be overwhelming. But assisting in meal prep helps ensure adequate nutrition and lowers the pressure of mealtimes for seniors.
Take advantage of simple meal ideas, including scrambled eggs, overnight oats, slow cooker chili, and batched soup. Also have pre-sliced veggies, fresh fruit, string cheese, individual containers of Greek yogurt, and other nutrient-dense snacks on hand to encourage their intake.
• Narrowing down food options: Instead of asking, "What would you like to eat?" one of the best ways to help make life a little smoother for both the caretaker and loved one during mealtime is to narrow down food choices to two options.
This helps ensure that your loved one is not overwhelmed by too many choices while still offering them autonomy to choose.
• Establishing a mealtime routine: Having a schedule helps keep mealtimes accounted for, while helping the day flow more smoothly and reducing frustrations that may arise unexpectedly.
Striving to eat meals together can also set a more enjoyable tone for your loved one and encourage greater food intake.
• Helping with kitchen cleanup: Falls are the leading type of injury in seniors, and a slick or cluttered kitchen floor can increase such risk.
Helping with kitchen cleanup not only reduces fall risk, but eases the stress for loved ones.
• Monitoring food expiration dates: Compromises in memory and organization increases the risk of food to go expired, which raises the susceptibility of illness if consumed. This also increases the likelihood of food waste.
As a caregiver, monitor expiration dates and dispose of accordingly. If cooking meals in bulk to be stored in the refrigerator or freezer, identify and mark when each was prepared.
• Identifying underlying conditions: There may be underlying conditions that impede on overall nutrient intake, including ill-fitting dentures, changes in smell and taste, and difficulty swallowing.
Identifying, addressing, and adapting to these issues can make mealtimes more pleasant. For instance, greater pleasure with food may be as simple as modifying how the dentures fit.
• Considering a meal delivery service: Preparing meals for a loved one daily can become quite taxing, especially if this is done in-home. Grocery shopping, meal preparation, and kitchen cleanup is a large task, especially if completed for all meals from morning to evening.
But it is important to ensure that as a caregiver, there is a mealtime resolution that provides both convenience and a peace of mind. One solution is to order food that is not only easily served, but adequate in nutrition for your loved one.
Alzheimer's Caregivers Need Support
There is no denying acting as caregiver is gratifying, but can also be taxing on overall wellbeing. And just as loved ones need support, so do caregivers.
A meal delivery service is one way Alzheimer's caregivers can receive support for both themselves and their ones, which takes a task off a heavy meal plate.
What Our Silver Plan Does For You
Silver Cuisine is an a la cart meal delivery service that provides doctor-designed and chef-prepared meals delivered straight to doorsteps.
Founding physician Dr. Caroline Cederquist has devoted her life to helping her patients achieve maximum health and wellness. And using medically-based science, correct portion sizes, and, most of all, paying special attention to providing exceptional taste, Silver Cuisine is an easy solution for those living with and caring for Alzheimer' disease.
Silver Cuisine was specifically designed to make enjoying a hot, healthy, delicious meals each and every day simple and convenient. This is what our Silver plan can do for you:
• Plan the nutrition of menus
• Shop for ingredients
• Prepare and cook all meals
• Chill and deliver directly to your door
And thanks to an easy ordering process, simply filter by special diets to meet your loved ones needs, including heart-healthy, gluten-free, diabetic, low-sodium, dairy-free, Mediterranean, and vegetarian options. You also have the freedom to order as many meals and snack as desired, all without commitments or minimum orders.
So if wanting to take the guesswork out of meal planning and preparation, Silver Cuisine has the ability to do it all deliciously and nutritiously for you!