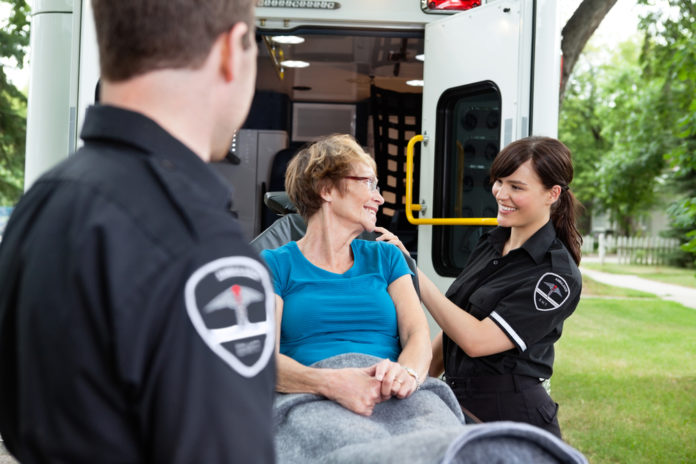 Using a medical alert system can be the intermediate between life and death. So with such a pressing purpose, how do you choose which is best for your loved one?
Here is what you should consider, along with recommendations supporting the best medical alert system models available.
What Is a Medical Alert System?
Also known as a personal emergency response system (PERS), a medical alert system is designed to signal an alert to emergency personnel when action is needed.
In the public eye, medical alert systems are familiar as Life Alert and their memorable slogan, "Help! I've fallen and I can't get up!"
Needless to say, your loved one may need the backing of a medical alert system if they live alone, along with exhibiting weakness, an unsteady gait, and a recognizable fall risk.
How Medical Alert Systems Work
The medical alert system is typically a combo of a base station, and a transmitter, which is usually a button worn as a necklace pendant or wristband. The two work together to carryout a potentially life-saving response:
1. During an incident, the transmitter is either pushed or automatically detected, which then sends an alert to the central station, or a company that utilizes phone and mobile lines to monitor alerts and asses the situation.
The alert may also be relayed to other pre-programmed numbers, including a family member, neighbor, or other designee.
2. The operators in the call center then call the base station, which communicates aloud to the victim under distress.
3. The call center operator then dispatches emergency personnel to the scene if necessary or contacts other designees.
How to Choose a Medical Alert System
Ask for Your Loved One's Input
Even when finding the best medical alert system that matches your loved one's needs, it is essentially unserviceable unless they wear it.
That being said, ask for the wearers input throughout the entire process, ensuring they not only feel safe sporting a medical alert system, but comfortable with doing so. 
Consider the Needs of Your Loved One
Reflect on which features your loved one needs and requests, including the following:
1. Type Specification
There are a number of different device types that can trigger an alarm, including a pendant worn around the neck, wristband, smartphone, and radar or motion detectors installed within a home.
When choosing a type, consider the reality of your loved one wearing it. For instance, question whether or not the wearer would be able to activate an alarm on a pendant or if a passive devise might be more reliable if an incident were to occur.
2. Fall Detection
Falls are the leading cause of home injury death, with one out of every three seniors aged 65 and older falling each year. And with a majority of falls occurring in bathrooms and kitchens, it is viable to consider whether or not the medical alert system is waterproof.
3. Connection and Communication
Medical alerts offer variable connection and communication systems, including through a cell phone, WiFi network, or landline, along with data transmitted via GPS.
Base stations configured through analog and digital connections can further add a level of safety, as they can operate through batteries in an event power is unavailable.
Do Some Research
Even with knowing the needs and services of your loved one, the numerable options of personal emergency response systems might be hard to choose. And before committing to a product, always do some research about the company.
But thanks to Senior List and Consumer Reports, they have compiled lists of some of the best medical alert system, including detailing features, battery life, cost, in-home range, user reviews, and what makes them stand out from the rest.
Call the Company Personally
Call the company itself to verify claims and dig a little deeper about certain products. Furthermore, reflect on the customer service and if the representative answers in a timely manner and is respectful and knowledgeable about the products.
Along with discussing specific questions about the models they offer, ask about the following:
Contracts
With the future oftentimes unexpected, including if your loved one moves to a nursing home or passes away, ask about contract requirements and look for a company that does not force long-term commitments. Also inquire about the cancellation, return, and refund policies.
Bottom Line: Avoid those long-term contracts at all costs.
Available Discounts
When you contact the company, ask about the price and whether or not a discount is available. Most of the time, companies allow salespeople to offer better deals than the listing price.
Installation Process
Ask about their installation process, including whether or not a representative will install the device. If you will be in charge of the installation, inquire if support will be available and if any special equipment will be needed.