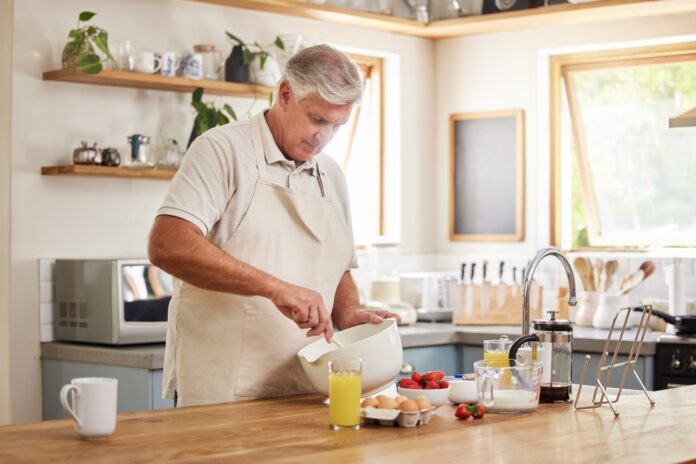 As you age, even simple tasks like making meals can start to seem like a chore. However, easy recipes for seniors can make meal preparation enjoyable.
Healthy meals don't have to take too long to plan or prepare—they can be both nutritious and delicious! Keep reading to find easy meals for seniors to prepare in minutes, including meals that can be multiplied if you cook for a crowd.
Benefits of Easy Meals for Seniors
Although healthy eating takes effort, it doesn't have to be hard. Quick and easy meal preparation for older adults isn't just a wise choice regarding time management. A simple meal plan may also help seniors meet their nutrient needs.
Ensures Adequate Nutrition
Setting up a simple meal plan makes it more likely for seniors to eat enough food each day. If you're aiming to lose weight or keep certain indicators (i.e. blood pressure) within a healthy range, low-hassle healthy meals can also help you meet your goals.
Even just ensuring you eat a simple, healthy breakfast makes you more likely to make healthy food choices throughout the day.
Frees Up Time for Other Things
Making easy meals for breakfast, lunch, and dinner leaves plenty of time to do what you really love. Even if you like to cook, coming up with three meals a day—not to mention snacks—can feel like a chore.
Minimizing meal prep time can free up your schedule, so you can experience more of whatever makes you happy daily.
Makes Sense for Dining Parties of Any Size
One perk of simple meals is that they can often be multiplied to meet any serving size. Often, a recipe with simple ingredients can be tailored to a meal for one or a meal for many. In other words, easy meals are the answer whether you're looking for a single serving or feeding a crowd.
Breakfast Made Simple
From senior care to older adults aging at home, these easy recipes are sure to please.
Oats or Oatmeal
From muffins to oatmeal to overnight oats recipes, oats are a superstar ingredient. Oats are considered a healthy, whole grain. Thanks to plenty of fiber and protein, recipes with oats will keep you feeling full throughout the morning.
If you're searching for a twist on boring or bland oatmeal, try preparing overnight oats ahead of time. Alternatively, take a tasty adventure by trying savory oats, which utilize more salty, spicy, or herby flavors instead of sweeter additions like cinnamon or fruit,
Yogurt Parfait
Did you know that Greek yogurt contains nearly 20 grams of protein per cup? A parfait made with Greek yogurt is a tasty snack that also doubles as the perfect, protein-packed breakfast or brunch meal. Parfaits are fun for all ages and easy to prepare for a bigger breakfast group.
Start by layering Greek yogurt on the bottom of a cup or bowl, followed by fruit, and then topped with granola. Homemade granola is often healthier than store-bought since you can customize what types of nuts, seeds, and dried fruit are included.
Cottage Cheese with Toppings
Not a fan of parfait? Try another popular dairy dish that's high in protein. Cottage cheese is packed with vitamins and minerals that seniors need, like calcium for better bone health.
One popular combination is peaches and cottage cheese. Drizzle a bit of honey on top and you've got a sweet, nutritious meal made in just minutes!
Protein Smoothie or Shake
Searching for a nutrient-dense meal you to take on the go? Sneak some protein into your morning shake or smoothie by adding the following ingredients:
A scoop of unsweetened protein powder 
A tablespoon of nut butter
Leafy greens (like spinach or kale)
As a note, frozen fruit creates an icy, frosty texture. Plus, it may be more accessible and affordable to keep on hand. Fruits are often frozen at peak nutrition, so you can rest assured you're getting nearly the same amount of nutrients as you would with fresh fruit (and maybe more).
Ready to take your healthy smoothies or shakes to the next level? Play around with nut milks like hazelnut or coconut milk for a fun twist. For example, create a tropical-themed smoothie with coconut milk as the base, frozen pineapple chunks, and coconut flakes sprinkled on top.
"Build Your Own" At-Home
Take inspiration from your favorite fast food restaurant or dining establishment by bringing the idea of "build your own" home. Setting up a simple formula to follow for breakfast can help you create a nutritious combination quickly. 
For example, the following foods all work with a lean protein + quality carb + healthy fat formula:
Scrambled eggs + whole grain toast with mashed avocado on top
Chicken sausage + fruit salad + full-fat yogurt
Protein pancakes + fresh fruit topping + tablespoon grass-fed butter
Smoothie made with nut butter + frozen fruit + flaxseeds
Customizing a pattern that works for you can help you switch your menu up without missing the mark on your health goals.
Dinner-for-Breakfast
You've probably already heard of breakfast-for-dinner, but what about dinner-for-breakfast? If you've got a bank of easy recipes for dinner, start pulling some of your favorites out for breakfast. Learning to love savory flavors in the morning can help expand your options. For example, soups with a bone broth base can be a nutrient-rich switch for your morning coffee.
Alternatively, dinner-for-breakfast is also a great way to utilize leftovers! Cold pizza is commonly enjoyed in the morning, but many types of savory gravies, stir-fry recipes, and salads can also be enjoyed in the morning.
Lunch In a Pinch
Lunch is an often forgotten meal, but is often a crucial part of meeting your nutrient needs for the day. Easy, healthy lunch recipes can help keep you feeling full until dinner.
Classic Sandwich Combos
Feeling uninspired? Stick to the classic sandwich combinations! For example, a peanut butter and jelly sandwich on whole grain bread provides quality carbohydrates, protein, and healthy fats.
If you don't know where to start, make your sandwich components as healthy as possible—like swapping white bread for wheat and bacon for lean meats. Also, pack your sandwiches with plenty of fruits and vegetables.
Sneak bananas into a peanut butter sandwich or a couple of slices of tomato or lettuce leaves into your ham sandwich. Don't forget that condiments can add calories quickly, so stick to options like mustard, spices, and herbs, or mayos made with healthy fats (i.e. olive oil)
Soup, Stew, or Chili
If your sandwich is feeling lonely on its own, pair it with a soup or stew. Crockpot cooking makes whipping up a soup or stew super easy. Some popular types of simple soups, stews, and chili include: 
Beef stew
Chicken tortilla soup
Vegetarian chili (made with lentils and beans)
White bean soup
Chicken or Tuna Salad
Chicken and tuna salad are among the most versatile lunchtime ingredients. They can be enjoyed on their own, or eaten as part of a sandwich or with crackers. Many chicken salad recipes can be mixed with cooked noodles for a protein-packed pasta experience.
You can buy pre-cooked chicken breast at most major grocery chains to speed up the process. Alternatively, canned chicken breast or tuna (canned in water or their own liquids) can also speed the preparation process along. Chicken and tuna salads usually use a handful of ingredients you likely already have on hand.
Grown-Up "Lunchables"
Craving a meal that makes you feel young? Create your own grown-up "lunchables" with divided sections for different meal components. Special bento box dining ware can even allow you to prep these meals and assemble them at your leisure when lunchtime comes.
Popular combinations based on this school lunch favorite include:
Lean ham slices + cheddar cheese slices + small cookie + 100% fruit juice
Lean turkey slices + whole-wheat crackers + cheddar cheese slices + grapes + square of dark chocolate
French bread slices (or pre-baked mini pizza crusts) + shredded cheese + tomato pizza sauce
Dinner Recipes with Ease
Crockpot and Instant Pot recipes are obvious options, but what if you need dinner within the next hour? The following dinners are easy to throw together, especially if it's a last-minute get-together.
Lasagna
Lasagna may sound labor-intensive, but oven-ready noodles make this meal a cinch! While it does take about 40 minutes to bake, assembly can be quick, especially if you have a couple of pairs of hands working together in the kitchen. Kids often love layering the ingredients, so it's the perfect recipe to invite your grandkids to make with you (if you don't mind a small mess).
The best part? Lightened-up lasagna uses ingredients you likely already have in your fridge, freezer, or pantry. Plus, thanks to the veggies and low-fat dairy, it's not as "heavy" as other types of lasagna.   
Stuffed Peppers
Stuffed bell peppers are the epitome of a healthy, easy meal. They are also incredibly versatile, meaning you can customize the ingredients according to your personal preference. For example, swap the ground meat for beans and lentils if you feed a vegetarian audience.
Tacos or Enchiladas
Have all the meal components for a Mexican-inspired dish? Tacos or enchiladas are the obvious choices! Each dish can have customized toppings according to the eater's preference once the basic parts of the meal (i.e. meat, cheese, tortillas) are prepared.
Homemade Healthy Burgers
Another meal idea with customizable components? Burgers! While they often get a bad rap for being "unhealthy," creating burgers at home gives you complete control over what you're putting into your body.
Ground beef or pork naturally contains more lean meat, so making patties at home can give you a leaner source of protein. Veggie burgers are also an option, and sandwiching the patty with a wheat bun can make any burger even more nutritious. Choose condiments wisely and add plenty of vegetables to your burger to further boost nutrition.
Super short on time? Consider adding Silver Cuisine to the menu. Meal delivery can allow you to eat more "fancy" options without carving out a lot of time. 
Snacks in Seconds
While snacks aren't necessarily meals, they do provide a key source of nutrition throughout the day. Thoughtfully planning easy snacks can help you feel full throughout the day without wasting too much time. Consider the following snack combinations for seniors to keep you fueled for all your planned fun activities. 
Apples & Nut Butter
Apples and peanut butter may sound like a straightforward snack for seniors, but it's truly one of the best last-minute snacks. Apples are one of the more shelf-stable fresh fruits, and most people have protein-rich peanut butter sitting in their pantry. Easily switch up this combo by trying a new type of nut or seed blend, such as almond butter.
Looking for something a little more elevated but still only takes a minute or two to assemble? Try open-faced apple sandwiches, which are much easier to make than they sound. Simply cut an apple into thin slices lengthwise, then top with nuts, nut butters, or seeds of your choice. 
Veggies & Hummus
Like apples and peanut butter, vegetables and hummus don't need much of an explanation. Hummus is available in many flavorful varieties, including sweeter dessert flavors (though you'll need to watch out for added sugars).
Since it's made from chickpeas, hummus has plenty of protein to help keep you feeling satisfied between meals. If you're not feeling a veggie pairing, dip whole wheat crackers into this creamy chickpea-based dip.
Popcorn & Salt-Free Seasonings
Bored with plain popcorn? Fresh herbs can give this whole grain the spice it needs, and the popcorn fiber will help keep you full for hours.
Don't know where to start? A simple spiced herb popcorn takes just minutes to prepare. Simply eliminate the salt to make it a salt-free snack, which can be a heart-healthy choice for seniors. 
Homemade Trail Mix
Looking for another nutrient-rich snack? Nuts and seeds provide healthy fats, protein, and fiber to keep you feeling fueled. Homemade trail mix is the perfect salty, sweet, and healthy blend. 
To keep your mix healthy, try making it homemade. If store-bought options make more sense for you, be sure to seek out unsalted nuts and unsweetened fruit. Save money by buying in bulk from the nut, seed, and dried fruit blends (often located at a health food store).
Granola Bar
Like trail mix, homemade granola bars can be healthy and take just minutes to throw together. Store-bought selections can also be nutritious, just be sure to look out for added sugars on the label.
Think outside the box! For example, baking dried pineapple or coconut flakes into your bars can create a sort of tropical flavor profile.
Hard-Boiled Eggs & Whole-Grain Pretzels
Eggs are considered a complete protein, providing many nutrients seniors need. So, why limit them to breakfast? Pair a hard-boiled egg with whole-grain pretzels for an easy snack to grab when you're headed out the door.
Surprisingly, this combo packs a punch in terms of nutrition. The egg contains healthy fats and protein, while the whole-grain pretzels add a salty serving of quality carbs to the diet.
In Summary on Easy Meals for Seniors to Prepare
An easy recipe for seniors shouldn't be underestimated! Even with just a few staple ingredients, a nutritious and delicious meal can be made in minutes. Whether you're cooking for family, friends, or yourself, simple meals can help everyone (especially seniors) meet their nutrient needs.