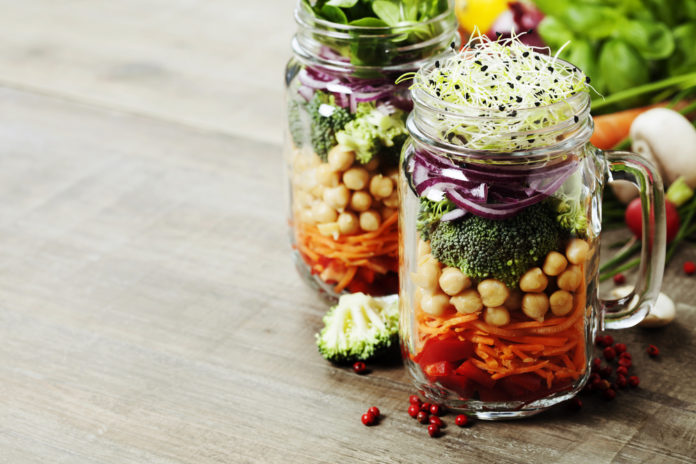 Easy, Healthy Breakfast, lunch & Dinner Recipes & Ideas
Breakfast
1. Oatmeal
Filled with fiber, a bowl of oatmeal is a simple, yet healthy morning meal. Versatile oats can take on the flavors of numerous ingredients, including berries. Try these overnight oats for an even more convenient breakfast! 
2. Omelet
Omelets are a valuable breakfast, as eggs can harness multiple healthful ingredients, including peppers, tomatoes, and sausage. For a vegetarian omelet packed with protein, whip up this bistroMD's black bean egg white omelet.
3. Yogurt Parfait
Start the day with a yogurt parfait! Simply layer yogurt, favorite fruits, nuts and seeds into an easy meal for one or mass produced for all to enjoy! For added protein, utilize Greek yogurt like in this maple cranberry orange yogurt parfait.
4. Smoothies
Smoothies can be a nutritious breakfast option when mixed with protein sources, rather solely being filled with fruits and fruit juices. Find out how to prepare a protein-rich, nutrient-dense smoothie here or give this peach, raspberry, and basil protein smoothie a try! 
5. BBQ Pulled Pork Crepes
Break breakfast tradition with bistroMD's BBQ pulled pork crepe recipe. Paired with an herbed apple and onion chutney, taste buds are sure to be excited!
Lunch
6. Chicken Salad
Swapping out mayo with plain Greek yogurt lightens up standard chicken salad recipes, while supplying ample protein, in this healthy, easy meal option. Consume as is, top onto grained crackers or whole wheat toast, or rolled up in lettuce leaves. 
7. Chicken Tortilla Stew
Stews and soups are a simple way to pack nutrients into one bowl, and this chicken tortilla stew recipe proves that! If spice level is of concern, reduce or cut out the volume of peppers added.
8. Peanut Butter and Jelly
That childhood classic expands across all generations and it can be an easy meal for one. Start with two slices of whole grain bread and a tablespoon of peanut butter, free of added oil and sugar. For a fresher spin, opt out on traditional jellies and add favorite berries, including blackberries, blueberries, and strawberries for natural sweetness.
9. Greek Stuffed Peppers
Go Greek with this stuffed peppers recipe featured by bistroMD. The peppers are a simple, well-balanced meal packed with 8 grams of protein for only 170 calories! 
10. Mason Jar Salads
Preparing salads in a mason jar is a sustainable way to harness an extensive volume of flavors and nutrients. Mason jar salads also make an excellent easy meal for one and can be kept conveniently in the fridge until ready for enjoyment. Find how to prepare a nutritious, mason jar salad and 15 variations here. 
Dinner
11. Crockpot Chili
The use of a crockpot is a quick and simple way to prepare delicious meals without much effort. Preparing this slow-cooker turkey chili recipe supplies significant protein and fiber, but feel free to ixnay the turkey for a vegetarian alternative. In addition to the chili, find four more healthy, high-protein crockpot recipes here.
12. Asian Tuna Steak
This heart-healthy bistroMD creation is loaded with flavor and nutrients. Top onto a fresh salad or pair with roasted veggies for added nutrients and fiber.
13. Stuffed Shells
This stuffed shell with vodka marinara sauce recipe is a true Italian comfort food, all while being simple and easy-to-follow. Pair with the roasted cauliflower for a well-balanced, healthful meal!
14. Turkey Burgers
Healthify the ingredients of that fast food burger with this easy jalapeño turkey burger alternative. Turkey is a lean protein option encouraged to maintain and preserve muscle mass.
15. Tacos
Invite over family and friends for a taco night! From Thai chicken pizzas to Mexican taco pizzas, enjoy one (or a few) of these 11 most delicious taco recipes!
Along with the 15 easy meal ideas listed above, Silver Cuisine offers fresh, well-balanced meals straight to seniors' doorsteps. All consumers are required to do is pop in the microwave then enjoy. (Now that's as simple as it comes!) For more information on Silver Cuisine and available programs, click here or call 844-404-FOOD (3663).